By WeatherFlow meteorologist Shea Gibson on Sunday May 31, 2020.
Earlier this morning, the first named storm of the seasoned formed in the eastern north Pacific:
Tropical Storm Amanda
Winds 35kts gusting to 45kts
As of 4PM CDT today from the NHC Eastern Pacific, the storm became a remnant low and the last advisory was given.
https://twitter.com/NHC_Pacific/status/1267193145516675072?s=20
Here is the 3 day loop until present.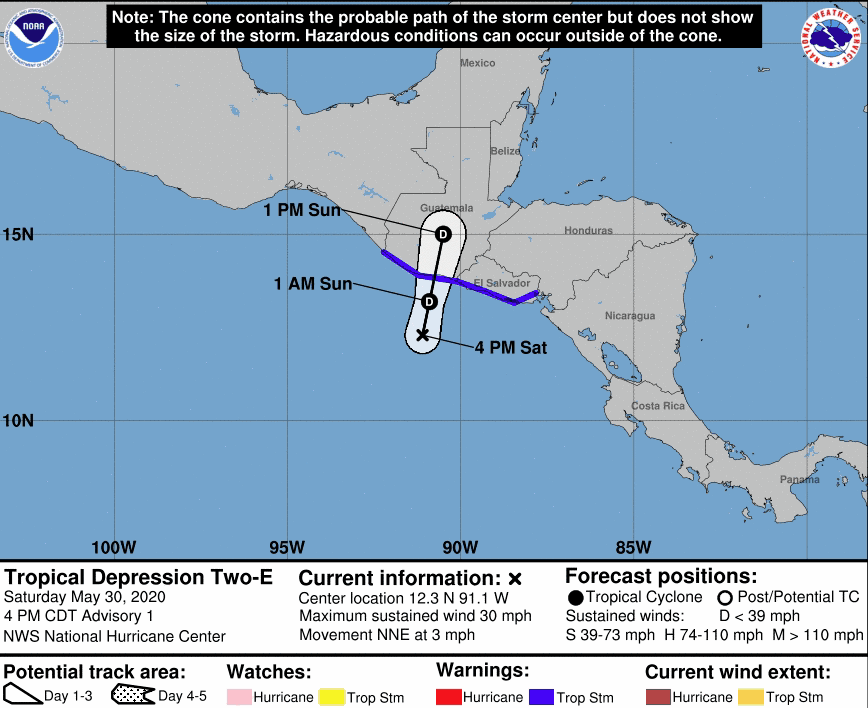 The rules have shifted over the years on this kind of "cross-over" event and here is the latest for the eastern north Pacific to the Atlantic basin (including Bay of Campeche/Gulf of Mexico.
If a TC (tropical cyclones = any tropical storm, hurricane, typhoon or supertyphoon) holds its name from the Atlantic basin to the Pacific basin or visa versa, then the name sticks. However, should the storm degenerate to a remnant low, then it technically is not a "cross-over storm" & will acquire new name in the basin where re-generation occurs.
Latest official word from the NHC 2020 Hurricane Operations Plan: 
"Retains the name if a tropical cyclone passes from one basin into another basin as a tropical cyclone.; i.e., advisories are continuous. An unnamed tropical depression will also retain its number (e.g. Tropical Depression Six-E remains Tropical Depression Six-E) if it crosses into another area of responsibility. Within a basin, is the remnant of a tropical cyclone redevelops into a tropical cyclone, it is assigned its original number or name. If the remnants of a former tropical cyclone regenerate in a new basin, the regenerated tropical cyclone will be given a new designation."
So with that said, this system may not be over completely as the energy looks to hang around for several days along the southernmost portions of Mexico (Campeche, Tabasco and Vera Cruz).  As of the 1:55PM update, the NHC Atlantic gives it a 40% chance next 48hrs and a 50% chance next 5 days.  Notice the verbiage pertaining to "a new tropical depression" since the old one dissipated.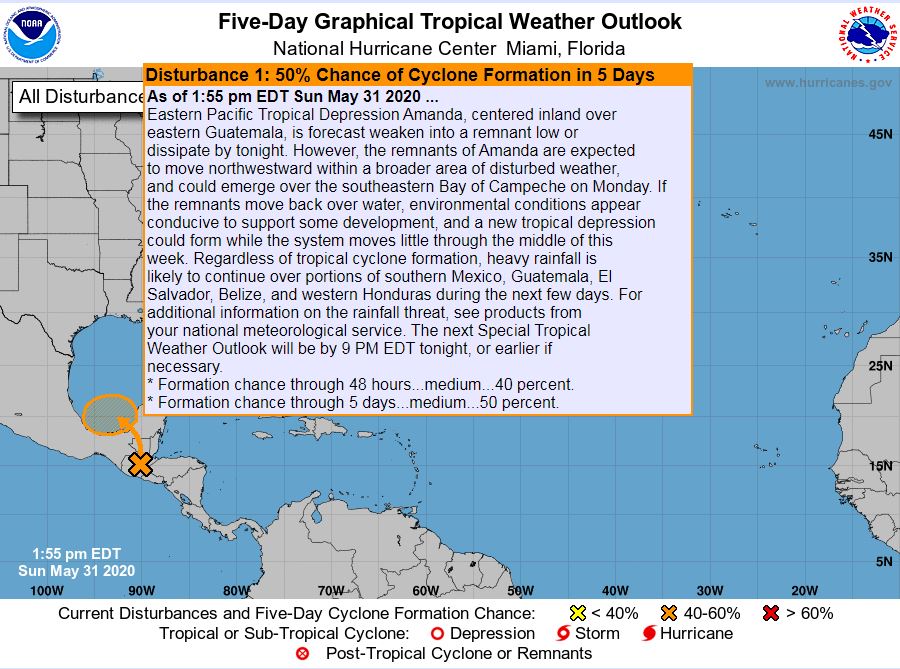 Should it regenerate to a named storm as it enters the BofC (Bay of Campeche), it would get the new name Cristobal, which is next in line for the Atlantic basin.  Models are trending it further north in time into the western Gulf of Mexico, but hard to say anything certain at this time.
Stay safe and cheers from us at WeatherFlow!
Shea Gibson
SE/East Coast Wind Forecasting
New Station Project/ Outreach
Twitter: @WeatherFlowCHAS
Facebook: Shea Gibson – WeatherFlow and Chucktown Wind Report
Sources: NHC: https://www.nhc.noaa.gov/