Why good forecasts… go bad
by Mike Godsey
"I hate it when F**king Godsey promises on Friday night that Saturday morning will see low 20's at Sherman Island . Worse the forecast has mealy mouth words about deep fog making the AM winds iffy. So today I make the long dawn drive to Sherman only to find the promising predawn 15 knots has wilted to under 10 knot wind. How can a forecast of low 20's turn into a reality of 6 knots"
Well… having made that long drive only to find weak Sherman Island winds I also hate blown forecasts. But part of my job is to figure out what happened and maybe learn enough to improve future forecasts.  The last couple of days have started without a hint of the eddy west of the Golden Gate that can quickly shut down the Peninsula and have the East Bay flowing. Each day I spent a lot time enhancing the hopelessly fuzzy predawn satellite imagery and studying the PD sensors making certain there was not a trace of an eddy. Only to see an eddy firming mid morning and wrecking my forecast.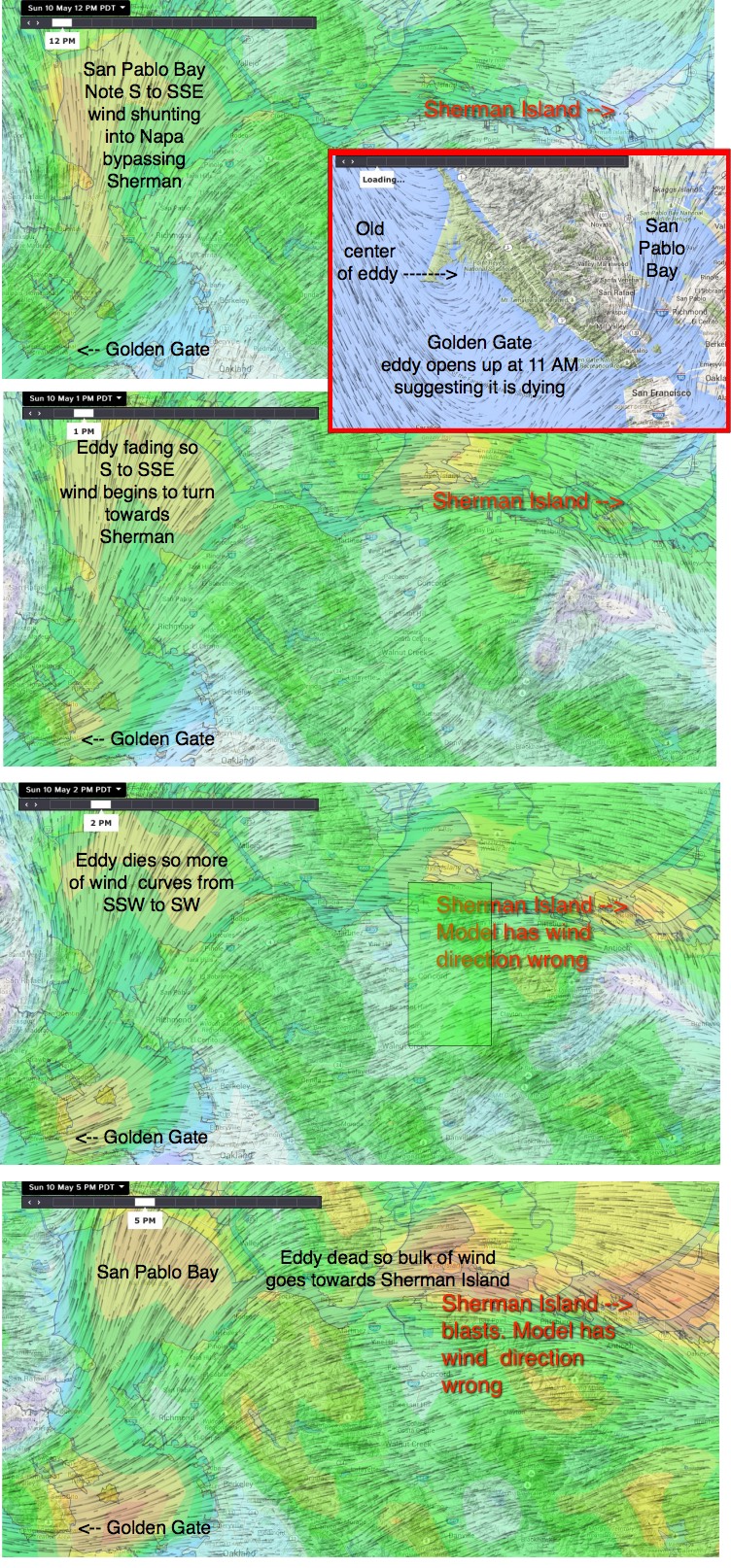 So Friday night there was not a trace of an eddy in any of the model output . Nor was there a hint of this critter while working up today's 7AM forecast. And an hour later I was still watching for an eddy since I knew the fog was retreating from the East Bay  and Sherman Island should kick in hard unless there was an eddy.
Special Update Issued at: 5/10 08:02 AM Sherman Island winds have shut down as the marine layer clouds continue to lap a Mt. Diablo. I am seeing signs of Año Nuevo clearing so Waddell is promising. No hint of a Golden Gate eddy in the satellite imagery or sensors at this time. .
Then  few minutes later the satellite imagery showed a faint rotation in the fog near Pt. Reyes. It was so small that I could not imagine it killing the Sherman Island AM wind potential. But by 11:30AM it was clear I was wrong and I issued this update:
Now at 11:30 AM the satellite imagery shows a tiny eddy just west of the Golden Gate which is shooting S. wind past Pt. Richmond to San Pablo Bay into Napa. thus cheating Sherman Island of its expected AM wind. It would be nice to be able to forecast these eddies right every time but that is currently impossible given the limitations of the models and my IQ. I expect the eddy to die in the afternoon and for Sherman Island to ramp up into upper teens to weak low 20's mid afternoon.
How could such a tiny eddy so strongly impact the Sherman AM winds and why did the late afternoon finally touch 20?
Looking at the small inset image below notice the dying eddy west of the  Golden Gate and the SW flow creates. Also note how that wind becomes an almost pure South wind in San Pablo Bay. The same NNW flow that  creates the Golden Gate eddy also creates low pressure in Napa. Now normally the wind coming into the Bay reaches around Pt. Isabel and Pt. Richmond, and  begins to curve as a SW wind and heads to Sherman Island. But in an eddy patten the wind does not make that curve and heads straight up San Pablo Bay into Napa.
Then as the eddy dies the wind becomes more SW and Sherman Island winds ramp up. In this case the eddy died even later than I forecast.