By WeatherFlow meteorologist Shea Gibson 3/26/2020
Ever heard of CAD? It is a term in meteorology known as "cold air damming", where cool dense air settles under an area of High pressure under a blanket of thick stratiform clouds (mid to low level clouds). Along the East Coast, we see that this cool body of air sometimes becomes lodged between the coast and the Appalachian mountain range and can sit for hours or days at a time depending on the atmospheric setup. They can be hard to predict and keep air temps several degrees cooler until it wears off. For the East Coast, including the SE Region, the main way to get rid of CAD is to inject warm air from the east, southeast, south and southwest…which you will see below. Keep reading.
Today, Thursday March 26, 2020, we saw a rather large but disorganized pool of cold air settling down across the SE region and backing up against the mountains. A moderate area of High pressure was bottled up over the Appalachians and was pulling cool Northerly flow down around it with a thick cloud bank.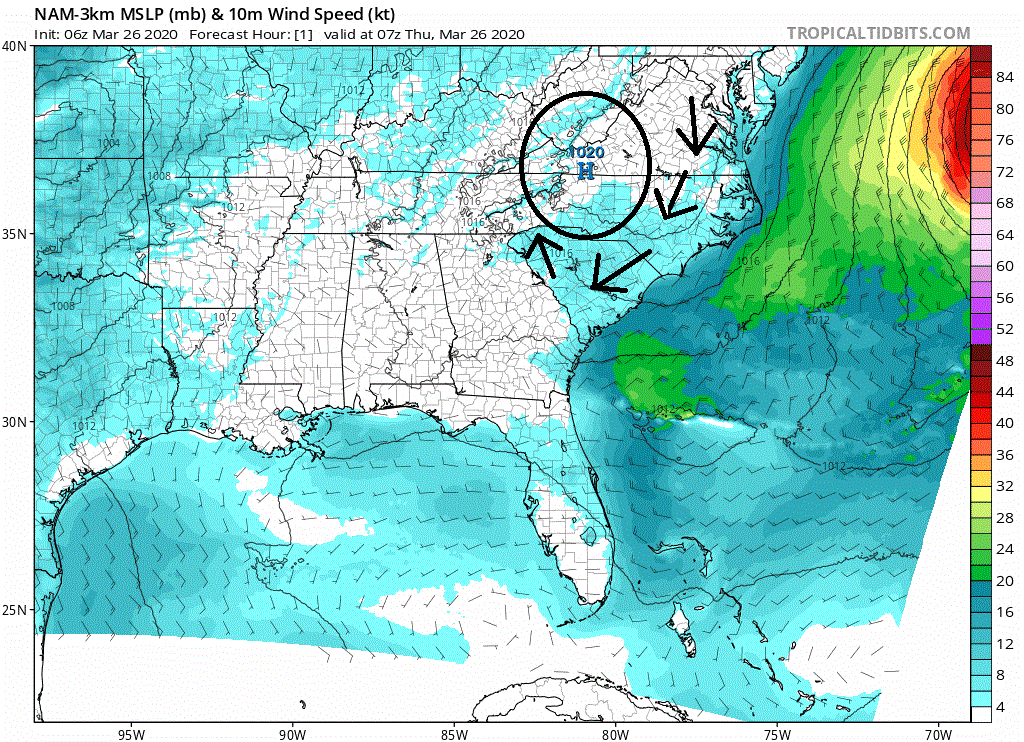 Here is the satellite imagery around 10:11AM (14:11UTC) showing a rather large cold pool extending from parts of the coast all the way to the mountains…mostly focused along the steeper up-slope of the mountains along the western foothills.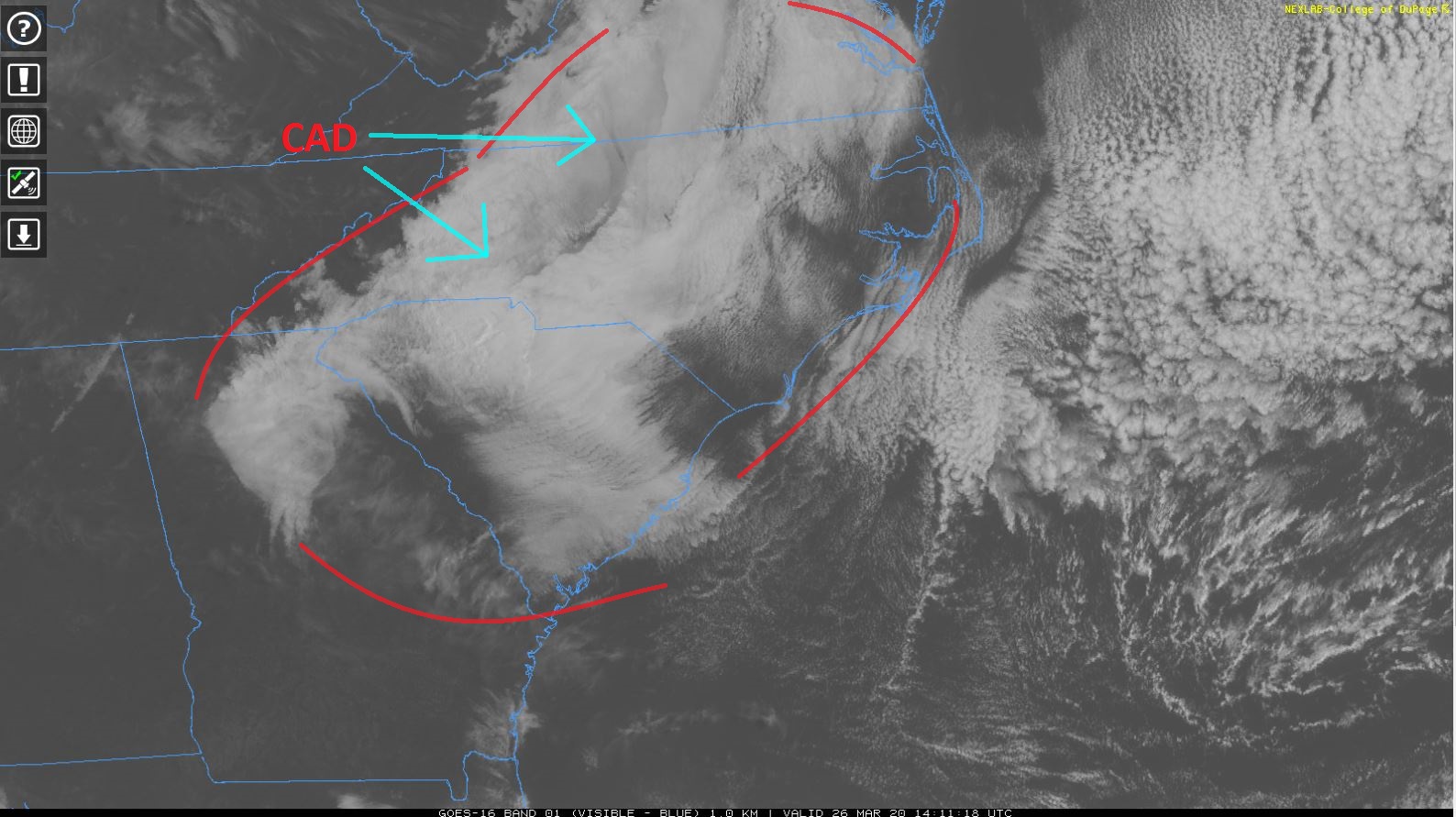 As winds started nudging in from the ocean and over the warmer land mass that was exposed earlier, we saw the curtain of stratus clouds begin to evaporate from east to west and south to north. If you look closely, you can see how the clouds were "sloshed" up-slope and overlapped the existing cloud deck due – and winds aloft nudged this overlapping . This puddling effect came out quite well in our Goes-16 satellite imagery. Just click play for some animation.
You can see that as the day progresses, the CAD is broken up by warm Southerly winds from the south and southwest from Georgia into SC….and East winds cutting across NC. Eventually just about all of it dissipates. And guess what? It allows the Sea Breezes to circulate at the coast for added bonus to the wind sports communities!
We call these warmer air masses "CAD killers" when we see this kind of dissipation/evaporation. It may seem just like a cloudy morning then a sunny afternoon to some, but if you look closer in some of the visible tools available to us now, you can find some really cool atmospheric dynamics. The sky acts like an ocean at times. Great to see it in real time. 🙂
Stay safe and cheers from us at WeatherFlow!
Shea Gibson
SE/East Coast Wind Forecasting
New Station Project/ Outreach
Twitter: @WeatherFlowCHAS
Facebook: Shea Gibson – WeatherFlow
Sources: Tropical Tidbits https://www.tropicaltidbits.com/ ; College of DuPage Nexlab https://weather.cod.edu/