Rio Daze winds at Sherman Island.
by Mike Godsey, mikeATiwindsurf.com
In the summer the Bay Area often has a wind pattern I call a Combo day.  On these days we see a mixture of NW and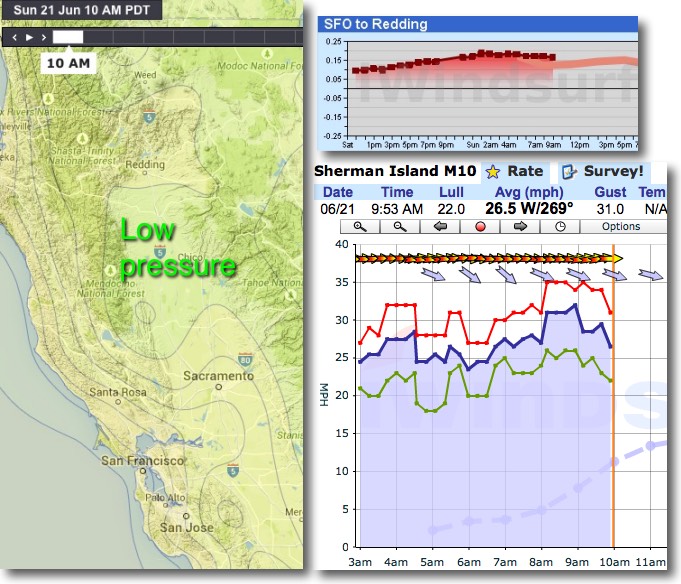 SW wind in which brings wind to much of the Bay waters.
The relative balance of the NW wind from the North Pacific High and the SW thermal wind shifts from day to day as the relative pressure gradient to the N. and S. Central Valley varies.
But today, June 21, the balance is being strongly tipped to favor SW winds. First look at the isobars showing a love of  low pressure towards Redding at the N. end of the Central Valley. And note how the pressure gradient chart shows this low pressure continues all day.
The left panel of the animation below shows the mild NW ocean wind and the stronger SW wind hitting Sherman Island as it moves towards Redding. But by itself this combo would only have Sherman Island blowing in the upper teens to weak low 20's and fading to mid teens by mid day. But, as I have been forecasting for days, we also have strong winds just aloft that are bringing Sherman Island wind into the mid to upper 20's this morning.
The right panel of the animation shows the winds aloft at 1000 feet. Because of the Bay Area topography these winds aloft have little impact on the surface winds in most of the Bay in the AM. But the same topography funnels these winds over Sherman Island where they transfer some momentum to the surface winds so the wind is much stronger than the surface pressure gradient by itself would produce . I call this pattern  "Rio Daze"
So while most of the Bay waters will see wind today the sites favored by the strongest wind will be those open to SW flow.