forecast the fate of the North Pacific High becomes tricky.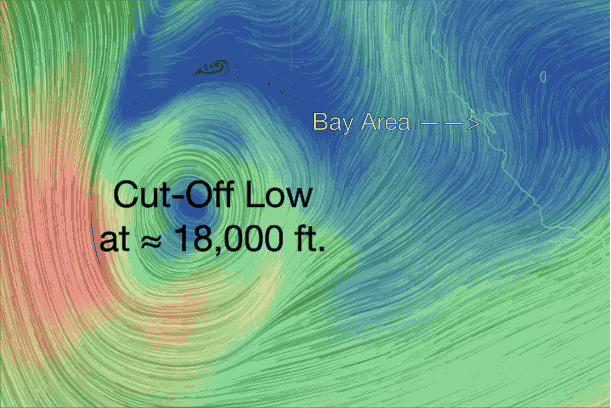 by Mike Godsey, mike@iwindsurf.com
Looking at the model animation below you can see the huge Cut-Off Low west of California. The SW winds created by this low will not impact the surface winds in the Bay Area. However below this Cut-Off Low there is a surface storm and together they are pressing the North Pacific High and its NW winds against the coast so I expect a slight uptick in the NW wind tomorrow. But as you know Cut-Off Low lose much of their connection with the upper level winds so they can wobble around unpredictably. Right now it looks like this Cut-Off Low will slide SOUTH overnight which would allow the weak North Pacific High to hold station along our coast. But if the Cut-Off Low were to move WEST towards us the North Pacific High would drop south of the Bay Area and you will see me backpedaling in the 7AM forecast Friday.