by Meteorologist Kerry Anderson
Here in Southern California we are once again in a very unusual pattern for summertime as we watch the flow from the south bring up subtropical moisture.  All week Dolores, now a Tropical Storm, has been followed closely as the models have shown her moisture to be heading our way.   She is well south of us off the tip of Baja.  The National Hurricane Center projects that Dolores will continue to weaken as she tracks northward and by Tuesday morning will be southwest of the California coastline as a Tropical Depression.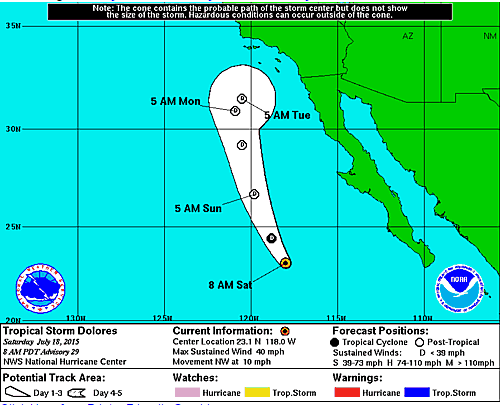 So why so much moisture already?  The following satellite loop shows the moisture in the mid levels of the atmosphere.   You can see Dolores off Baja.  If you look over Texas there is a dry area where we have a large High Pressure system.  The flow around this system is pulling moisture northward into Southern California and will continue to do so through the weekend.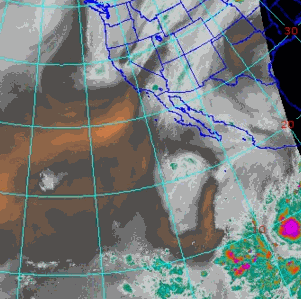 The sounding from San Diego this morning shows the arrival of all that moisture.  It is not unusual for us to see this monsoonal moisture each summer for the desert areas on the east side of the San Bernadino mountains but it is very unusual for the flow to drive the moisture west of the mountains over San Diego, Los Angeles and the coastal waters.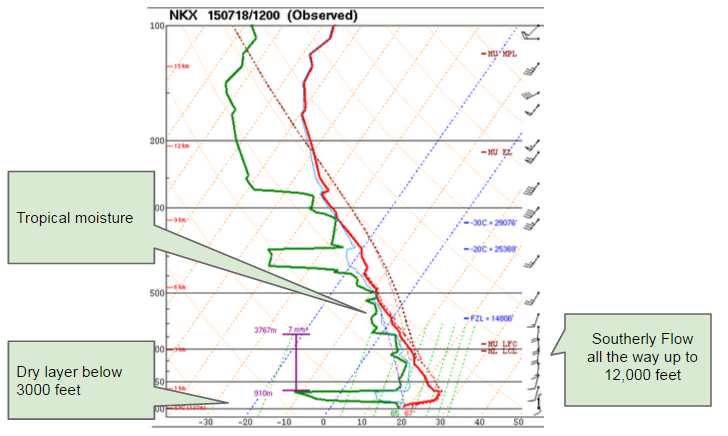 With this moist air in place the atmosphere is unstable and by early today we have seen towering cumulus and radar is picking up plenty of precipitation.  Much of the rainfall this morning was not hitting the ground because of the dry layer near the surface but that will change over the next few days as we get more subtropical monsoonal moisture and then more moisture from Dolores. So watch the skies, the radar and our forecasts for the next few days as you head onto the water.  Thunderstorms with strong winds and lightning are expected.