by WeatherFlow meteorologist Shea Gibson.
As we enter fall 2014, we are starting to see a colder-than-normal climate set in along the eastern half of the United States. Typically fall brings a mixed bag of cold air and winds with warm air masses still showing overall milder air temperatures as averages; however early snow and full scale Nor'easter events look to be showing up a bit early.
Here is a surface map of an impressive Low off the NE coast from October 23, 2014 where pressures dropped to between 992 -995 millibars.  This system was a slow mover to the NE and hung around for almost 3 days. Air temps dropped into the upper 40's to low/mid 50's for high's.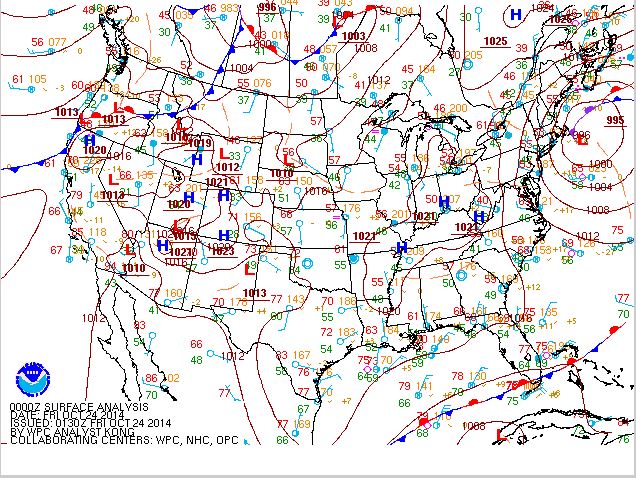 One of the highest readings in the area from the initial surging came from Scituate, MA on the night of October 22, 2014. Our sensor there grabs a good clean fetch from the NNE/NE direction – and it topped out at 56kts – or 64.4 mph right around 9:40PM.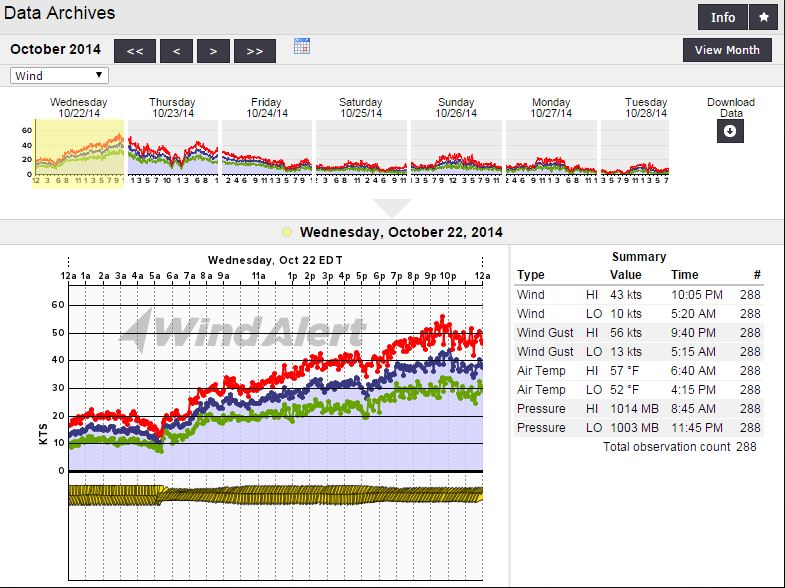 Here are 3 gif's Nullschool wind maps – notice how well developed this Low is from the surface all the way up to 34,000 feet (and even higher). Very impressive.
Surface wind .gif on Oct 23: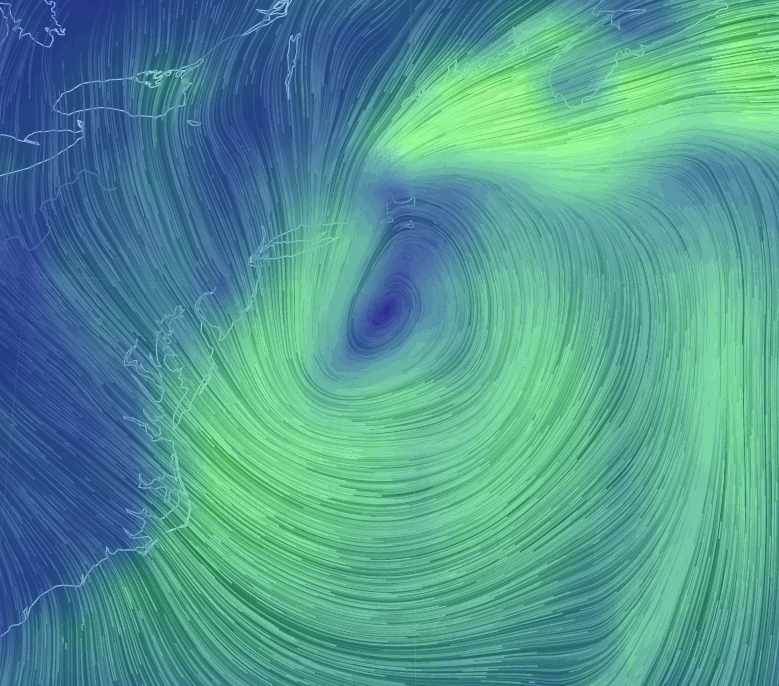 Higher up at 500hPa (18,000ft).   Winds are  ~110-130kts along the southern and southeastern portions.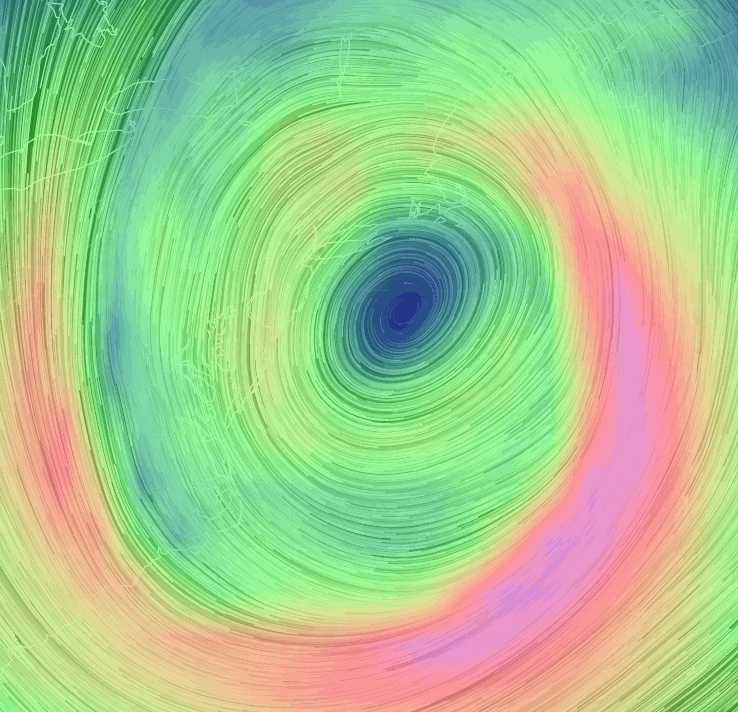 And even higher at 250hPa (~34,000ft). That's ~130-140kts along the southern and southeastern portions.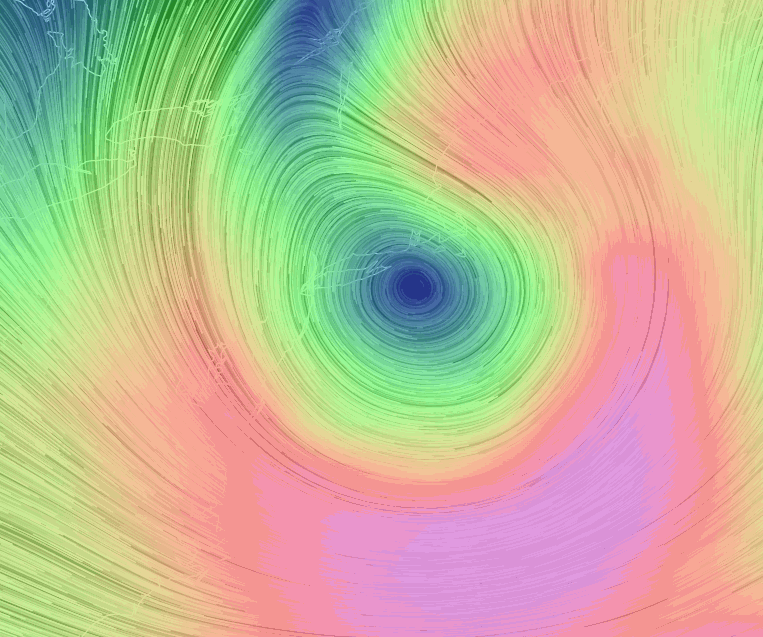 Even though this event did not produce wintry precipitation to the coastline, we have a wintry weather coastal Nor'easter lined up that most models are agreeing with developing off the ~SC/NC coast and quickly sliding up to the NE United States.
The GFS shows development starting further south off of SC and bending up into the New England coast and bombing out at 980 millibars (possibly even lower) over New Brunswick/Novia Scotia. Most of the wintry precipitation looks to be confined to the mountainous areas up and down the Appalachians and further north into Maine up into Canada. Possibly developing in the Ohio Valley as a Great Lakes Low drops into the mix to combine with the Coastal Low.
Notice the strong dome of High pressure wedging down into the center of the country and heading east…and at 1031 to 1033 millibars will surely create a strong gradient between these two systems for strong winds at the surface along the East Coast.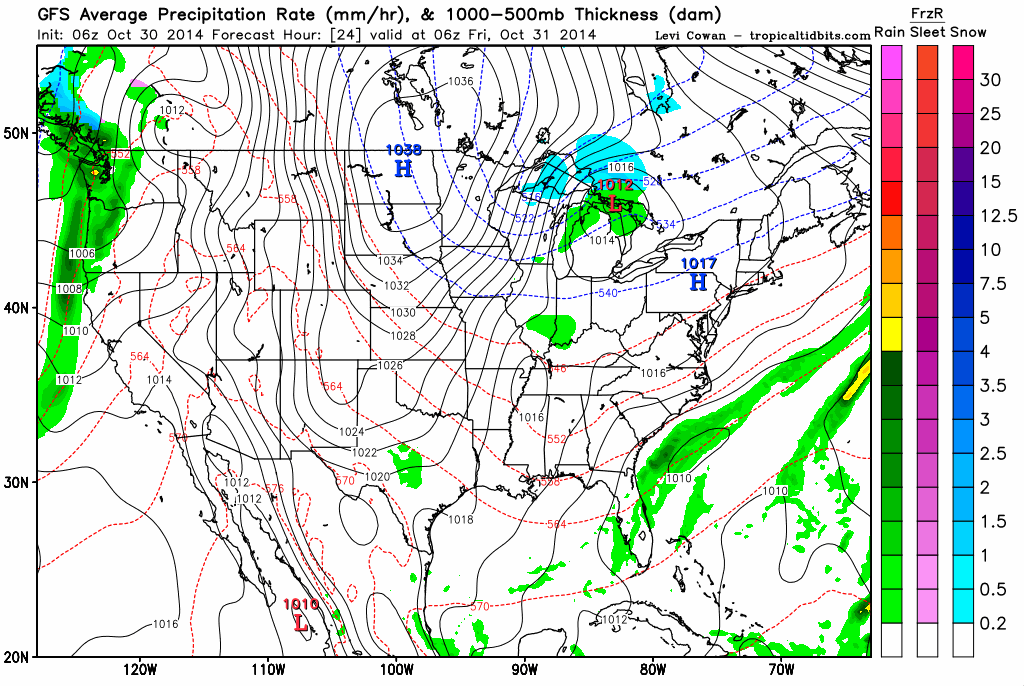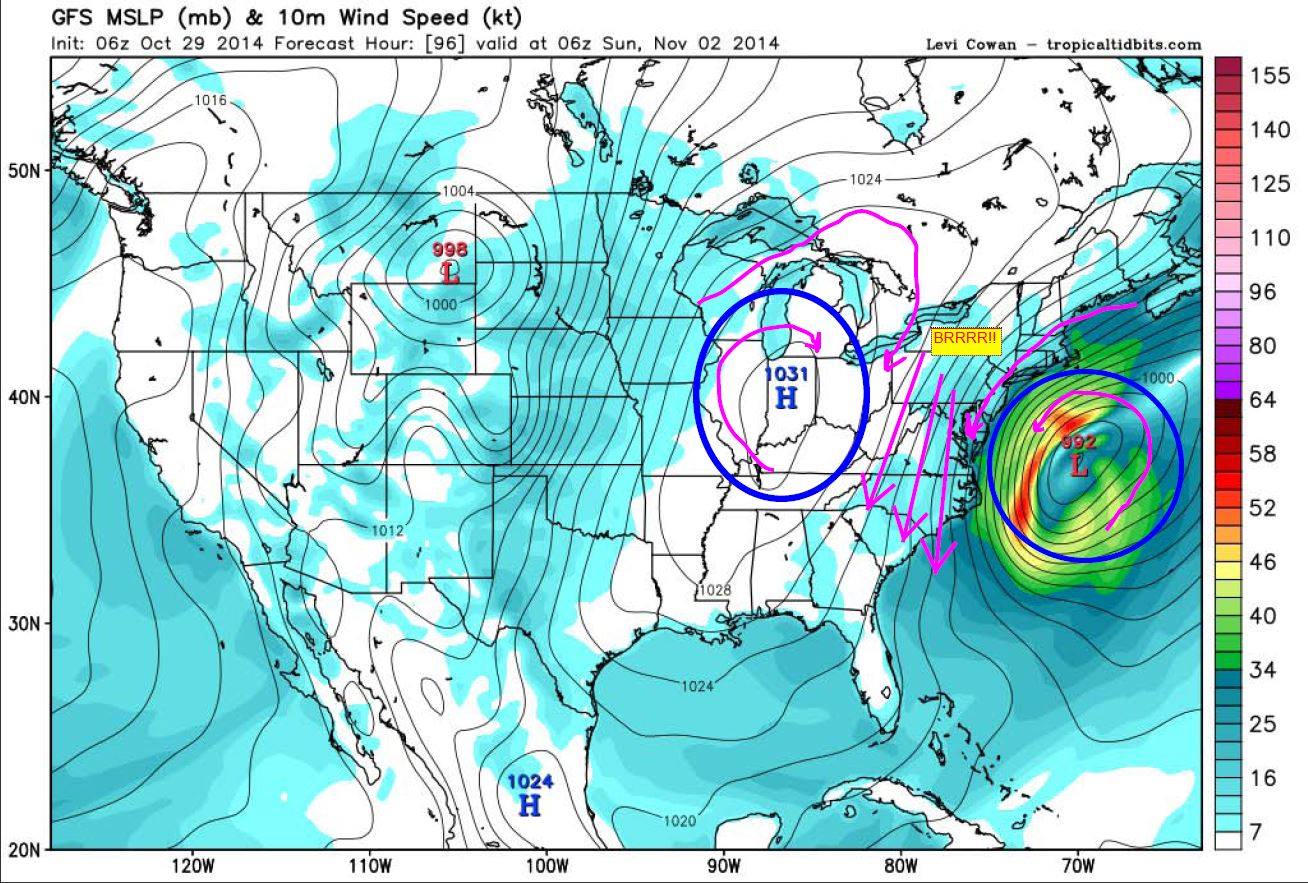 The Euro is showing initial development further north off of NC with a wide dual-split of the Low pressure center before re-combining, weaker overall pressure (995mb's) at peak strength and a slightly faster progression towards the NE.
12:00AM Saturday: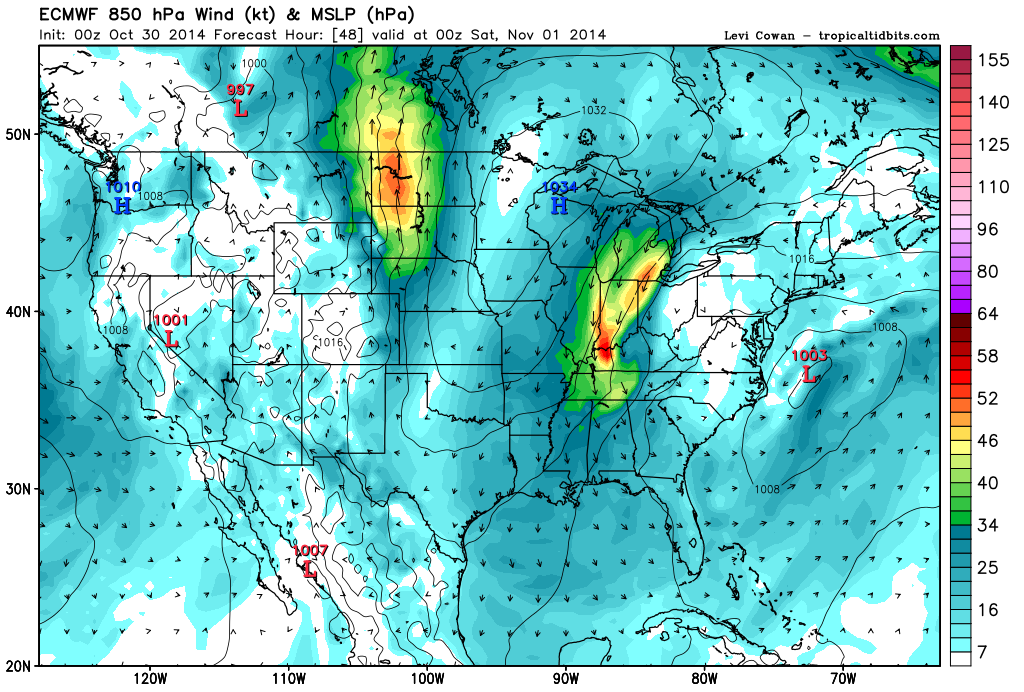 12:00AM Sunday: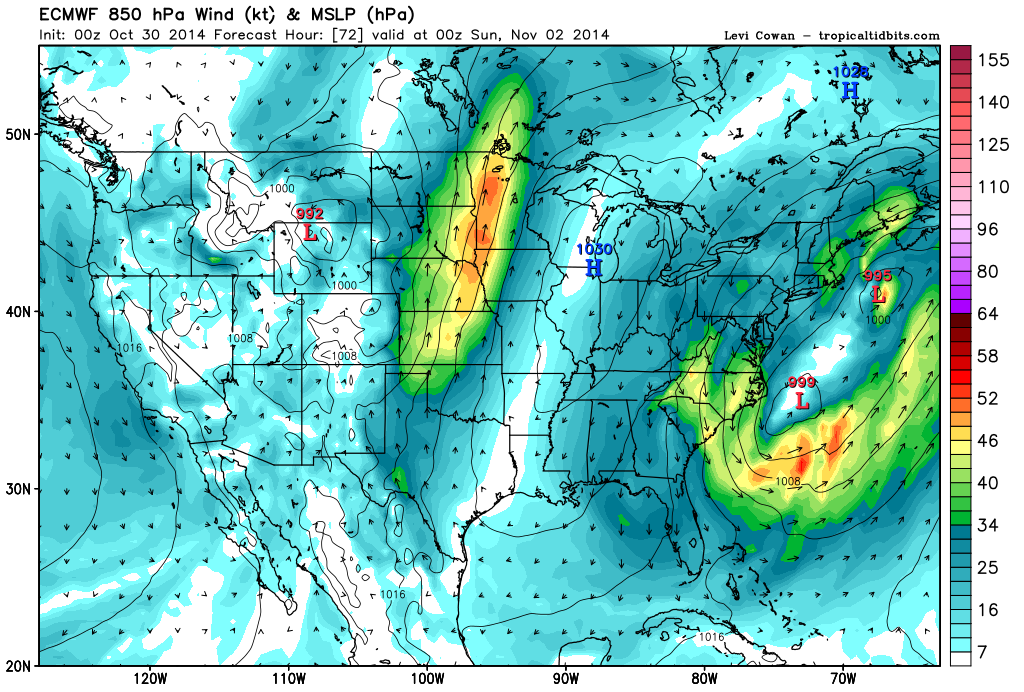 12:00AM Monday: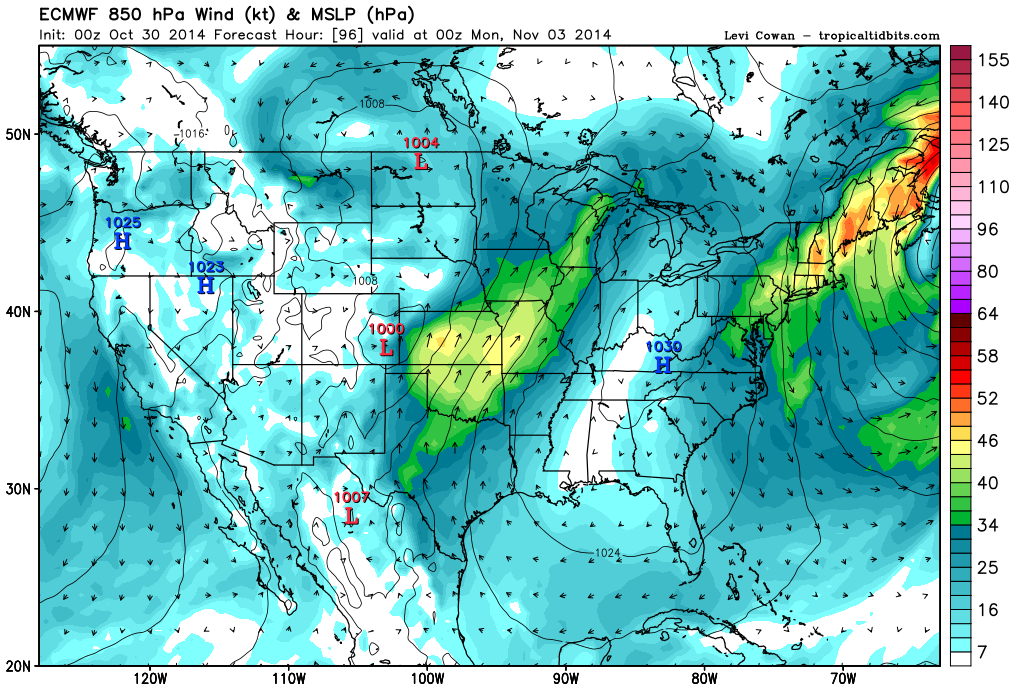 The outlook is for record low air temperatures to extend all the way down into Florida in the 30's.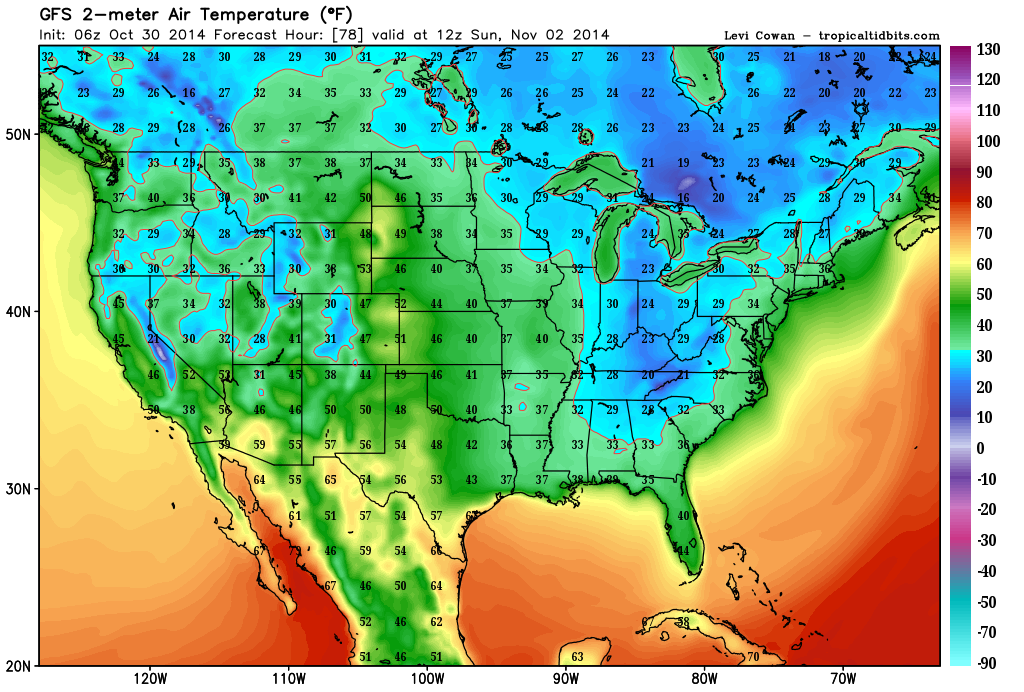 So all-in-all, the report released by NOAA for the winter outlook for 2014-2015 shows some interesting pattern for the Deep South and SE Region – higher than average precipitation and lower than average air temps. Looks like we're getting somewhat of an early start!
http://www.noaanews.noaa.gov/stories2014/20141016_winteroutlook.html