Smoke from California Wildfires has not stayed in California but is now impacting much of the West. It has now spread into the Rockies lowering visibilities more than a thousand miles away from the source.  The above photograph was taken looking into the Salt Lake City valley early on Friday morning.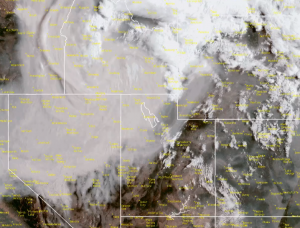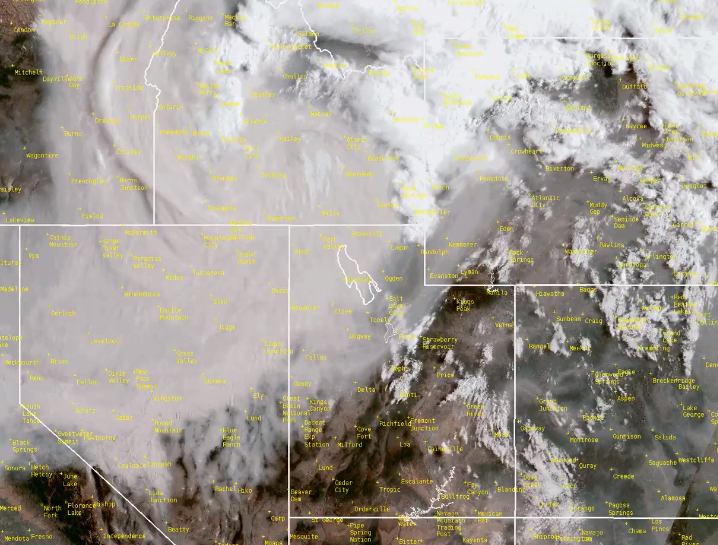 The visible satellite view on Friday (above) showed this plume of smoke extending from California, across Nevada, Idaho and spreading into Wyoming.  The forecast shows that it will continue to expand in coverage on Saturday.
But lowered visibilities are only one part of the problem that the smoke is bringing.  The smoke contains high levels of particulates making the air unhealthy.  It is not unusual for smog to get trapped in the mountain valleys and to have periods of unhealthy air in this region.  But this smoke extends from the ground up to around 15,000 feet and covers the peaks of the Rocky Mountains.

The smoke was spread inland behind a cold front which started in the Northwest and then slid through the Intermountain Region during the morning on Friday.  Along with lower visibilities, the smoke brought very unhealthy air.  Data from the Utah Air Quality (above) showed the correlation between the front and the arrival of the wall of smoke. The atmospheric pressure was lowering in advance of the front then as the front passed the pressure rises and the air quality very quickly lowers as a thick blanket of smoke moved in.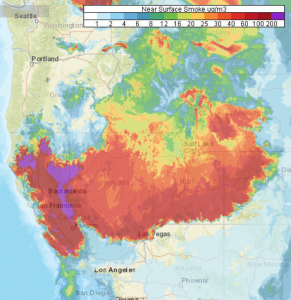 Northwesterly flow behind the front will continue to expand the areas impacted by the smoke.  We will see this plume spread toward Las Vegas and fill down the Central Valley of California.  Western Colorado to Eastern Wyoming will also see the arrival of this smoke.  And with High-pressure building in over the region, this smoke will be trapped in the valleys at least until another front arrives at the start of next week.