But somewhat weaker winds expected today.
by Mike Godsey, mike@iwindsurf.com
First let's look at why the winds were so strong Tuesday then explain why the winds will be a bit weaker today. Image #1 shows the wind map for the Bay Area Tues. March 31. As you can see almost every launch site in the greater Bay Area saw at least upper teens winds with standouts being Tomales with an average wind that hit 38 knots and 3rd. Ave at 28 knots. So let's do an analysis to see what created these strong winds.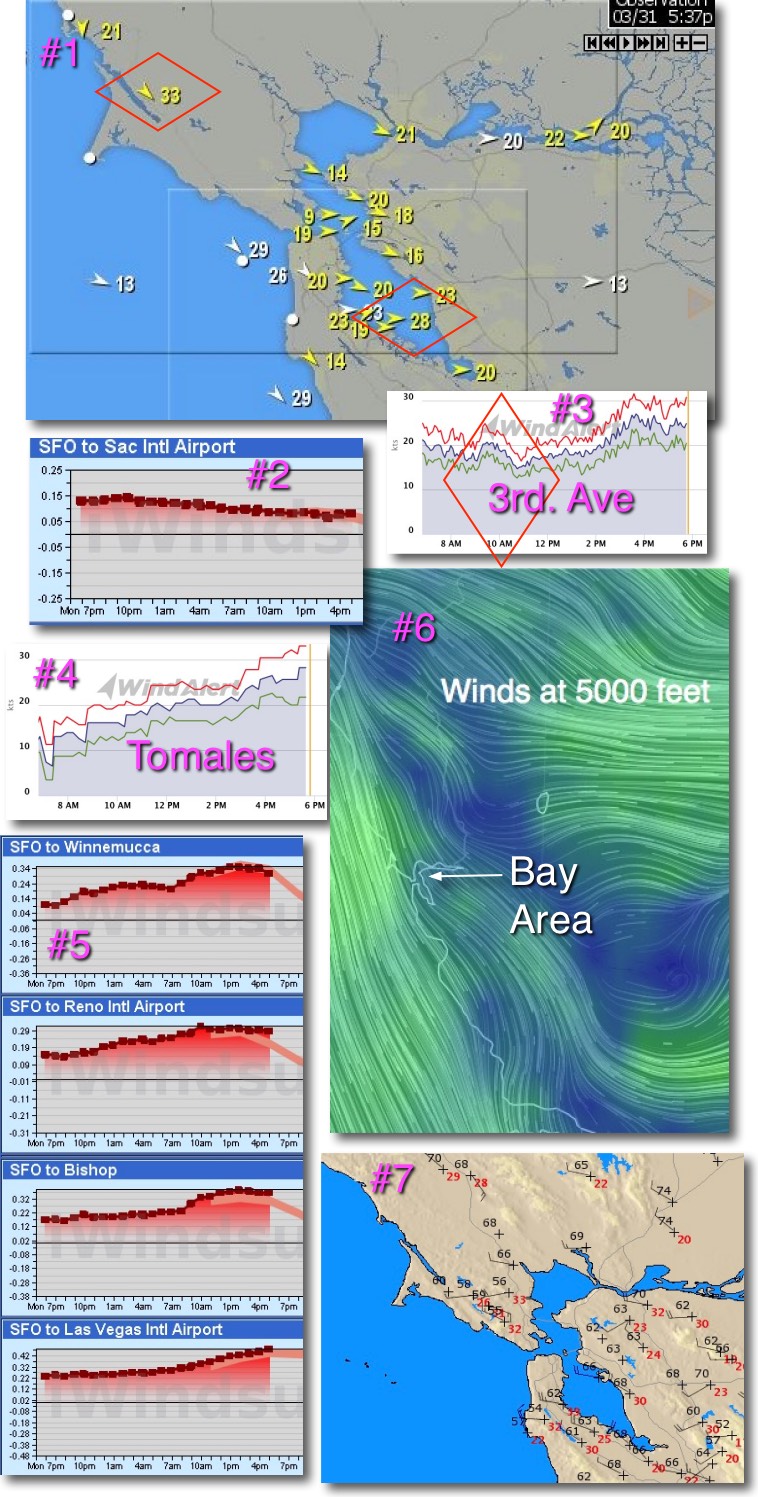 Legend among sailors is that a strong SFO-SAC pressure gradient  produces strong Bay winds.  However looking at image #2 we can see that in the afternoon that pressure gradient peaked under .10 inches. This is strong enough to create upper teens wind but certainly not 30 knots + wind. Moreover notice the atypical morning winds to 20 knots at 3rd. in image #3 and the early start of Tomales winds in image #4.  Clearly something was adding a lot of juice to the wind beyond the gradient to the Central Valley.
Our first hint is in image #5. We are looking at the pressure gradients from SFO airport to sites ranging from the northern Great Basin all the way to Las Vegas.  This series of pressure gradient graphs shows that there was a massive pressure gradient in the .24 in to .34 range from the Bay to the Great Basin. This creates a powerful suction that pulled the North Pacific High's surface NW winds through gaps in the coast range all the way to the Great Basin.
But there is more to this  story. Looking at image #6 check out the wind flow at 5000 feet. Notice the massive winds roaring over Northern California and over the Central Valley at 5000 feet then curving towards the Great Basin.  As you can see in image #7  these winds aloft grazed the tops of the hills and ridges of the Bay Area coast range. This in turn created turbulence aloft that sometimes transferred NW momentum to the surface winds. Thus the gust factor at most sites. This same process sometimes blew the surface wind away from Pt. Isabel and Berkeley making them somewhat unreliable as Mark noted in his forecast yesterday.
Now that you have a fuller picture of yesterday's winds take another look at the animation below of the North Pacific High's surface NW

winds and how they pushed so deep into the Bay Area and much of the west coast.
So why is Benjamin forecasting "0nly" upper teens to low/mid 20's today? Basically it is because the winds aloft are much weaker and more NNW while the pressure gradient to the Great Basin is only about half as strong. Let's see later today if my prediction is right.