By WeatherFlow meteorologist Shea Gibson
HURRICANE ‪JOAQUIN 11AM UPDATE:
The National Hurricane Center has kept Joaquin at a Category 4 Hurricane with 130mph winds (slightly down 5mph from 5AM). It has very recently started the northerly turn and is heading North at 3mph. Pressure at 939mb's. The slight weakening phase is likely due to cold water up-welling to the surface to limit further strengthening for now. Could gain strength as it lifts north over warmer waters again. The forecast path shows a majority of models (UKMET, GFS and EURO ECMWF) pulling it away from the coast and off to the NE while weakening over time. However, there are still a few models that pull it more westerly into the coast around coastal Low/upper Low pressure…so we cannot fully rule anything out until this storm picks up forward momentum and speed. Then, the forecast path becomes much clearer and solidified with forward progress. Storms this large, once they get going fast on one direction, tend to stay along their forecast tracks. In the meantime, the Bahamas are continuing to get battered with very strong winds and rains – so keep them in your thoughts for their prolonged experience down there.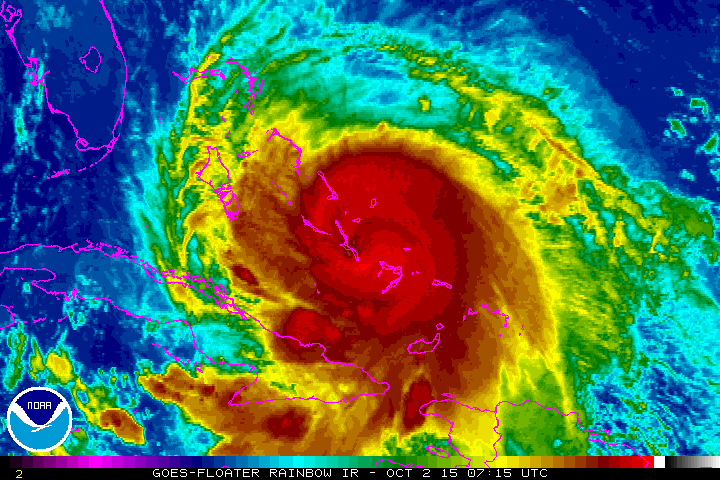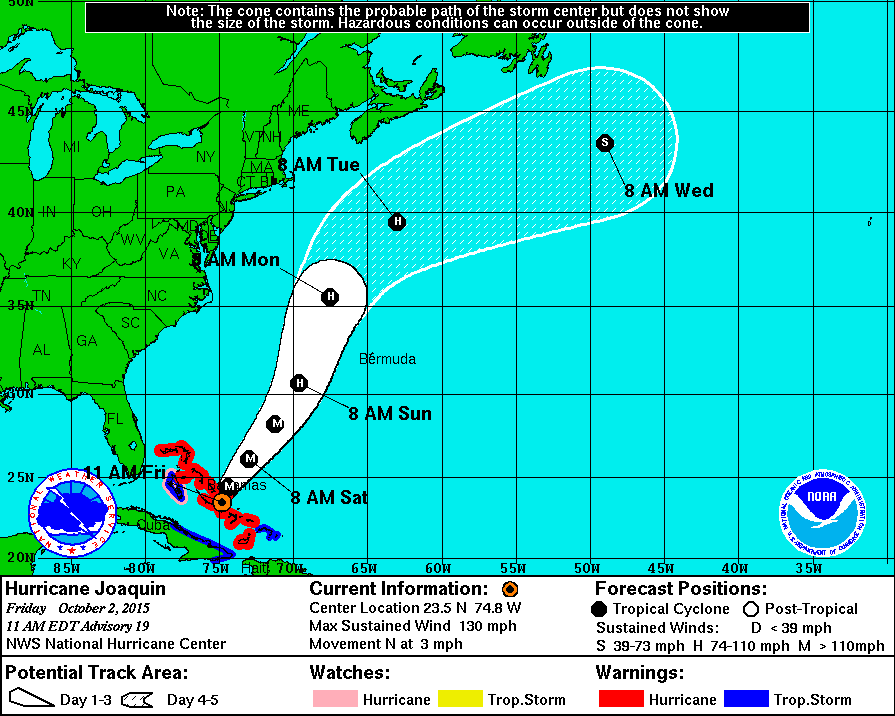 —>The bigger picture for us here in Charleston (and all of SC for that matter) is the rain event unfolding. Yesterday was just a start to the lengthy stream of rains forecast for our area. Low pressures developing along the coastal frontal boundary and to the south along an upper trough will back into the coast while Joaquin starts to head north.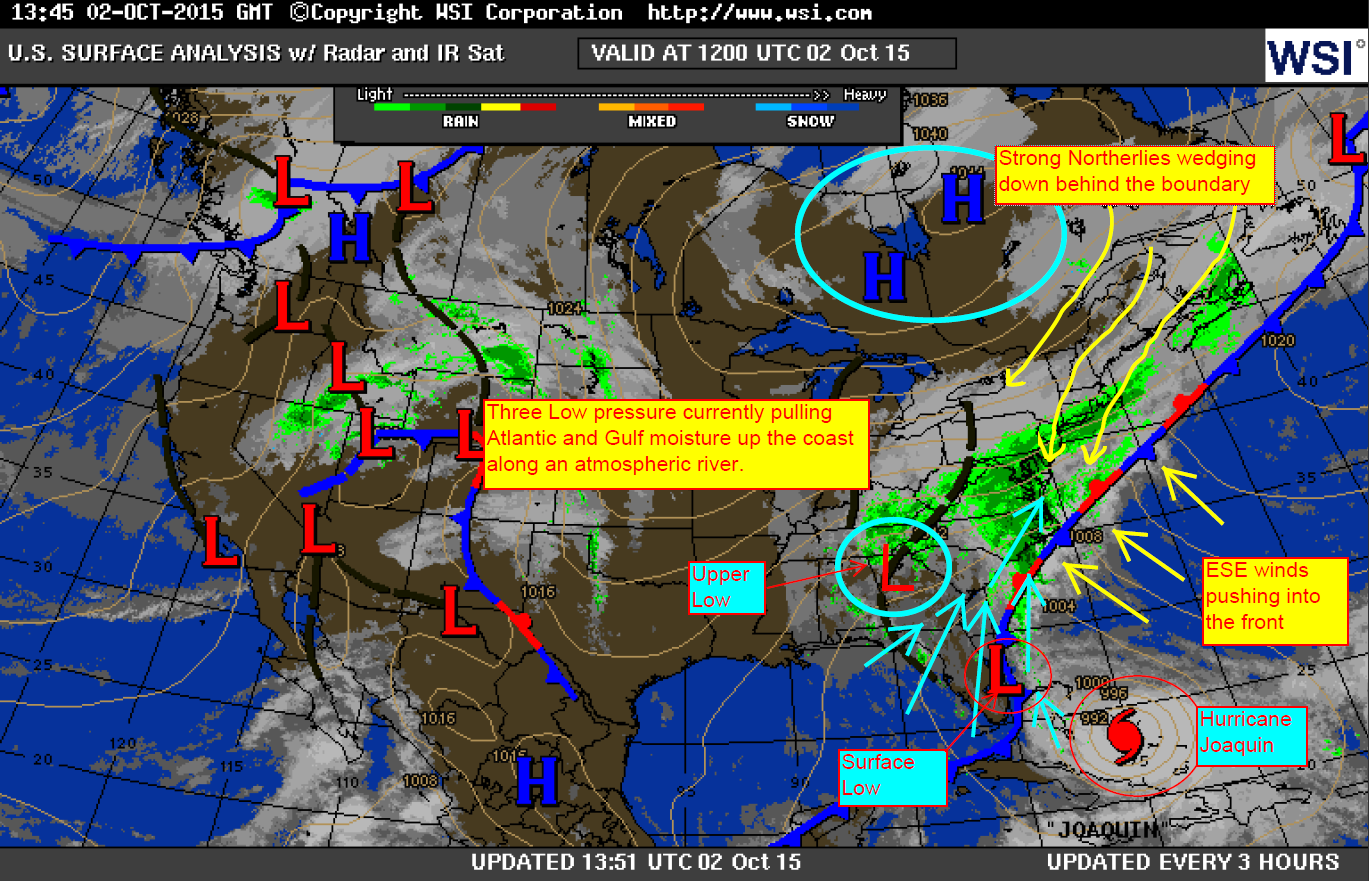 This sets up an atmospheric river along the coast with additional upstream from Joaquin to the south. The latest WPC rainfall estimates are at 5-6 inches over the next 24hrs and 12-15inches collectively over the next 5 days (pics below). Keep up with all Watches, Warnings and Coastal Advisories here: http://www.weather.gov/chs/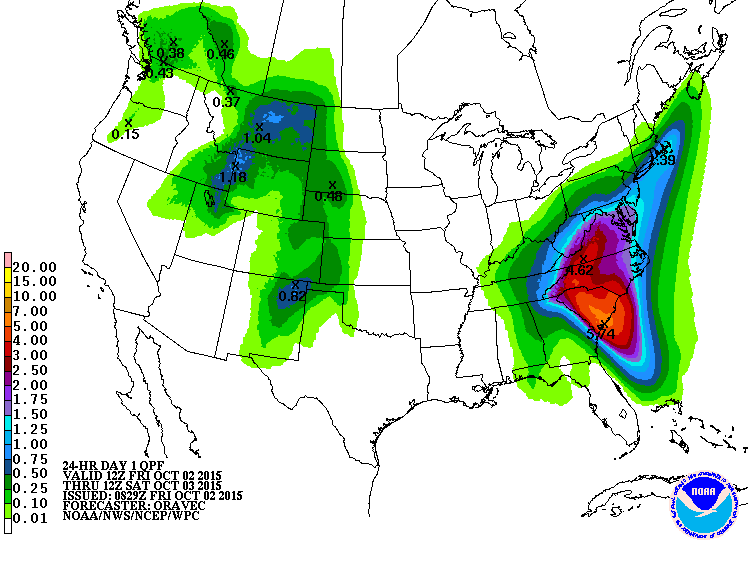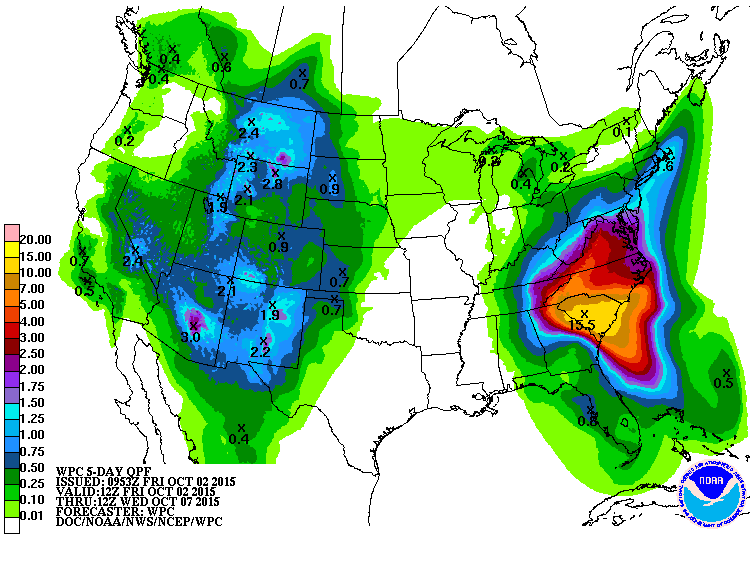 ***–>The important thing to remember with this is that the winds and rain we are currently seeing today along the SC coast are NOT associated with Hurricane Joaquin. They are associated with and upper Low to the southwest and a coastal surface Low to our south (and any other secondary/tertiary Lows that develop along the boundary offshore). We may see a few coastal impacts from Joaquin this weekend with outwards increases in winds, additional tidal surging from driving winds and additional rains.
—>Waves this weekend expected to reach 4-7 feet along Sullivan's Island/Isle of Palms, SC with 5-8 feet possible along Folly Beach, SC as Joaquin jogs north and east. Swell period looks to be anywhere from 9-14 seconds. Driving stronger East winds Saturday could make it a blow-out, but possible cleanup sesh on Sunday as winds lighten. Swell expected to peak Sunday morning. http://polar.ncep.noaa.gov/waves/viewer.shtml?-multi_1-latest-hs-US_eastcoast-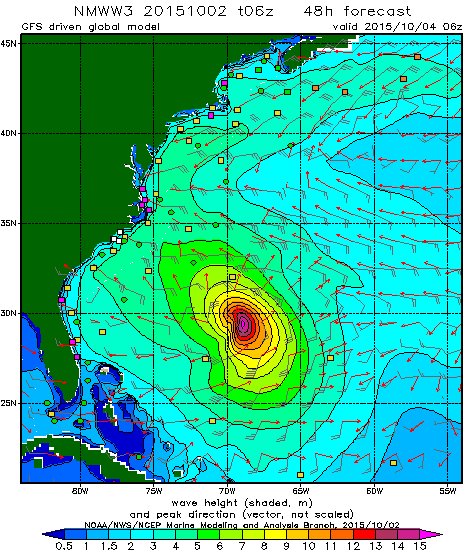 —>Winds will be very tricky as these Low pressures continue to wobble around along the coast. High pressure continuing to wedge down from the north + outwards pulsing gradient from Joaquin creates a stronger wind field (tightened pressure gradient to be exact) Saturday to show upper teens to mid 20's E/ENE'rlies with heavy rains and possible T-storms. Lots of UP's and DOWN's expected. Sunday, we see the wind field diminish as the gradient relaxes and system activity pulls away from the coast. At least ….we're hoping Joaquin will help pull all of the activity away with it. Attached to this post is the Pro Forecast from us at WeatherFlow (available in our WindAlert, SailFlow, FishWeather, iKitesurf and iWindsurf apps and products)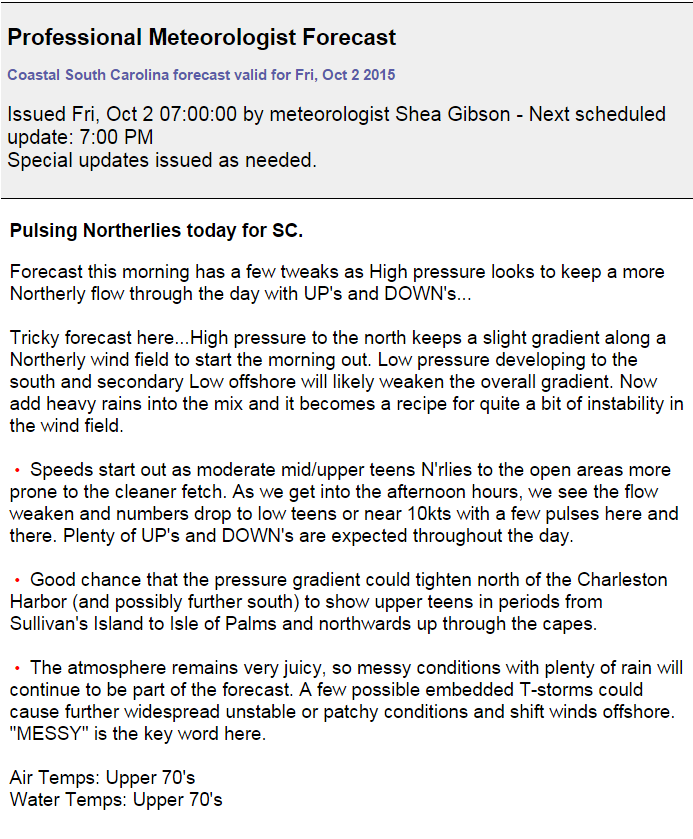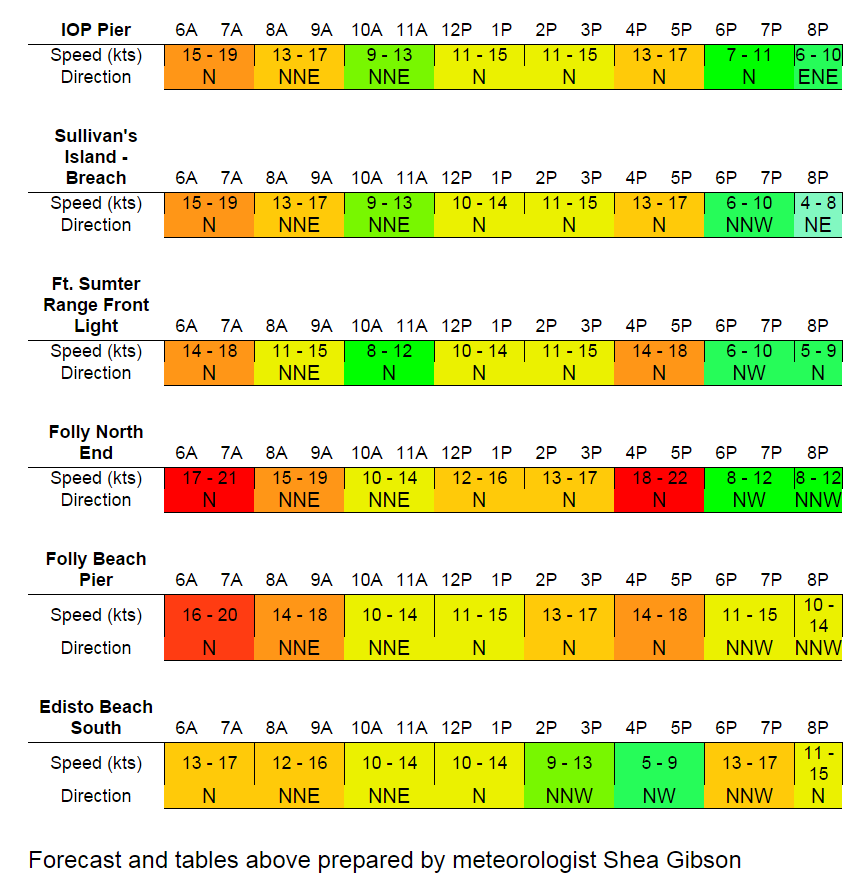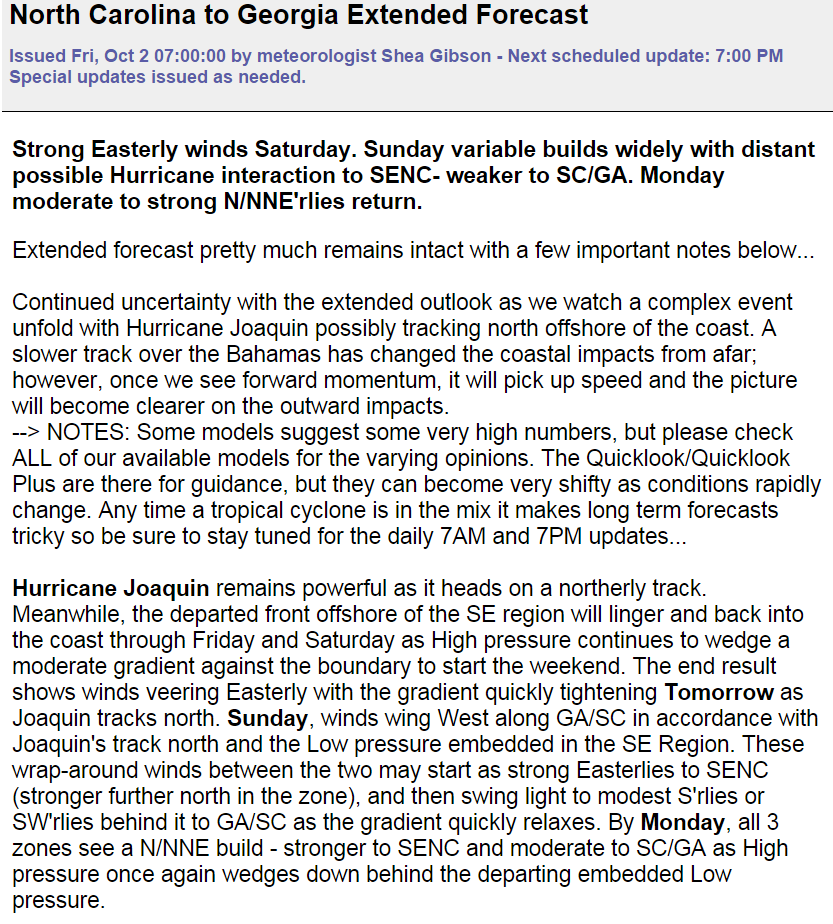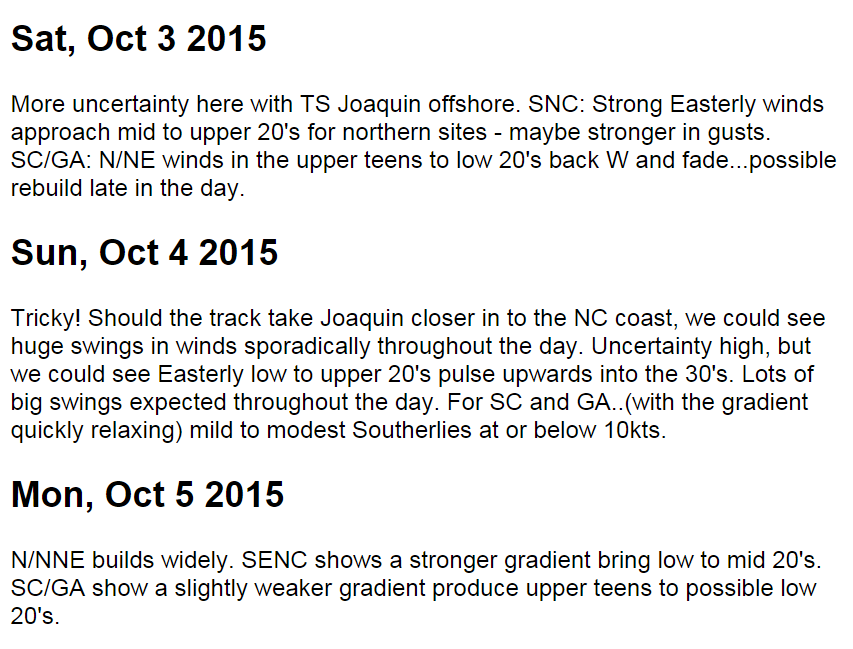 Please continue to watch Joaquin here in Datascope StormTrack via desktop/laptop: http://ds.weatherflow.com/storm/Joaquin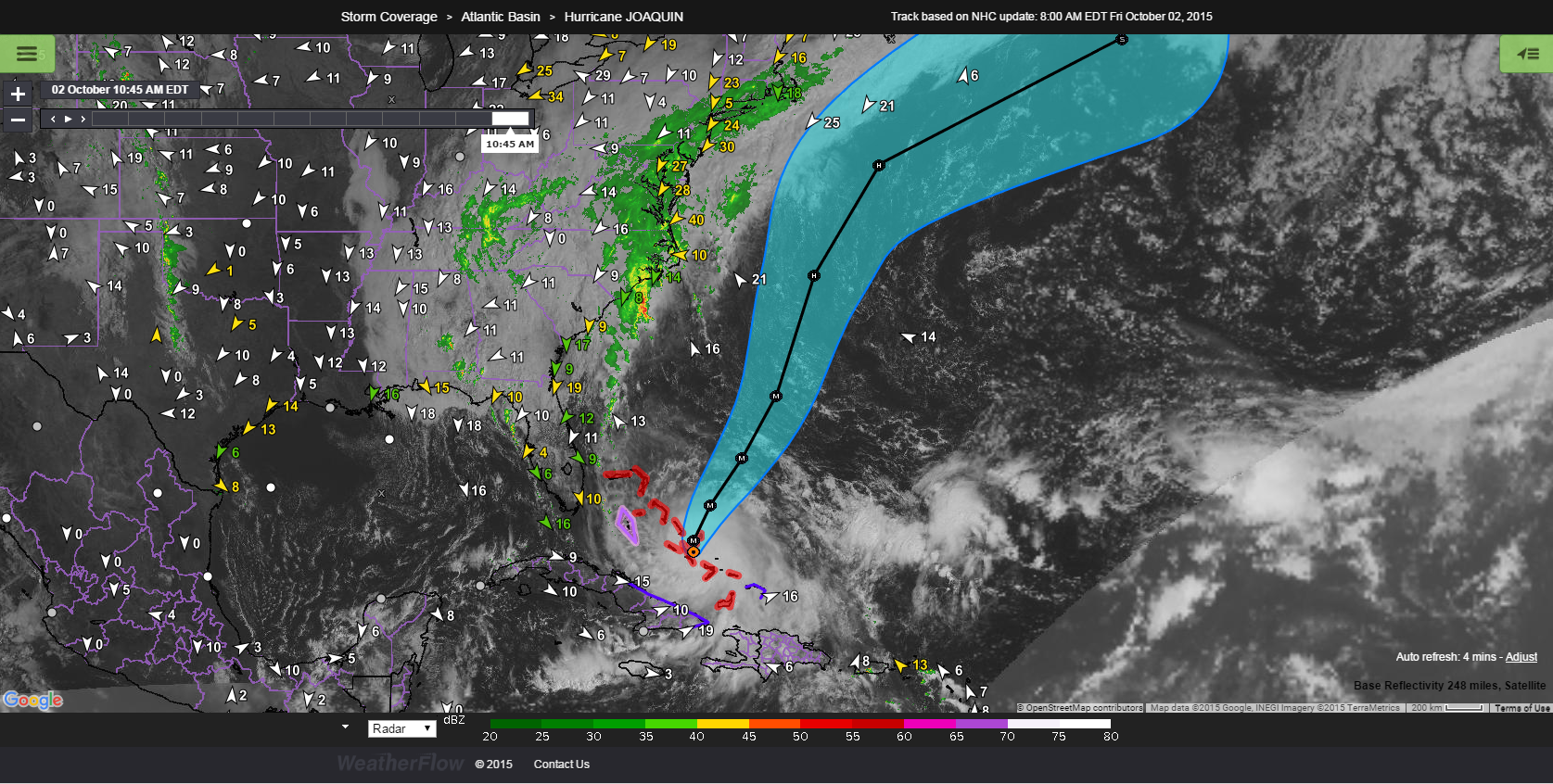 And mobile/iPad/Tablet functionality here at WindAlert: www.windalert.com/storm/joaquin
Feel free to follow me on Twitter @WeatherFlowCHAS
Regards and stay safe!
Shea Gibson
WeatherFlow Meteorologist
Outreach/New Station Projects
SE Region/East Coast