By WeatherFlow meteorologist Shea Gibson
Talk about unsettled weather in the SE Region…
You can easily see a temperature difference and cloud line in NC, but there is quite a bit going on here:
Screenshot of the GRE image by Daniel Cawley of the Foothills Weather Network in Burke County, NC.  You can see the warm air to the SW across GA and into Alabama – and also riding up into the higher elevations of the Appalachians.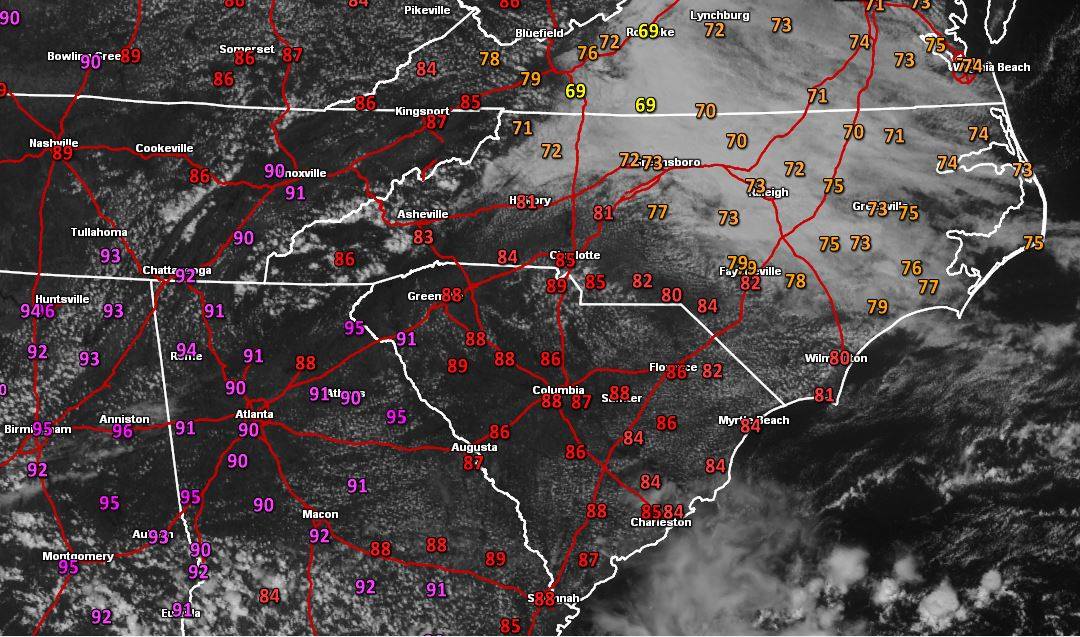 Here is the surface map from WSI that I edited to show the activity. High pressure to the north keeps the cooler sinking air wrapping clockwise into the coast, while warm air rides up over it inland. This setup tends to increase the ENE gradient at the coast to keep moderate winds going as that Northern High wedges down into the coastal troughing to the south.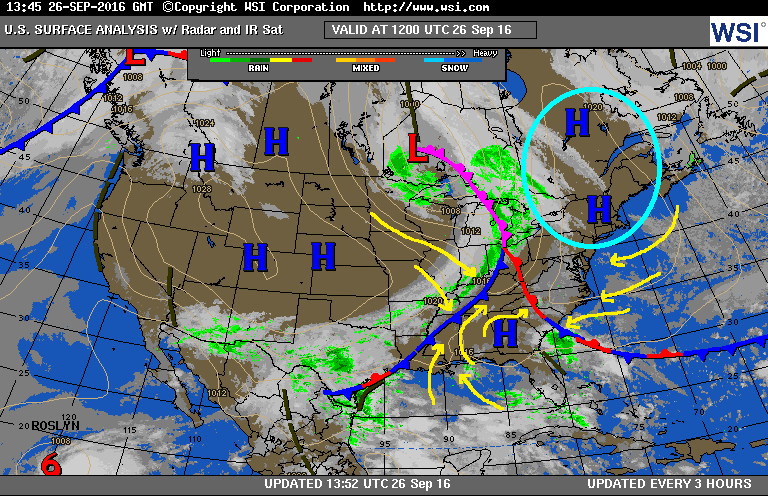 Technical initial statement: Cool air advection at coast w/ pre-frontal ridge + isentropic lifting keeping the backdoor cold front in check … warm front bulging north.
Translation:  Sagging cold front in the SE region in being held back at the coast while warm air in injected from the SW up into it ahead of the next cold front.

From this view using our Datascope viewer, we can see the weather station giving us a map of where the warm front/cold front is based on Southerly winds into the Piedmont, higher elevations and ENE winds at the coast.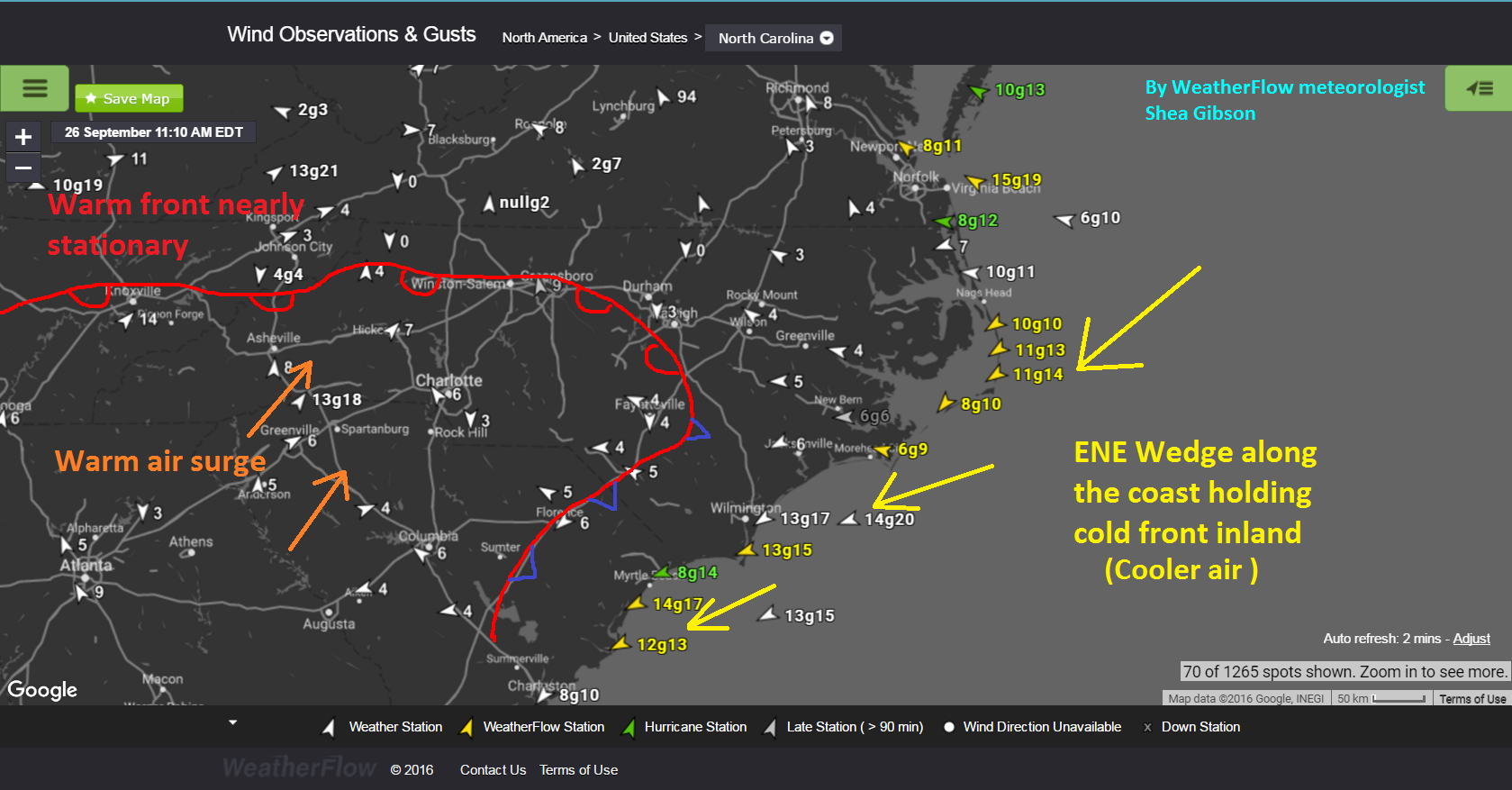 You can see at the higher elevations at Hogback Mtn, SC (3205.38ft) where the warmer SW wind is.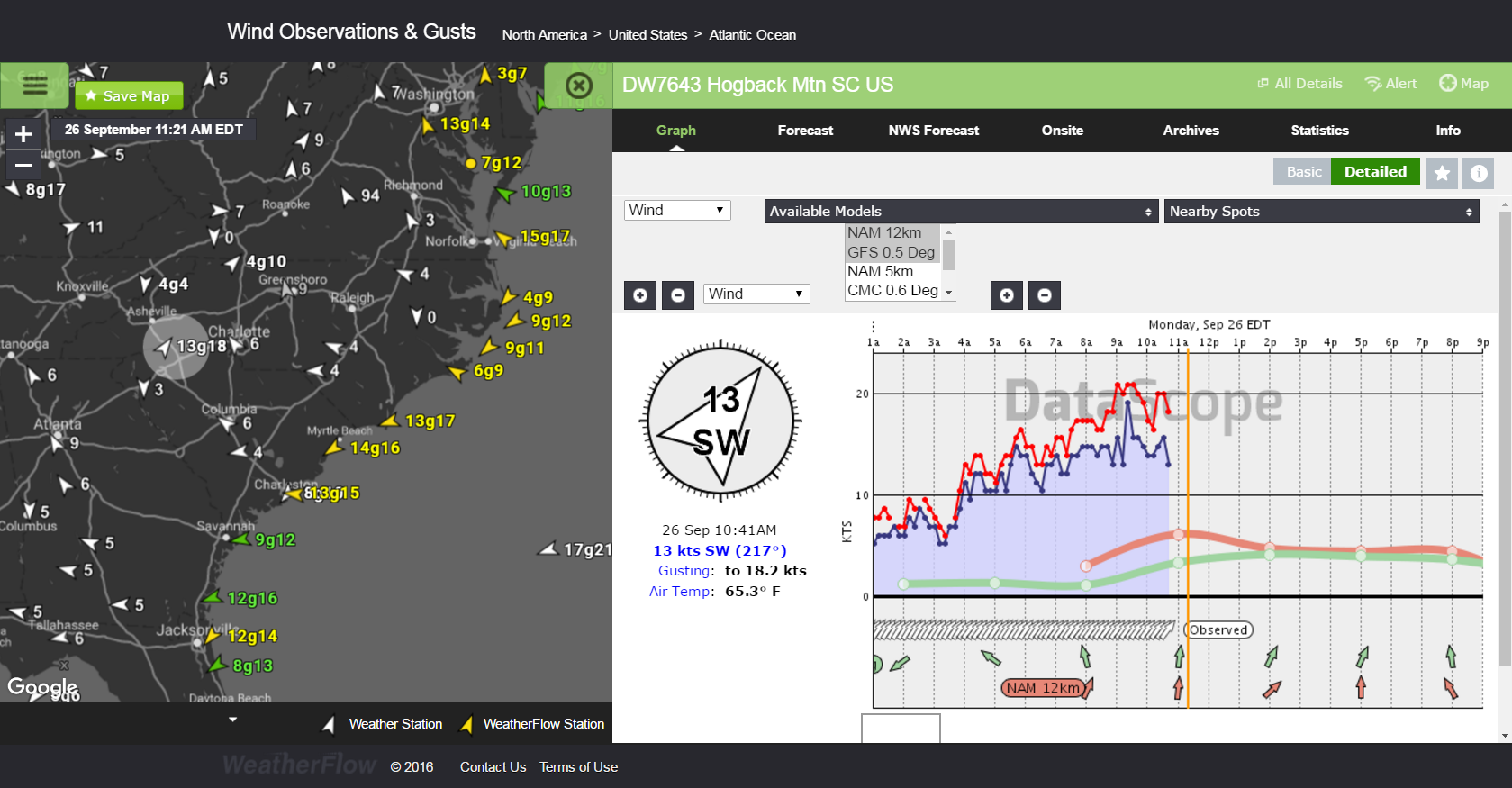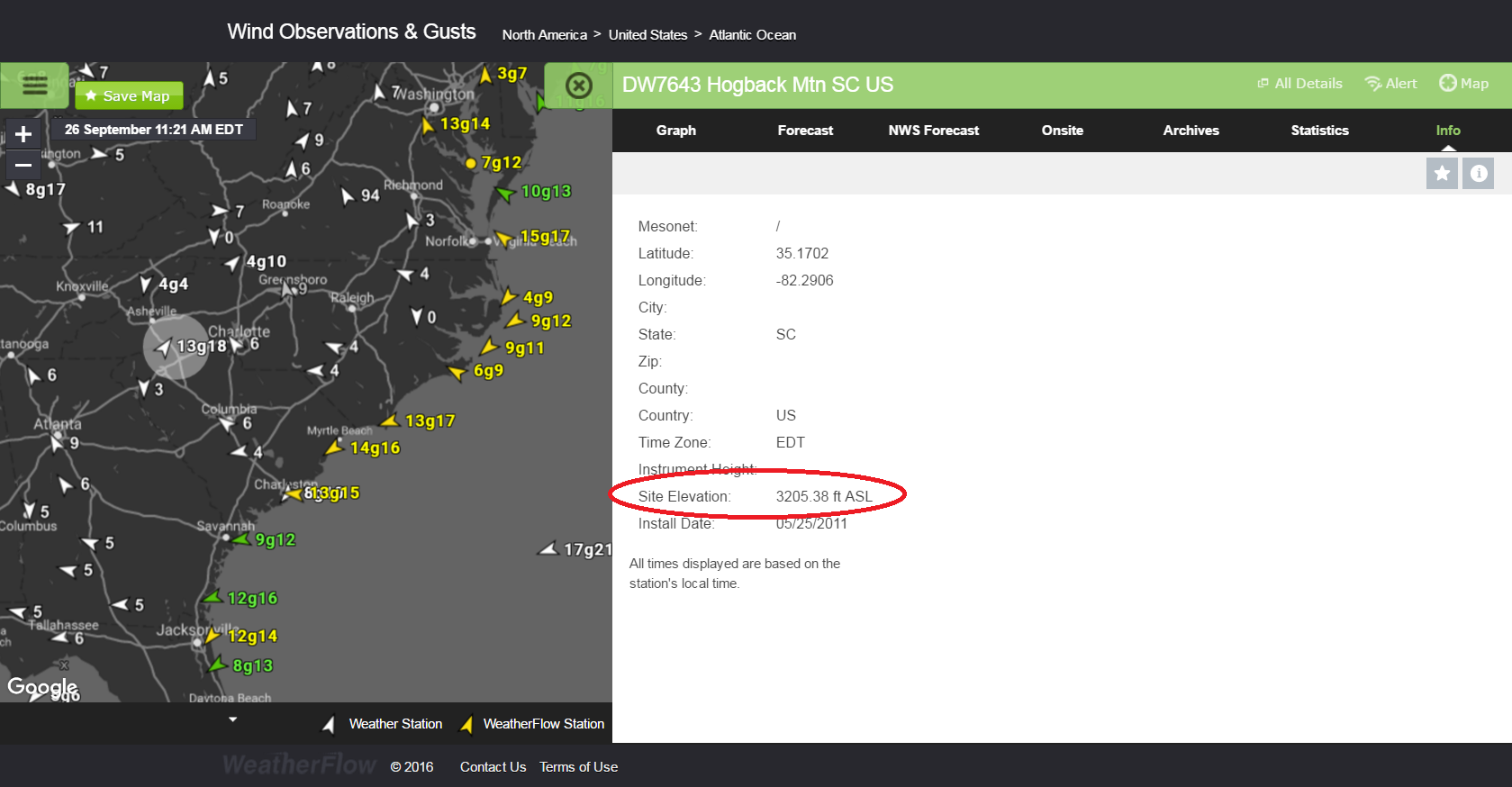 If we look at the weather balloon in Greensboro, NC from this morning, we can see the warm air layer just aloft from the surface air (warm air inversion). Unfortunately, we do not have weather balloons in those spots where the profile would be more pronounced, but it gives an idea of what it looks like from a vertical standpoint.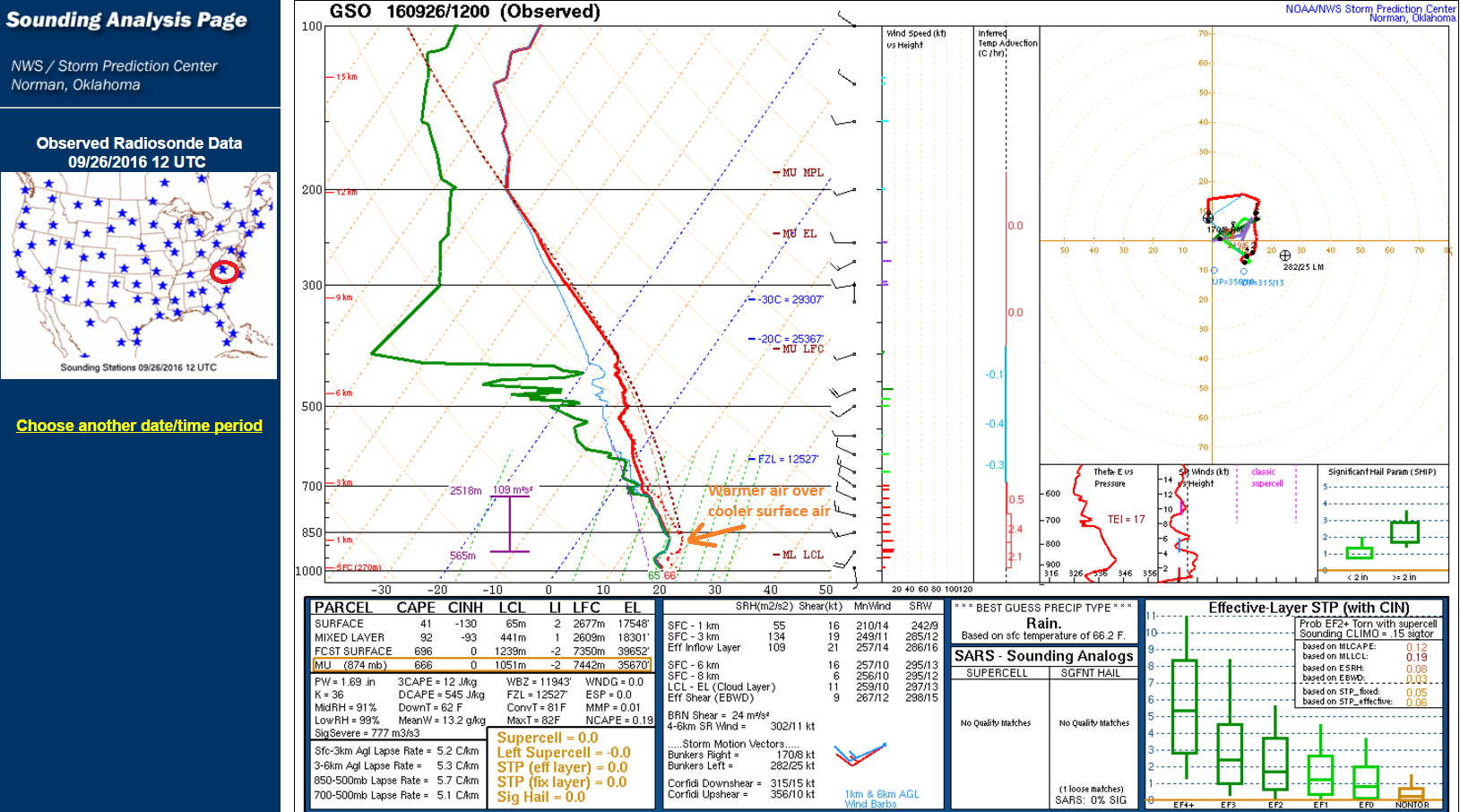 Tricky stuff for sure right now in the SE Region as we start to see signs of the seasonal shift to fall. For the coast, it makes forecasting that much trickier when we see this much activity and unsettled air patterns.
Stay safe!
Shea Gibson
WeatherFlow Meteorologist / Wind Forecaster
SE Region/East Coast
Outreach & New Station Projects
Twitter: @WeatherFlowCHAS
Sources:
SPC NOAA, GREarth, The Weather Prediction, The Weather Company (WSI)