Well… only if it is in the right place.

by Mike Godsey, mike AT iwindsurf.com
Up at ≈ 18,000 ft. feet a massive near record upper high pressure is expanding from Texas towards Southern California. Subsiding, descending, air from this high will compress and heat the air in the Great Basin & Southern California inland valleys and deserts creating an expanding thermal low pressure zone.
Typically low pressure in the Southern California interior means strong coast wind. But in weather as in life too much of a good thing…..
Looking at the first animation below for Sunday you can see the heat expanding from the interior towards the Long Beach coast.
This in turn creates a local low pressure zone inland so in the early afternoon the winds at Cabrillo, Belmont & Seal begin to build.
Note how the Palos Verdes Peninsula stays a bit cooler since it has cool ocean water on 3 sides.
Now look at the 2nd animation which shows the isobars going from the Pacific inland. Notice how as the heat you saw in the 1st. image approaches the coast the isobars also march towards the coast so the pressure gradient goes up.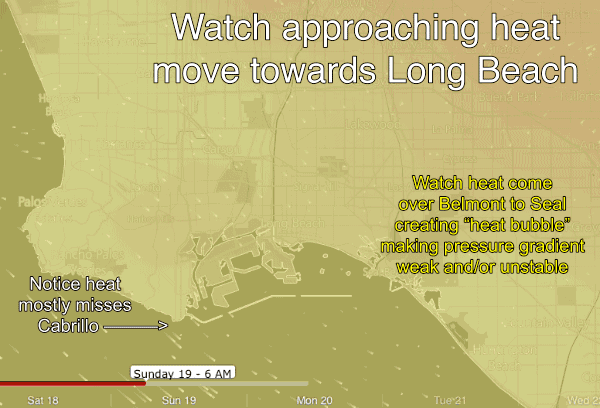 But then around 4 PM you can see the isobars balloon over the Belmont to Seal area. This means the pressure gradient drops over this area so the wind drop.
But Cabrillo, beyond the thermal trough (aka "heat bubble") is more likely to stay windy.
To make things more complicated the cool air blowing past Cabrillo fights with the heat bubble so the winds at Belmont to Seal pump up and down. And if the Cabrillo winds are strong enough they could possibly overcome the Belmont to Seal heat bubble. But if the heat bubble is strong enough it will divert the wind from Belmont to Seal and deliver it to the Huntington Beach zone.
Hence my complex wind forecast for Long Beach area winds tomorrow Sunday.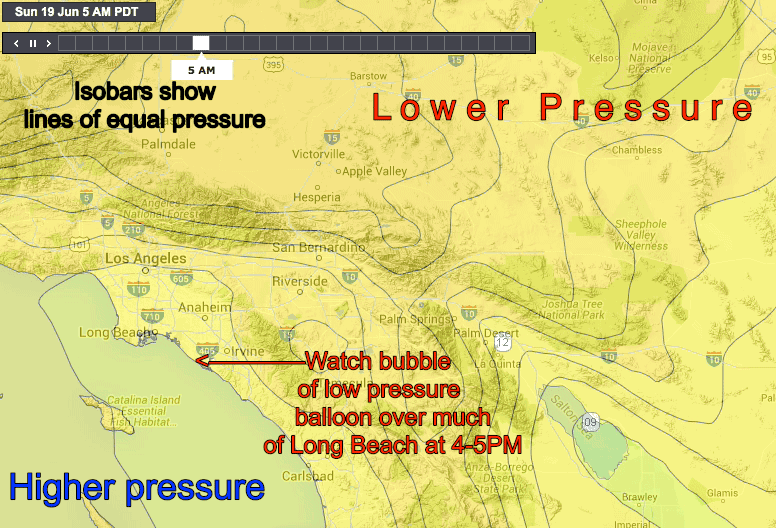 Incidentally this present heat producing 500 mb level upper high pressure is near the all time record level of strength. For the last 30 years the size, duration and strength of these 500 mb high pressure zones has been steadily increasing so California heat waves have become more common and of longer duration.