Weighing at 10X the size of the Golden Gate eddy… meet the Bodega Eddy.

by Mike Godsey
On many recent days we have been cursed or blessed by the tiny Golden Gate just west of the Gate. Cursed if you ply the waters of the coast or much of the Peninsula, Blessed it your home waters are in the Central to East
Bay.
Today we have a different type of eddy.
The Bodega Eddy is about 10X times as large as the Golden Gate Eddy and is well NW of the Golden Gate and just west of Bodega.
It is caused more by topography interacting with the NNW west of the ocean buoys while the Golden Gate Eddy is caused more by low pressure in the North Bay.
The top image shows the Bodega Eddy.
The bottom image shows the much smaller Golden Gate Eddy.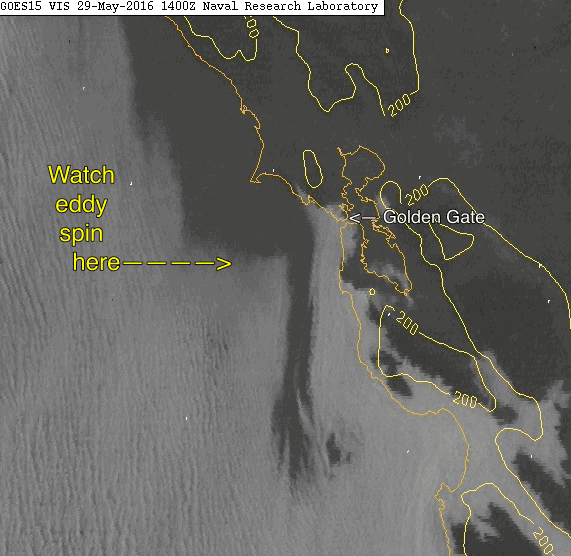 But despite the size and location differences the impact of the eddies is much the same:
Southerly winds on the coast
WSW winds in the north tower to TI to near Berkeley corridor.
And a mix of SW-W-WNW winds for the Peninsula.
If you are a long time Bay water person you are probably wondering what is going in the last decade with all these eddies and spring and summer heatwaves.
I should do a blog about that sometime but it is largely beyond my very limited expertise so it would be more spec. than fact.