Here is how we coax NW wind into the Bay.

by Mike Godsey,
It was a day much like today wind wise. There I was 22 years old slowly slogging out the Golden Gate Hawaii bound on a sloop only 2 feet longer than my age.
I was totally ignorant about the North Pacific High's surface NW winds. But confident in my $19 Davis Instruments plastic sextant.
It was a beautiful early May day with near calm winds as I passed Lime Pt. at the north

tower. Little did I know that just a few miles offshore crazy NW wind in mid to upper 20's would have me puking over the side in just a few hours. It was an inauspicious start to a 23 voyage almost through the NPH's no wind center to Hawaii.
So let's talk a look at what is special about  today and that similar day eons ago. Looking at the top video notice how the North Pacific High's surface NW winds blast down the California coast. But check out how they bypass Southern California except to help stir up a Catalina Eddy.
Then the winds blast  over Baja Norte pouter waters hitting land near Punta San Carlos before  curving east then north into the southern Great Basin .
Ask yourself… how can it be so incredibly windy at the ocean buoys just 10 miles west of the Golden Gate today but so weak inside the bay.
And why are Tyson and Wyatt going to find even dawn winds for their San Carlos Clinic?
The answer of course is the location of pressure differences. Looking at the 2nd image note the strong ocean buoy wind and het weak bay winds at 7AM.
Then looking at the pressure gradient charts notice how weak the pressure gradients are in every direction from SFO this morning.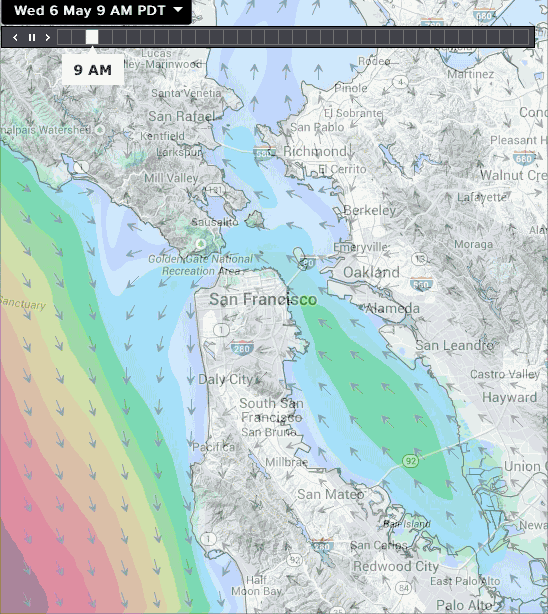 The gradient to Bakersfield tends to give the winds inside the Bay a more NW slant and it is near ZERI,
The SFO-SAC pressure gradient gives the wind a more W slant and it is very weak.
While the gradient to Redding gives the  wind a more SW slant.
Now look  at all those charts for this AM and note how they all shoot up in the  afternoon. if Benjamin's forecast and the pressure gradient charts we will see plenty of wind inside the bay today but looking at the Bakersfield chart you can see that  the best sites will be those favored by NW flow e.g. Bodega, Crissy, Waddell, Coyote and 3rd. Ave. etc.
Here is the model output for today. You can almost visualize the NW wind glassing through the gaps in the coast range chasing down those pressure gradients.
Now back to top video. What pressure gradient is making San Carlos blow so hard this morning?