by Meteorologist, Kerry Challoner Anderson
I have now lived in Southern California for over 20 years and still miss the traditional "fall" weather that is experienced if you lived in a higher latitude.  The joke is told though that California has it's own 4 seasons – Earthquake, Fire, Flood and Drought.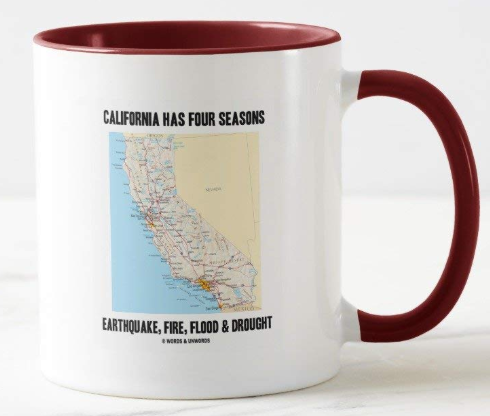 If that is the case, then we can definitely say that we have moved full gear into fire season in the Southland as we shift into the see-saw of onshore/offshore flow.  So far we have had 2 rounds of sustained offshore winds that have initiated damaging fires.  Santa Ana wind events have become a new headache for us as not only do we suffer from dry, gusty winds, the fear of fires but also periods of precautionary power outages.
Well those headaches are not over and in fact this week sees rounds 3 and 4 quickly move in as a deep upper-Level Low carves out a path over the Central Mountains and pushes toward Mexico.  This will bring cold air down into Southern California.
Sunday morning starts with a +4.5mb/100 mile onshore flow but by the evening a cold front sinks southward, High pressure moves into the Great Basin and the flow  abruptly sinks to a -4mb/100 miles.  This system will move fast and by morning the gradient turns more easterly and continues to plummet to a strong -6 mb/100 miles.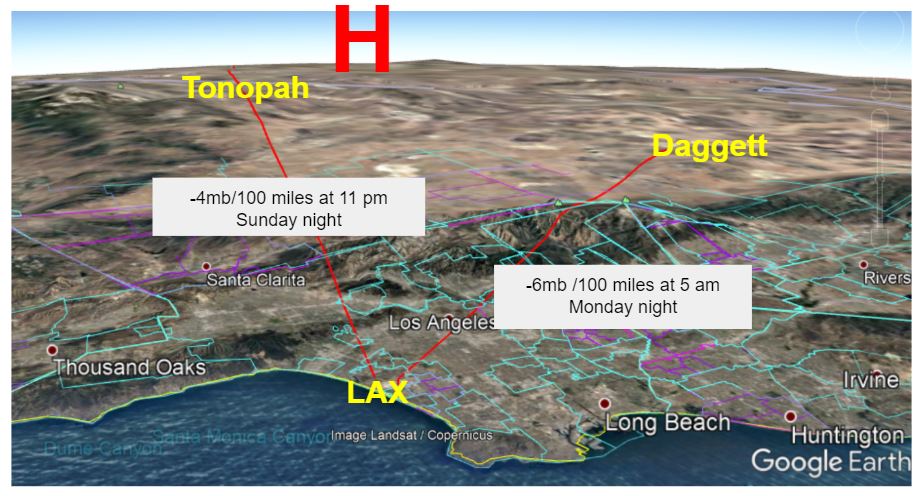 Consequently, overnight winds ramp up and red flag warnings go into effect for Monday.  Models show much cooler air moving in which will mix down and create gusty conditions.   We start with NE winds which quickly turn ENE/E in the morning.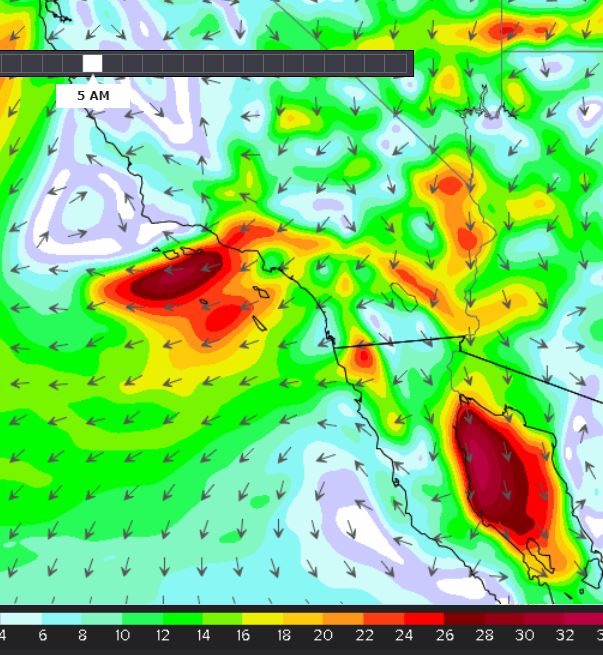 This system moves quickly out and by the afternoon, the gradients start to relax and the beaches are likely to see a reversal with some sea breeze activity.  The see-saw will tip quickly up and by Tuesday gradients are back to a +3.0 mb/100 miles. But not for long.  Another system drops into the upper Low and by Wednesday we head back down again, very quickly.  Models are indicating that we will be looking at offshore gradients at -9 mb/100 miles and another strong round of Santa Anna winds.