Sea Turtles of La Ventana Bay
Sea Turtles have existed for millenniums and yet in our short life time we may be both witness to and culpable for their extinction.
With each new hatching there is new life and new hope, but only one in a thousand live to maturity.  We can take an active roll in their survival by protecting their environment and nesting sights.
Five Turtles grace the shores and/or waters of Baja California.  The Loggerhead, locally called Perica or Caguama, and Hawksbill or Carey use the local waters primarily as feeding grounds.  The remaining three are known to nest on the sandy shores of Baja and more specifically on some of the beaches surrounding Bahia de La Ventana, these are the three that we are most likely to see.  They include the most prolific nester here, the Olive Ridley or Golfina, also the Black or Negra, and of course the one that arrived for the first time in eight years the Leatherback, locally referred to as Tres Filos or Laud.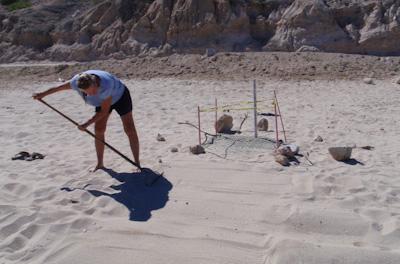 On shore we can protect their nesting habitat by being respectful and conscientious, collect trash on your walks, plastic is especially dangerous as it appears to be jellyfish – the primary food for leatherbacks and a source of food for other turtles.  Keep lighting low or lights off as much as possible if seen from the beach and in an emergency if you must drive on the beach, though it is illegal to do so, do so below the high tide line.  Someday it will be enforced and they may begin by using you as an example and confiscate your quad or vehicle.
If you find a nest – post and tape off the area, make note of the date, time, and if you have a camera photograph the prints and pass the info on to vbsciencepark@live.com  with a subject line of "Nest sighting"or "Turtle Sighting" if you spot a turtle alive or dead add info on size and species if possible.  This will be a way for us to find out what the local population is.
Take action – keep track of the timing, go back to the in 45 days rake and clear the grounds of debris and ruts down to the water.  
When on the sea, once again, be a conscientious driver and bring your entire trash home.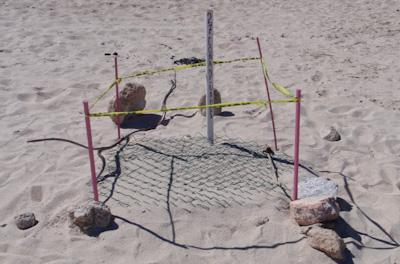 The presence of the public at these events did no harm but it did awaken an awareness that hadn't been here before. 
There is now a local group that patrols the beaches for nests and notifies Grupo de Tortuga. They also pick up plastic off the beach so it doesn't get blown onto the water looking like a jellyfish.