Video: upper trough bringing showers to the Bay Area and The Gorge brings a cool down to Southern California.
by Mike Godsey, mike@iwindsurf.com
Before looking at the video below let's get the main characters labeled.
This satellite image from 7AM Wednesday of the water vapor  due to upper level winds above 10,000 feet.
First find California on the right side of the image. Then note the northward loop noted in RED. This is an upper ridge, an area of dry high pressure air at ≈ 18,000 ft. This is also an area or sinking air that creates a heat up in the area below it. This upper ridge of high pressure has been hovering over the Southern California and the Great Basin  for a while now.
The heating induced by this upper ridge has created a strong pressure gradient over the Southern California coast and moderate local sea breezes.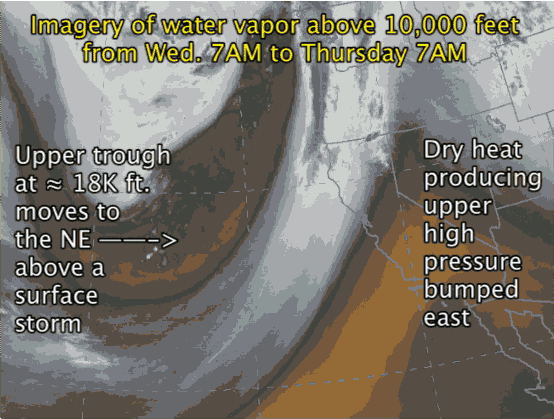 Now look to the right at of the image and note the southward extending loop in the upper winds. This loop of cooler air is called an upper trough and is located at ≈ 18,000 ft. You can not see it in the imagery but below this upper trough is a wintry surface low pressure storm system that is currently hitting the west coast from the Bay Area all the way to the Gorge.
Now look at the video animation  that shows the satellite imagery from  7AM Wednesday to 7AM Thursday. At the start of the video you see the loop of the upper trough out in the  Pacific. Note its movement to the East over the 24 hour period. It is this movement that is guiding the surface storm into the coast.  Note how the upper trough is also steadily moving towards Southern California. Also notice how the heat producing upper ridge over Southern California is shoved to the east by the upper trough. This will bring a minor cool down in Southern California today but by tomorrow we see much more of an inland valleys cool down, a deeper marine layer a weaker pressure gradient and light winds on the Southern California coast. until this upper trough departs.