On the afternoon of April 26th 2023, the Atlantic coastline of Florida saw a somewhat rare severe weather event more reminiscent of the Central Plains with supercell storms building southward along the coast, bringing high winds and large hail.
Given it's warm water sources on both sides of the state, large hail events in Florida are a relatively rare occurrence. Typically, larger hail-producing thunderstorms build in an environment characterized by a deep layer of dry air in the mid levels of the atmosphere, also known as an Elevated Mixed Layer, or EML. An EML is a layer of dry air 10-20,000 ft above the ground found downwind of mountain ranges or plateaus (such as the Rockies and Edwards Plateau). It is important to severe thunderstorm genesis by increasing the instability of the atmosphere, or tendency for air to rise explosively. This dry air also aids in the formation of large hail and strong downdraft winds coming from the base of a thunderstorm.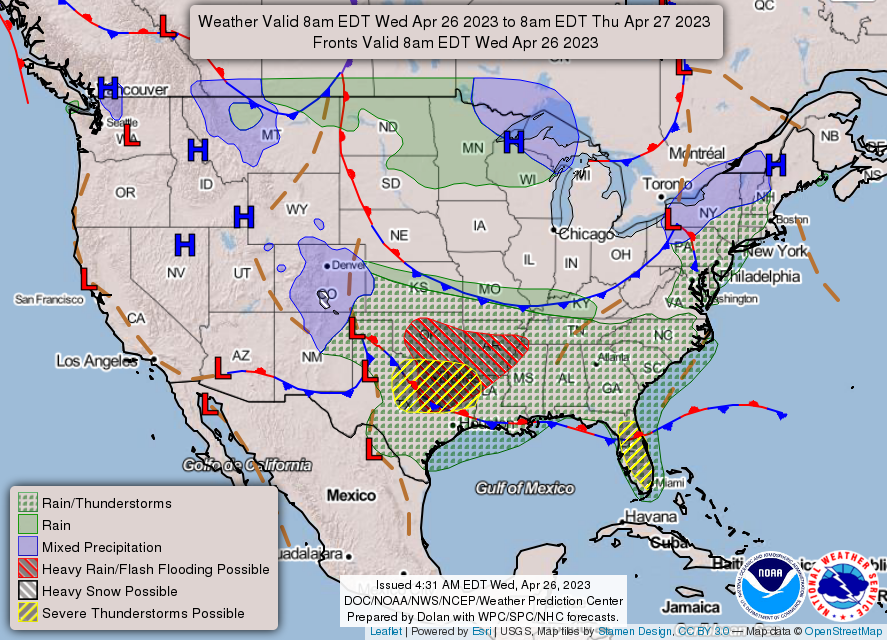 At the surface, a stationary front stretched across northern Florida with light morning winds becoming E-SE as a sea breeze developed south of the front. In the upper levels, strong W-WNW winds had advected some of the EML from the Central Plains all the way across the Gulf of Mexico.
These soundings from UCAR show temperature (red line) and dewpoint (green line) plotted with height at both Tampa Bay and Melboune as of 00Z 4/26. The greater the difference between these two lines, the drier the air. Both show a substantial dry layer between 700-500mb. This set the stage for an afternoon of severe thunderstorms with a warm, moist layer of air at the surface as the sea breeze enhanced onshore winds off the ocean underneath a relatively cool, dry layer of air in the mid levels.
The morning of the 26th, the Storm prediction Center had already upgraded the eastern coast of Florida from a "marginal" risk to a "slight" risk of severe weather. That slight risk was further upgraded to a more rare "enhanced" (orange) risk as of 20Z.
A severe thunderstorm watch was eventually issued for the hazards of large hail and damaging winds before storms popped down the central/southern coastline.
A radar image from WeatherFlow-Tempest shows these severe storms at 5:10PM EDT.  Many WeatherFlow-Tempest sensors recorded strong to severe gusts from these storms, with both the Jensen and Walton Rocks Beach sensors reporting gusts to 80+ mph! In addition, the Storm Prediction Center noted numerous reports of hail from penny to golf-ball size (including the Melbourne NWS office) from these storms.