by Meteorologist, Kerry Anderson
Springtime for Southern California is of course marked by flowers and blossoms like most locations but it also spells a return of the prevailing NorthWesterlies.  Mike Godsey detailed the formation of these winds a few weeks ago so I won't go in more depth than to  say that as the SubTropical High strengthens off the coast the pressure gradient increases and the California coastline sees periods of strong NorthWesterly winds.  Depending on the location of the North Pacific High and the strength and track of inland Low pressure systems the NorthWesterlies will fizzle or potentially roar and for the next few days they will roar.
When the NorthWesterlies strengthen and turn more NNW we start to see eddies develop in the Bight.  Today we've seen an eddy spin up just North of San Nicholas island.  It is hard to find it on the surface observations but note the Southerly wind at Catalina and easterly direction at the buoy to the west.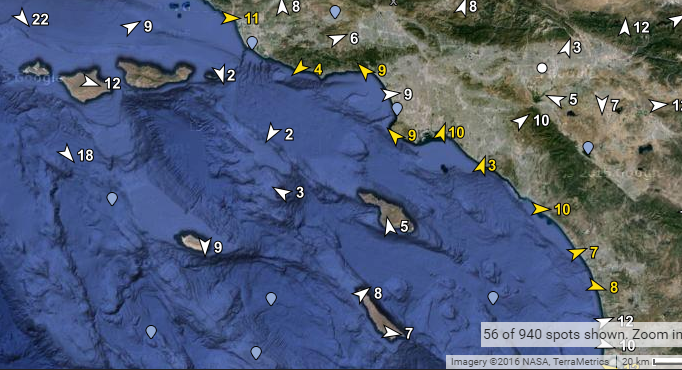 It is a little easier to find this eddy on the high resolution models which are doing at great job at locating these eddies and forecasting how long they will last.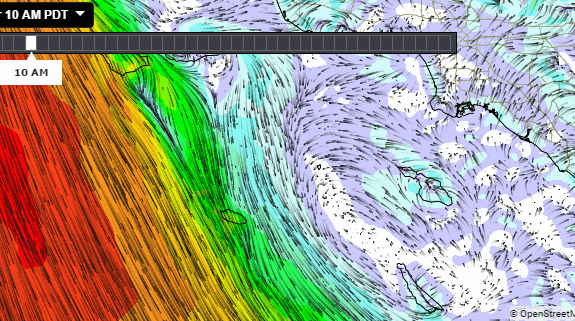 We have big changes coming for the NorthWesterlies over the next 24 hours.   Low pressure moving inland to the North turns south and drops into the Great Basin tomorrow while the North Pacific High bulks up.  Southern California gets pinched between these two features and the isobars stack up.

The gradient between San Francisco and Los Angeles drops to -10.3 mb.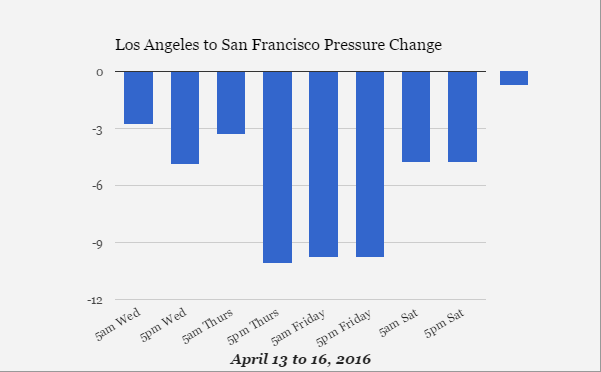 As the gradient increases the NorthWesterlies will turn more NNorthWesterly and strong winds will extend down the coastline and fill into the Bight through Friday.  The winds may move too far inland for any large eddy to develop for the Bight but with this orientation it is likely that we will see an eddy develop south of Gaviota and is likely to be very powerful. Watch the daily forecasts for details on this developing weather pattern.