by Meteorologist, Kerry Challoner Anderson
With the marine layer clouds so well formed we have the perfect conditions to pick out wind patterns by viewing the satellite picture.  This morning a large eddy has developed centered northwest of Catalina Island.  The following satellite picture clearly shows the swirl of clouds moving west along the Santa Barbara coastline and then turning southward in the outer waters around the circulation center.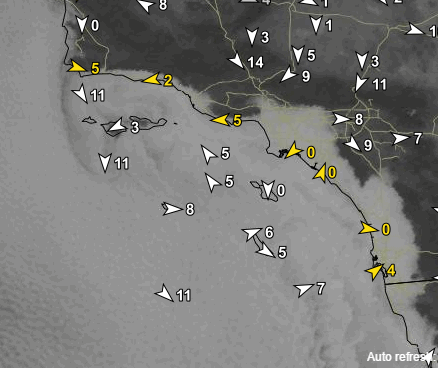 Here is a look at how the Wf-Wrf model projected the circulation would look at that time.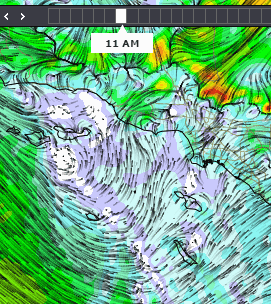 These eddies and thick marine layer clouds have been the star of the forecast for much of the past month and though they will linger we do have a change that should produce some stronger afternoon sea breezes. In fact the lingering marine clouds at the coast will help get these winds blowing. Currently the inversion that is capping these clouds is very strong and still quite high so the clouds have been able to penetrate the lower peaks and drive inland.  Today starts the development of a high pressure ridge over us. This will strengthen the inversion but will squash it down closer to the ground.

With the cap to the inversion closer to the ground the clouds won't be able to penetrate quite as far inland and should burn off a little faster for the near valleys. They will be getting toasty warm.  Meanwhile, the beaches will be sitting under a shallower but strong inversion and the fog is likely to get soupy thick and the air will be cool.  This sets the stage for large local temperature contrasts in the afternoon.
So expect winds to be southerly and mild again in the morning as another eddy spins up, but then in the afternoon as the eddy dies we should see the sea breezes spring to life once the marine clouds clear enough so the local valleys can eat up.
Update:  Latest models show that the eddy will hang together for much of the day so most beaches won't see the hoped for  gain in the wind on Wednesday.  Fingers crossed for Thursday.