…as the battered old North Pacific High merges

with new North Pacific 
High.
by Mike Godsey, mike@iwindsurf.com
It has been a wild 9 days of unending SW flow and Sherman Island and East Bay winds such as we used to see a decade or two ago. And the Sherman Island wind distribution was much more like we used to see in the old Rio Daze. Meanwhile the coast and most of the Peninsula had a 9 day wind drought.
But by Thursday July 24 the NW winds should return. It will not be an epic or even major NW event rather it will be the resumption of the typical combo winds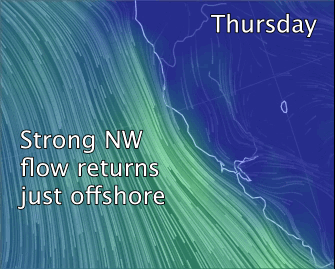 with SW thermal winds combining with NW ocean wind.
But it is a pattern that will spread the wind focus much wider so it includes Crissy inside, Waddell and the Peninsula. Since we are moving into a warming pattern Thursday the winds may be late and modest but at least with a NW component.

The imagery below shows how the long absent old North Pacific High west of the Pacific Northwest will begin merging with a new North Pacific High west of Baja over the next 2 days to bring this switch from SW to NW flow.
And at the bottom is the interesting story about how we forecasted these SW winds in advance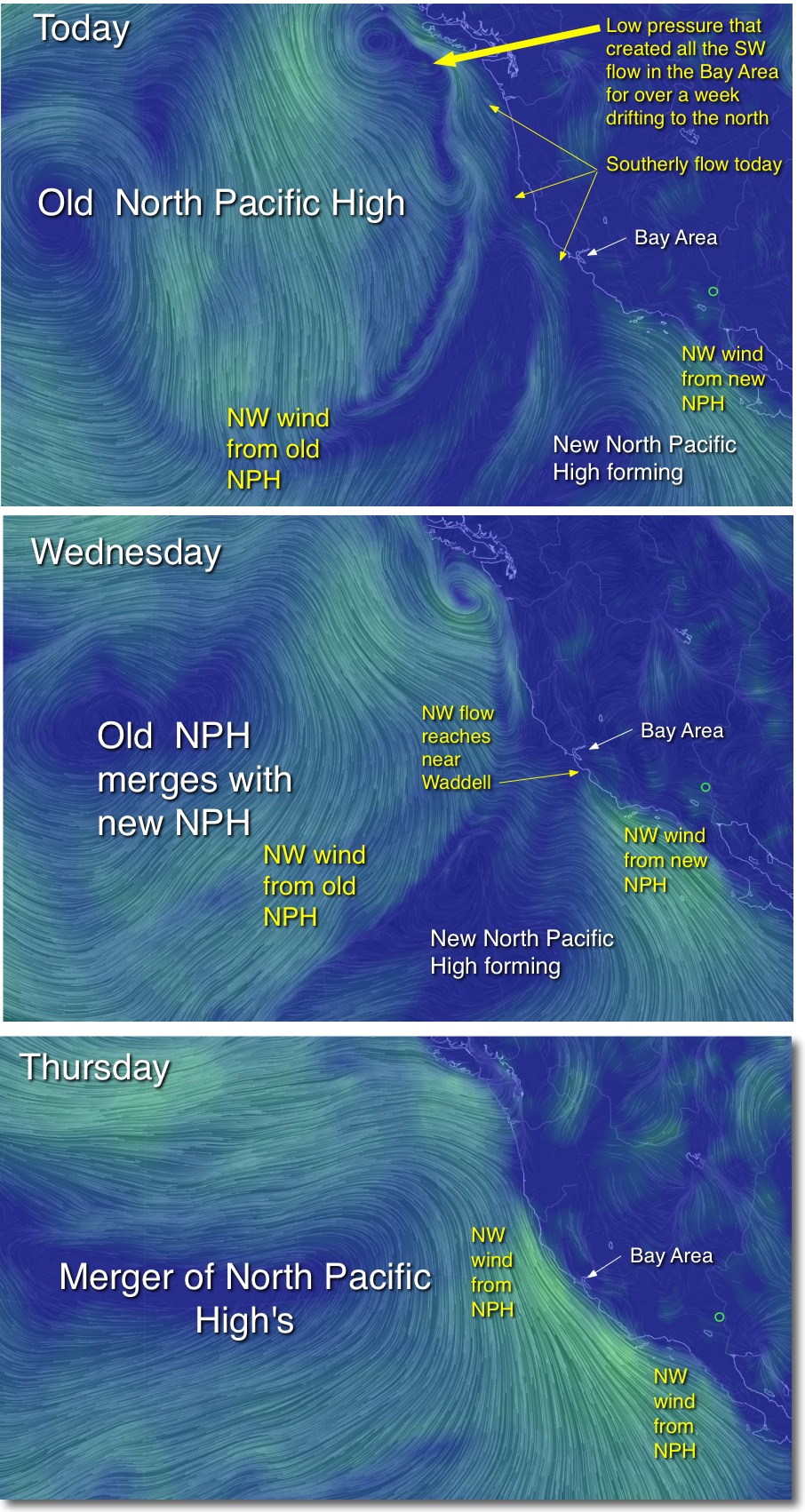 . Monday July 14, following my lead, Claire issued a 7AM forecast for another hot day and modest Sherman Island winds. Early that morning, spurred by a graduate student which whom I had be talking to, I was doing some research on the Southern California Catalina Eddy.
The Catalina Eddy is a large counter-clockwise spinning eddy that often spins up in the zone from San Diego to just past Los Angeles and can be a wind killer for Southern California.  I noticed that the Catalina Eddy was huge that morning and extended way west of the Channel Islands and even north of Jalama and Point Conception. Curious as to what caused this expansion I noticed that there was a mid level (700mb) low pressure system just SW of the eddy. I quickly realized that this low pressure was venting the Catalina Eddy, that is sucking air from the center of the eddy causing it to turn into a surface low pressure.
I then followed the modeled trajectory of the 700mb low pressure and realized that it ran northward along the west coast. This meant that if the former Catalina Eddy followed the mid level low pressure we would have a giant eddy heading towards the Bay Area. And its  counter-clockwise spiraling winds would mean SW flow and a deeper marine layer for the Bay Area for a day or two.
So I shot Claire the following hedge to insert as a bullet at the bottom of her forecast: "Chance of atypical SW marine surge from a huge expanding Southern California Catalina Eddy late today. "
I knew that some of you hate such hedges so I posted the message on the forums titled 3 Videos: Weasel words in the forecast: marine surge. If you missed this blog check it out to see why we had the long stint of SW flow.
Now almost 10 days later the SW surge is poised to fade  and NW winds should begin to ramp up.