Update 4/27/20: Per the US National Weather Service Charleston, SC: "The Hampton County, SC tornado from 4/13 has been upgraded to an EF-4 tornado. It becomes the first F/EF-4 on record in the Lowcountry region of SC and the first F/EF-4 tornado in SC since 11/7/1995 (Marion County)."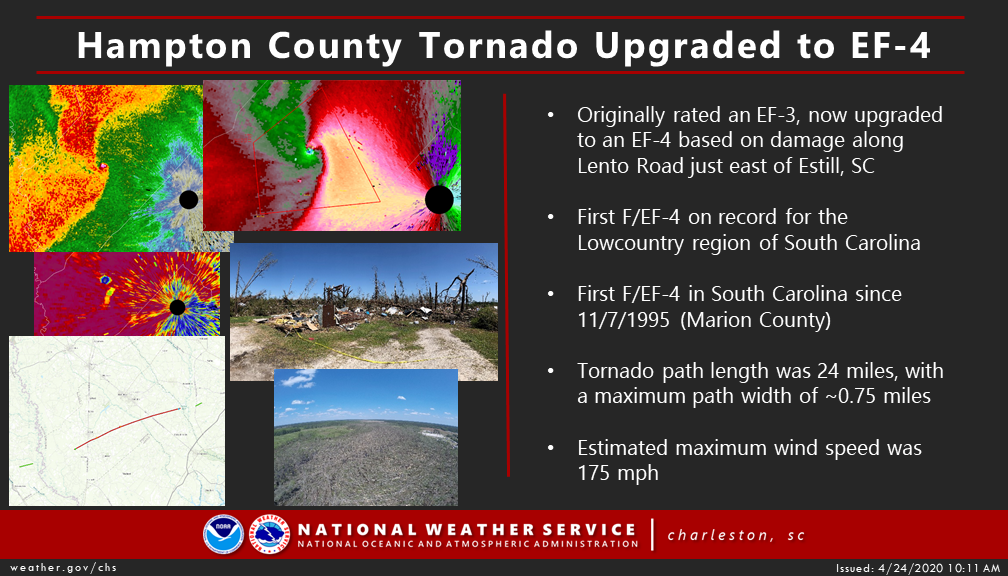 On Monday morning, April 13th, we saw a rare tornado outbreak across many parts of SC, including the upstate, Lowcountry and the coast. The path of one of these tornadoes started its rotation just west of the Savannah River in Screven County, GA as an EF-1 and moved into Hampton County, SC, where it blew up to a strong EF-4.  From there, it intermittently made contact with land as an EF-0 to EF-2 all the way to Murrel's Inlet, SC and exited to sea. Very long path and you will see below in this blog for what we picked up in wind readings at the end!
Whenever there are TOR Warnings issued and TDS's (tornado debris signatures) are viewed on radar in conjunction with eyewitness reports, NWS survey teams are sent out the next day to investigate for track and intensity based on damages and land-based scars, which are areas that have been carved out by the tornado. Here is the latest Local Storm Report update as of April 19, 2020 of this particular one. The black rectangle represents the track from WSW to ENE.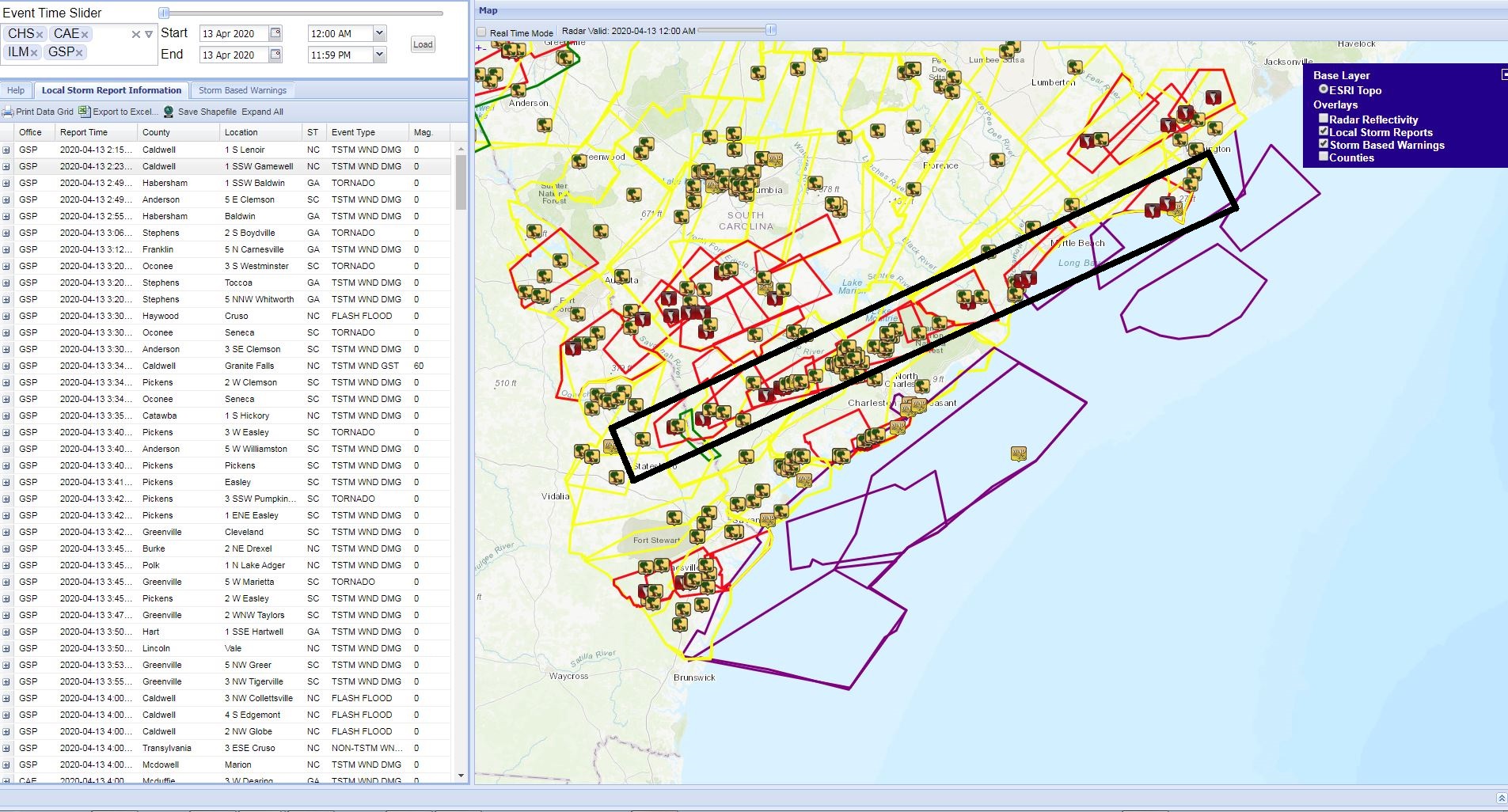 And here is the latest Damage Survey Viewer as of today, April 19, 2020 (which is still a work in progress). Note the distance of ~157 miles!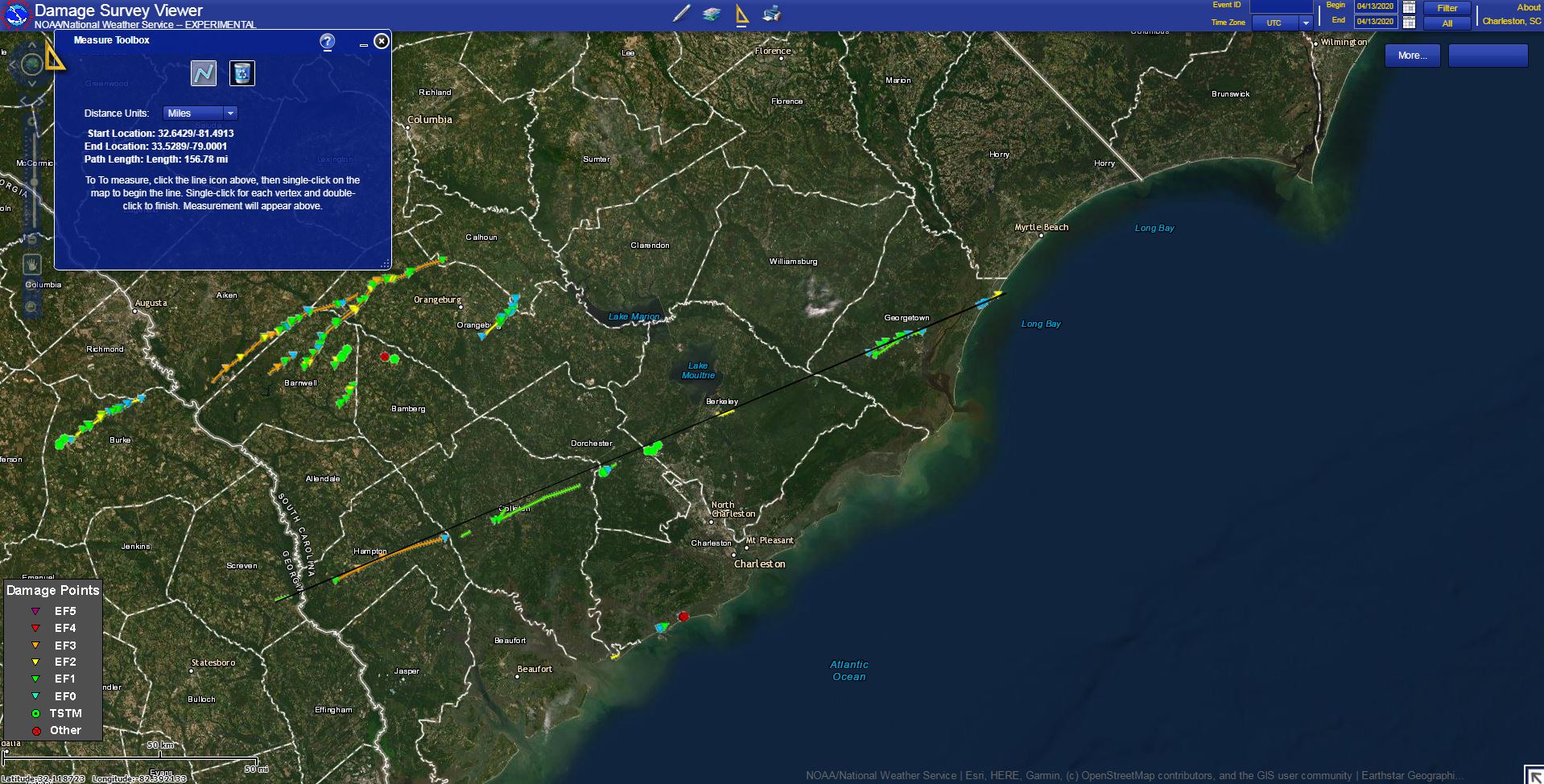 Clearer view…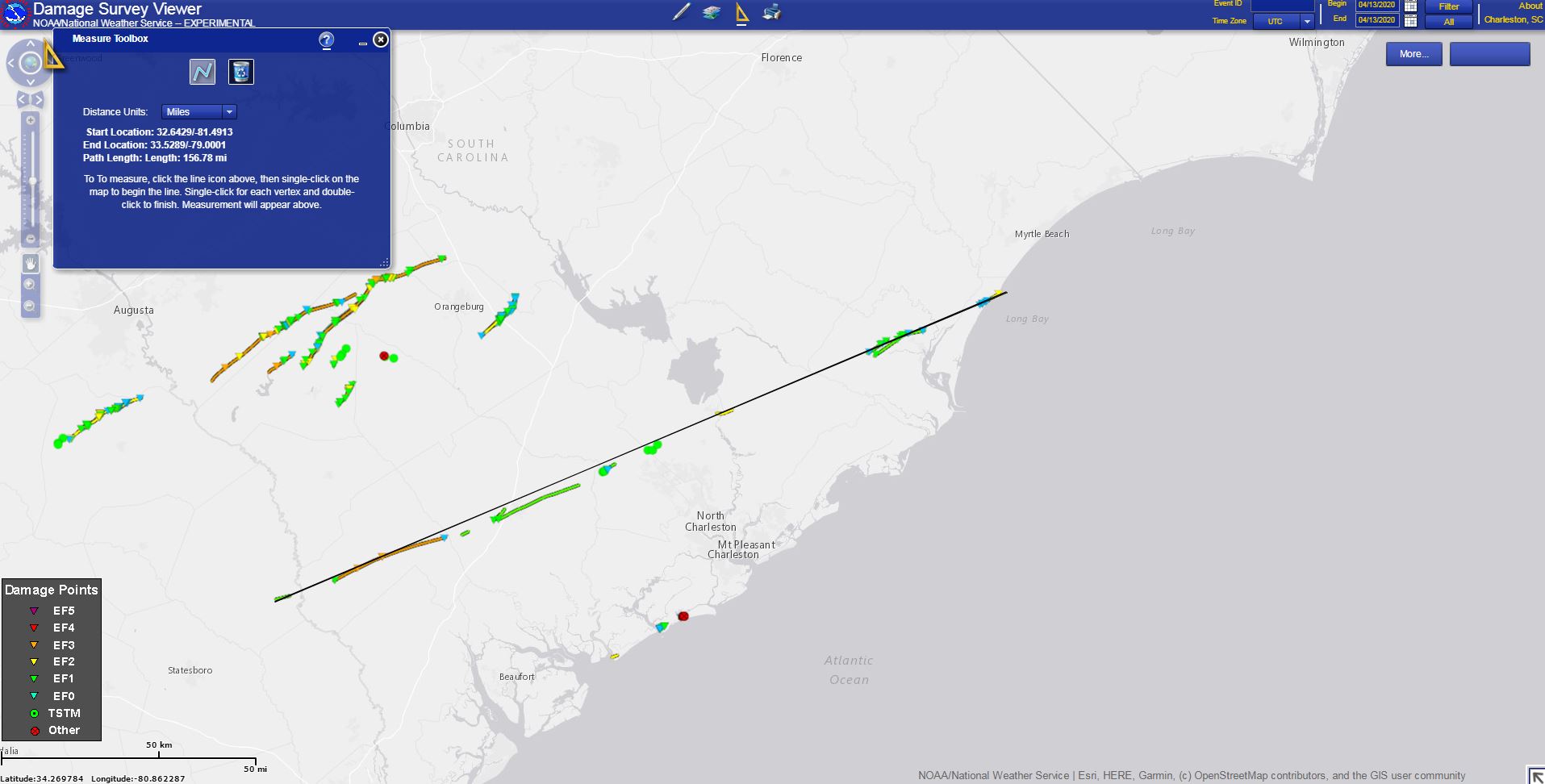 Here is the full loop of its trek across the state using Level II radar data…along with some edits I created to help follow the area of rotation across the Lowcountry.
This tornado was an EF-3 at its peak intensity, then fluctuated as it tracked through the Lowcountry. It seemed to re-gather strength to an EF-2 as it crossed the Waccamaw River basin, eventually  scraping the north tip of Litchfield Beach and cutting through Huntington Beach State park. From here, it went right out to sea over the outer Murrell's Inlet entrance as a EF-2 waterspout (once it hits water, it is re-classified as a waterspout or can be considered a "tornadic waterspout".
Notice the radar signature with the NWS Wilmington making mention of our professional WeatherFlow sensor there capturing a wind gust of 114mph.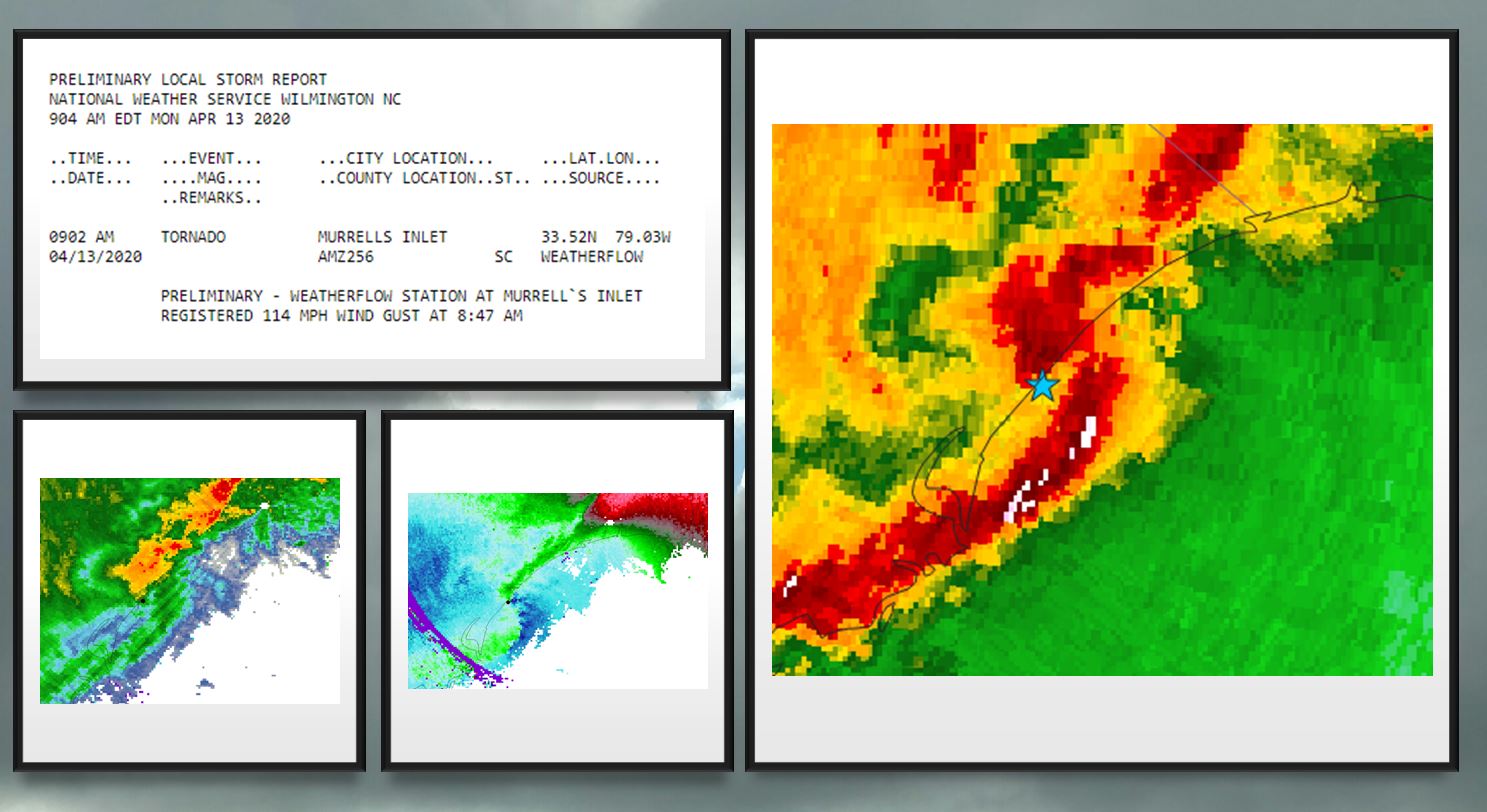 Here is the volumetric 3-D rendering I pulled from Level II radar in GR2 Analyst, showing the rotation and connection to the surface.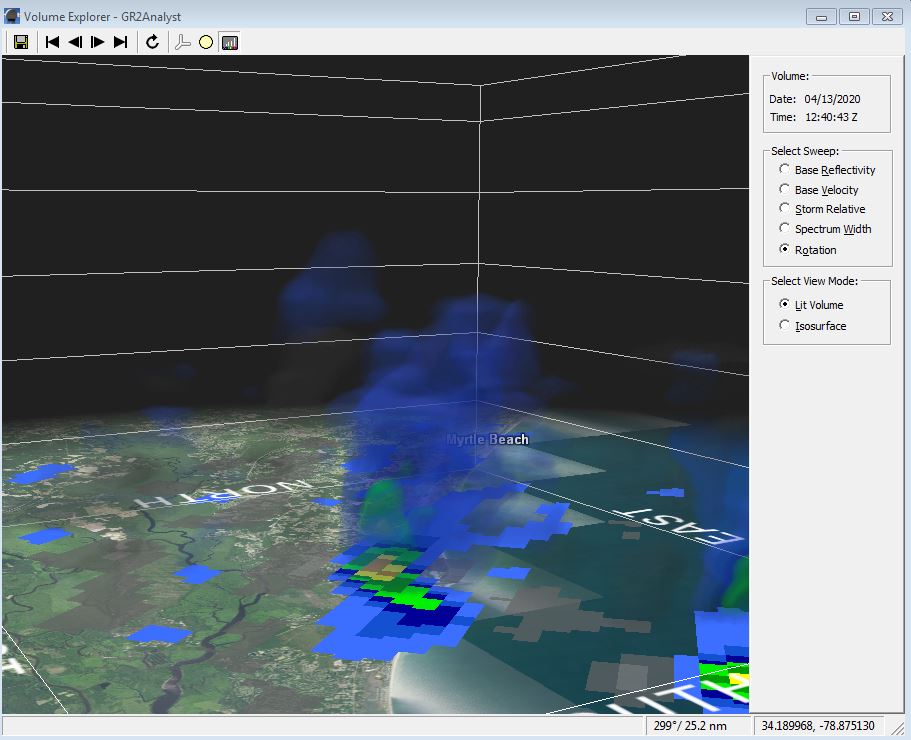 Notice the NWS text below reflecting the localized damages and also showing the Enhanced Fujita scale for TOR classifications…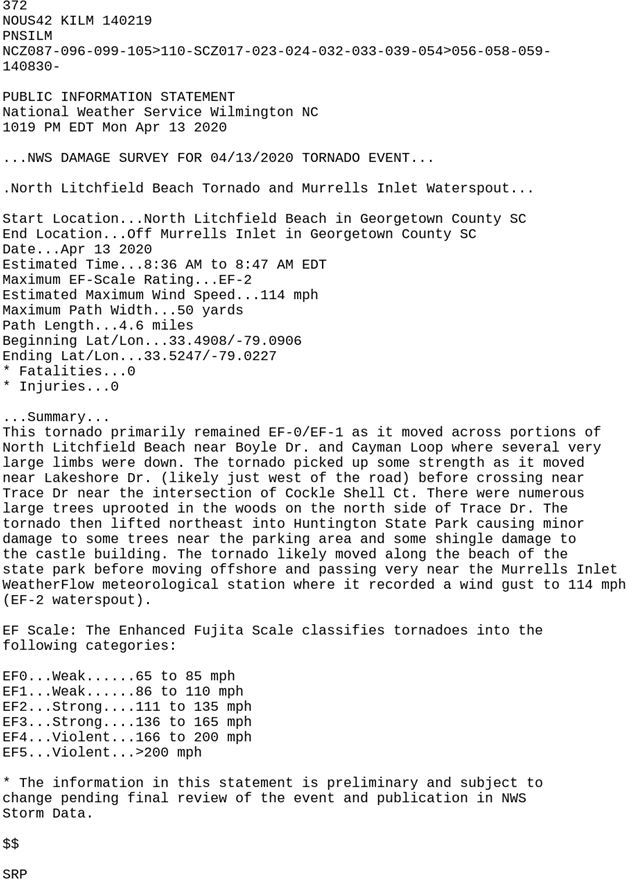 This is the graph for the day at Murrell's Inlet, showing the intense gust to 114mph with winds rapidly shifting from West to South ….all of this within one minute's time!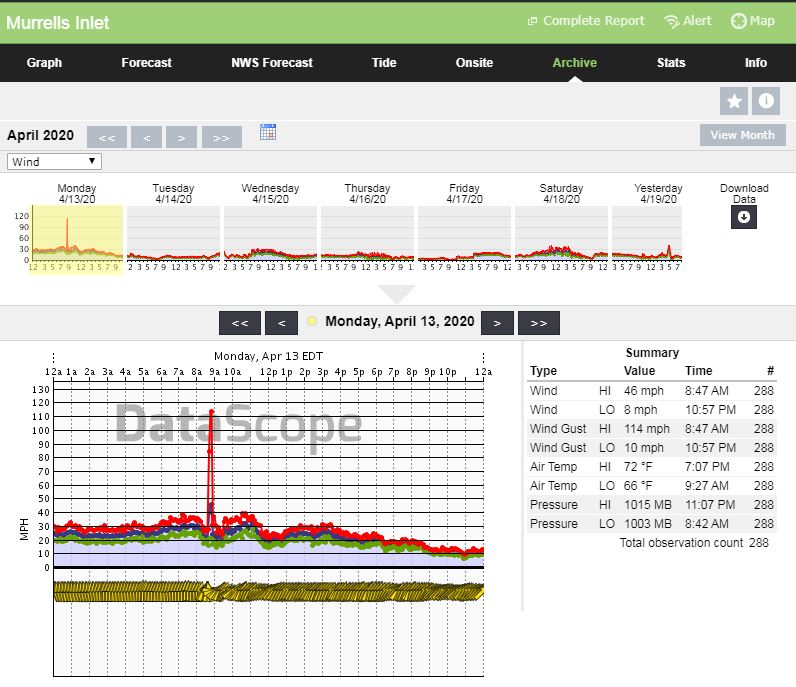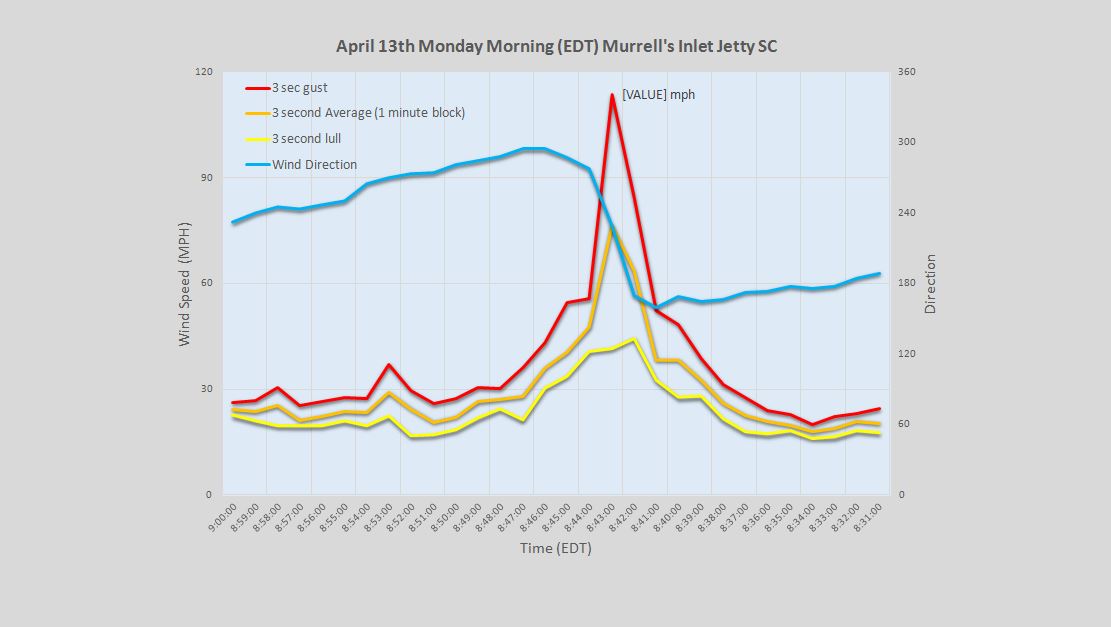 Just for reference, our MUR sensor is located just off the tip of the northern jetty and is 23.5ft. AGL (above ground level). Optimal height is 10m, but this is close enough and captures this event at a slightly lower level.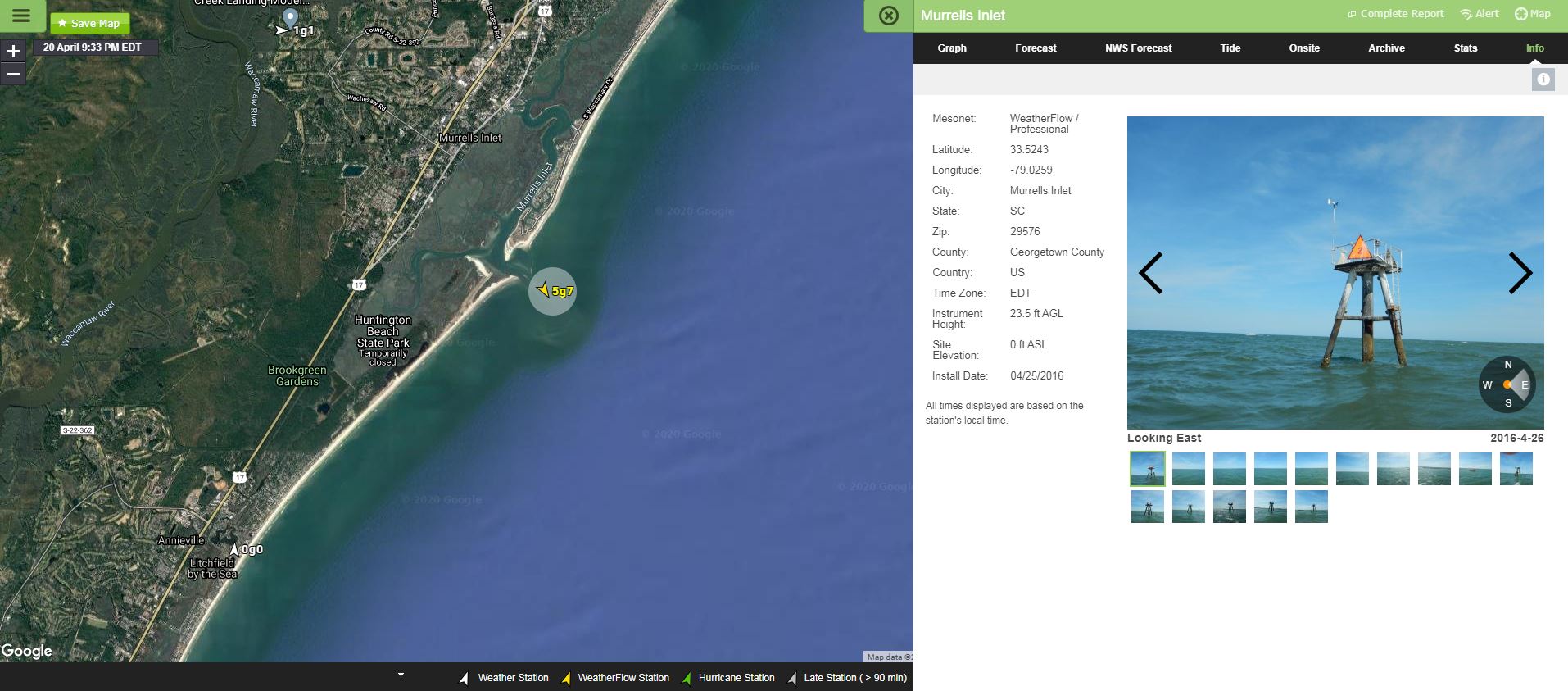 It is not very often we catch a tornado or water spout at one of our sensors, but this data is very helpful for many in the maritime and weather communities. Category 3 Hurricane force winds are no joke, but hurricane winds tend to be a more progressive wind field versus all-at-once. This event shows just how fast things can change within a very short period of time and how any issued TOR Warnings and SVR Storm Warnings should be taken seriously by our National Weather Service offices. Kudos to all of the NWS offices that worked very hard that day to get the word out about all of this activity!
Stay safe and cheers from us at WeatherFlow,
Shea Gibson
SE/East Coast Wind Forecasting
New Station Project/ Outreach
Twitter: @WeatherFlowCHAS
Facebook
Sources:
NOAA NWSChat Local Storm Report Application, NWS Damage Survey Viewer, AllisonHouse Level II Radar Archives, GR2 Analyst, NWS Wilmington, NWS Charleston, and of course our own in-house WeatherFlow metrics/visuals… with Datascope application graphical readings