By WeatherFlow meteorologist Shea Gibson on 6/28/21.
Well the NHC did name Invest 96L to TD4, and ultimately into Tropical Storm Danny this afternoon just ahead of landfall. They also mentioned one of our weather stations along the southern end of Folly Beach for reference in their decision-making processes along with hurricane reconnaissance.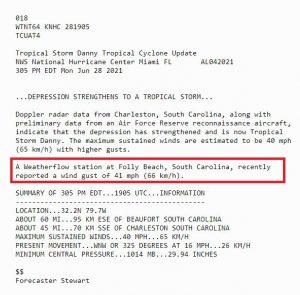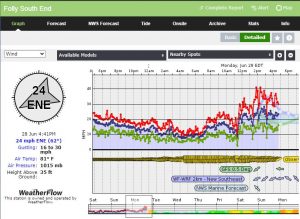 And 47mph in a gust at Buoy 41029 (Capers Nearshore Buoy) at 7:37PM…



The highest the winds were given was 45mph at the 5PM Update: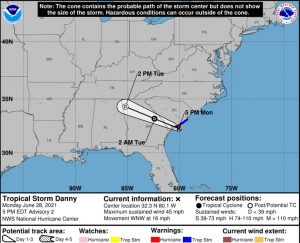 Here is the track as it made landfall…winds down to 40mph.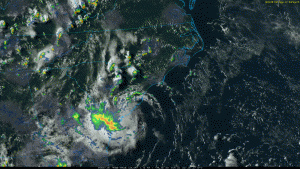 6/28/21 8PM ET:
Tropical Storm
#Danny
Advisory 2A: Danny Makes Landfall Just North of Hilton Head On Pritchards Island South Carolina.
There has been a large explosion of convection over Danny as it pushes into land. Gravity waves are being sent in all directions. Luckily it is over land now and should not have a chance to intensify. Doesn't mean it will not continue to be a heavy rain/storm maker. Another day over water at a slower pace and the story may have been a bit different. Better to have a fortunate situation than a bad one. Savannah got the worst of it. Heavy rains/storms to continue tonight and into tomorrow closer to its core.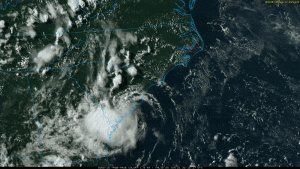 Up to 8 inches of rain fell is some locations between Limehouse and Hardeeville, this creating some fairly bad flooding along Highway 17 South, including these reports from Chris Jackson. Meanwhile, Savannah also had quite a number of storms with a great deal of lightning. Some damages were reported with a building fire after two strikes. A tree was down on Hwy 170 about 2 miles E of the Savannah River…most likely caused by lighting.
All of this was a more fortunate turnout than a stronger storm with additional dangerous conditions. Just a wake-up call for the rest of the season! Reminder to have your hurricane kits update and evacuation plan ready to execute if or when the time occurs.
Stay safe and stay weather aware!
Sources/references: https://www.cod.edu/, https://www.nhc.noaa.gov/, https://www.weather.gov/chs/, https://twitter.com/ChrisJacksonSC