By WeatherFlow meteorologist Shea Gibson on 7/20/2020 at ~9:00PM ET.
7/20/2020 Monday 8PM Tropics Update:
We are starting to climb into the more active portion of the hurricane season and will begin to see more activity in all areas of the Atlantic basin including now the MDR (main development region).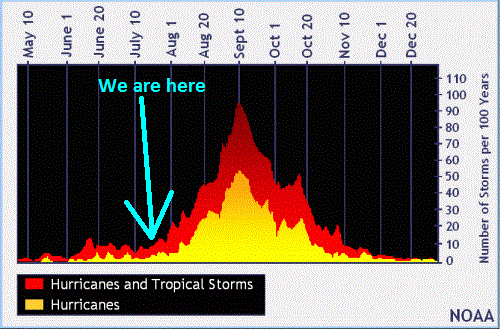 Here are the 3 main areas where we see development in the Atlantic basin with areas circled now…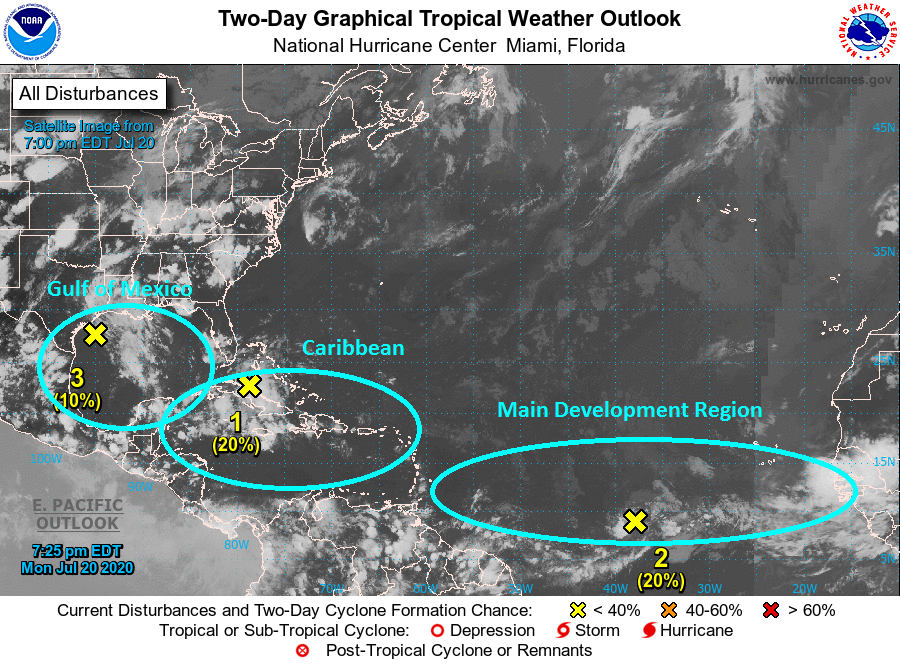 We have 3 areas of disturbance we are watching now. Invest 90L is in the NW Gulf of Mexico near TX with a 10% chance, Invest 99L is out over the MDR and holding together for now with a 20% chance…and another wave given a 30% chance next 5 days as it moves from Cuba and into the Gulf of Mexico. All areas to watch closely as waters are very warm. Just remember, each one carries its criteria for development atmospherically as well, so keep those percentages shown above in mind.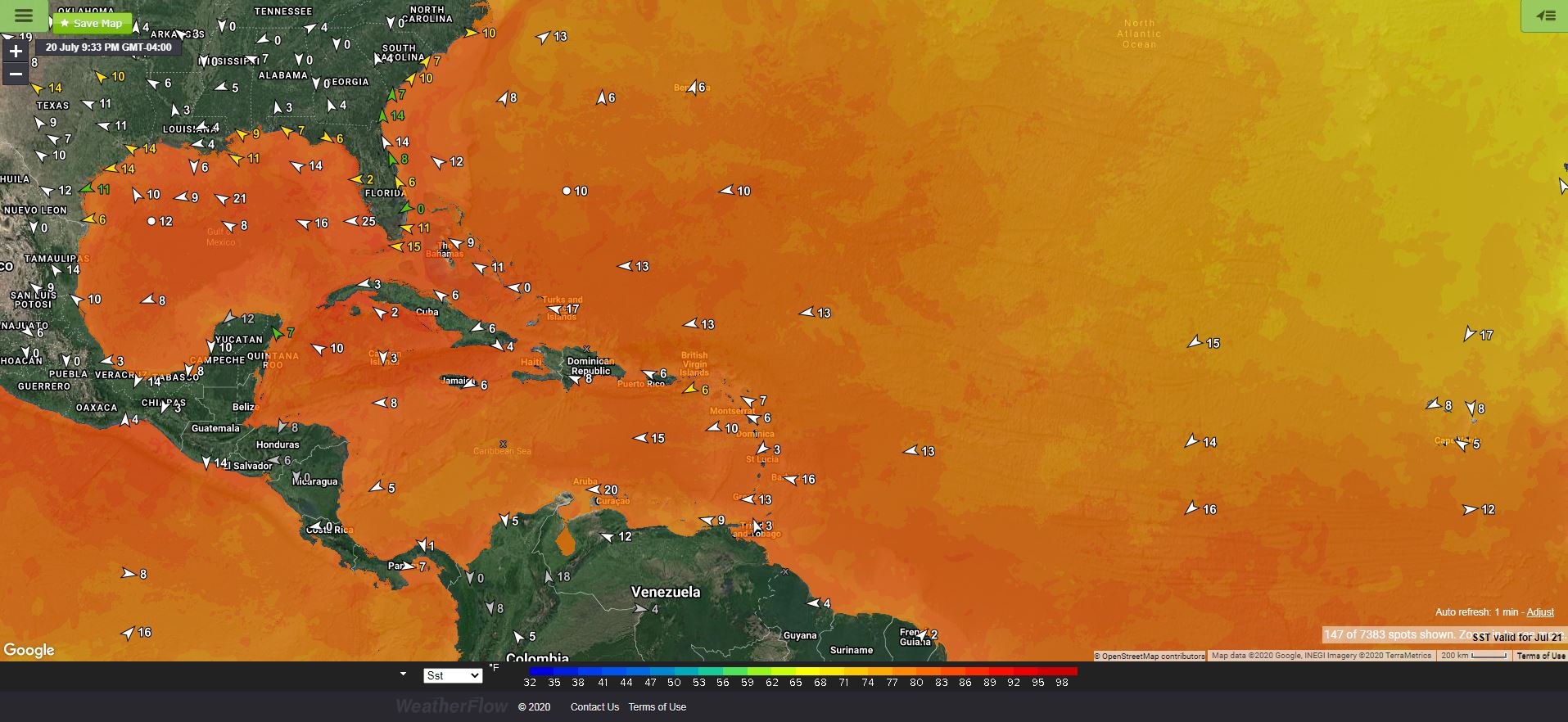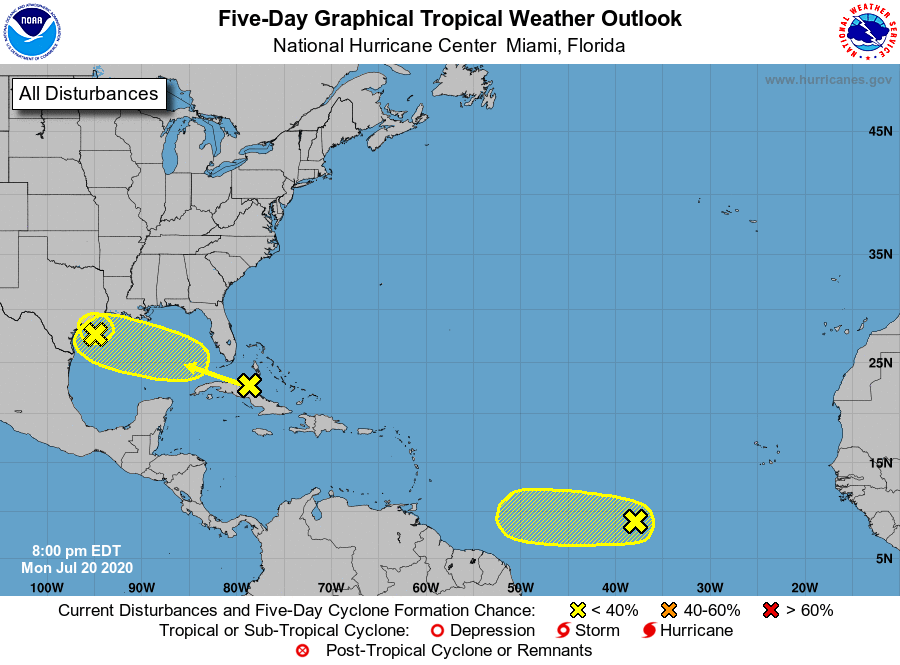 Currently from the NHC…
Tropical Weather Outlook
NWS National Hurricane Center Miami FL
800 PM EDT Mon Jul 20 2020
For the North Atlantic…Caribbean Sea and the Gulf of Mexico:
1. A tropical wave is producing a large area of disorganized showers and thunderstorms over much of Cuba, the central and northwestern Bahamas, southern Florida, and the adjacent waters. Gradual development of this system is possible while it moves
west-northwestward during the next few days. This system is
expected to be over the southeastern Gulf of Mexico on Tuesday, the central Gulf on Wednesday, and the northwestern Gulf on Thursday and Friday. An Air Force Reserve Hurricane Hunter aircraft is scheduled to investigate the system tomorrow, if necessary.
* Formation chance through 48 hours…low…20 percent.
* Formation chance through 5 days…low…30 percent.
2. Shower activity has changed little in association with a weak area
of low pressure, and its associated tropical wave, located roughly
midway between the west coast of Africa and the Lesser Antilles.
Environmental conditions are expected to be marginally conducive
for development of this system during the next couple of days while it moves westward at 10 to 15 mph over the tropical Atlantic. Late this week, however, less favorable conditions should limit
additional development.
* Formation chance through 48 hours…low…20 percent.
* Formation chance through 5 days…low…20 percent.
3. A weak area of low pressure located over the northwestern Gulf of Mexico is producing disorganized showers and thunderstorms.
Development of this system appears unlikely before it moves inland over Texas later tonight or early Tuesday. Regardless of
development, locally heavy rainfall is expected over portions of
southeastern Texas and southern Louisiana during the next day or
two. These rains could result in localized flash flooding.
* Formation chance through 48 hours…low…10 percent.
* Formation chance through 5 days…low…10 percent.
– Forecast CanglialosiJust goes to show how this year's above normal forecast season is beginning to fire up as we head into late July. Stay safe and always stay weather aware!
Shea Gibson
WeatherFlow Meteorologist/Wind Forecaster
SE Region / East Coast / Tropics
New Stations Projects & Outreach
Twitter: @WeatherFlowCHAS
Facebook: https://www.facebook.com/WeatherFlowCHAS/
Sources:
NHC: https://www.nhc.noaa.gov