Watch video as inbound upper trough kicks heat producing upper ridge to the east.
by Mike Godsey, mike@iwindsurf.com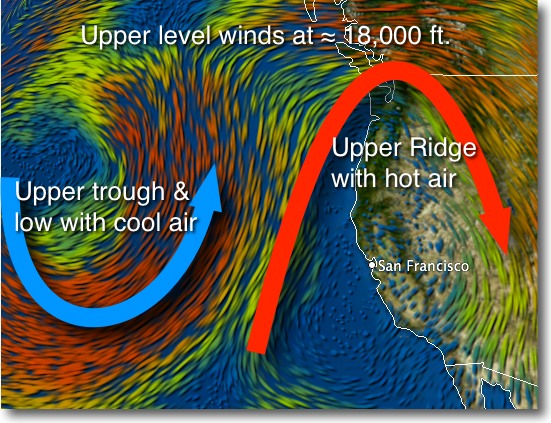 I will be adding more text to this blog later this morning
But to get you started first locate California and the Bay Area. Then notice the huge loop of wind at ≈ 18,000 ft. that extends over the entire west coast.  This northward extending loop,  known as  an Upper Ridge, contains hot, descending high pressure air. The atmosphere is thicker in this area hence the high pressure and the warmth comes from the south.
This upper ridge has been hovering over the west coast for several days now bringing record temps to the Bay Area and Southern California.
Far below this ridge the Central Valley has been cooking so the air there has been expanding each morning and early afternoon over the Bay Area. So with the Central Valley thermal low expanding to the coast each day so the pressure gradient has been near zero.
This expansion has been helped by the light NE winds just aloft. Once these winds fade mid afternoon the valley low retracts to the East Bay hills and we see a bit of local sea breezes at sites just downwind of local venturi effect created by gaps the coast range.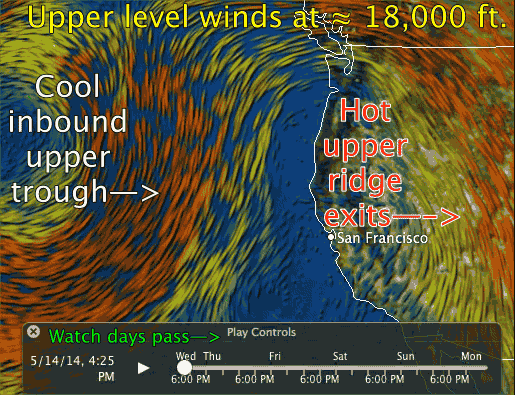 Now look out into the pacific and notice the Upper Trough that is moving towards the west coast at ≈ 18,000 ft. This puppy is beginning to push the upper ridge southward and eastward so we will see a cool down at the coast today and further inland  Friday. At the same time down the North Pacific High that has had a surface ridge into Pacific Northwest and Canada creating weak NE wind over the Bay Area moves back into the Pacific near the Central California coast so we will see mild NW wind ramp up today and especially Friday.