Watch the eddy rule in the morning to mid afternoon then in 2nd video watch if
for dawn until its DEATH!
by Mike Godsey, mike@iwindsurf.com
This video is from dawn today to 11AM. Look for the counter-clockwise spinning motion in the fog just west of the Golden Gate between Pt. Reyes
and around Pillar Pt..
First video: Notice how at dawn, when the fog is covering most of the Bay Area the eddy is creating a huge plume of fog that shoots up San Pablo Bay towards Santa Rosa. And then as the eddy weakens you can see twin streamers heading towards the Napa Valley.
All of this wind "should" be going towards Sherman Island. So much for the folk lore that deep fog always means strong Sherman Island winds.
Second Video: this video goes from dawn until 5PM. Watch carefully and  you will see the eddy die about 3PM. If the eddy had died mid day then Sherman Island would have had upper teens to low 20's and the Coyote and 3rd. Ave. winds would have been stronger.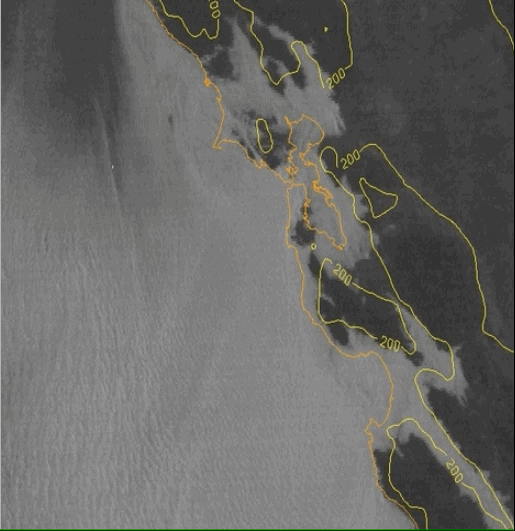 What is causing this eddy?  The North Pacific High is centered just off the Pacific Northwest and this  causes the winds near our coast be been NNW. So the wind is coming over the coast range from the north.  As is descends from the mountains south of Pt. Reyes it creates an low pressure area that sucks in air from the south. Hence an eddy.