by Meteorologist,  Kerry Challoner Anderson
Let's play the children's game of finding what is the different about the two pictures above.  Well it won't take you too long to notice that there has not been much change in the clouds and the winds here today.  Like many So Cal residents I am at the beach looking for some sun and wind and getting nothing.  As Benjamin pointed out in the forecast, the Northern Half of the Bight has been under the influence of a large eddy all day.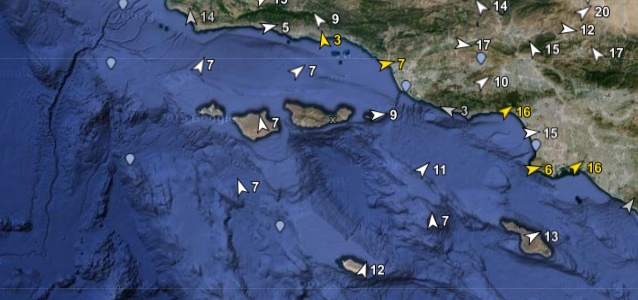 At 3 pm we had an unusual pattern with southerly flow being reported on Santa Rosa Island due to an eddy centered to the west. Ledbetter and Jalama sensors were also showing southerly winds.  You can get a nice look at the flow around this eddy using Weatherflow's Flowviz pattern  from our Wf-Wrf model: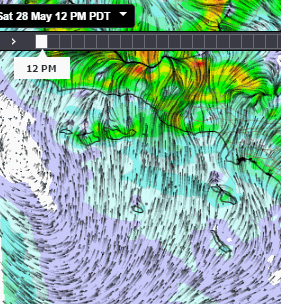 With the uplift from the circulation and a stronger inversion the clouds have not cleared this afternoon from many of the Santa Barbara and Ventura beaches and those beaches have yet to see sea breezes develop.