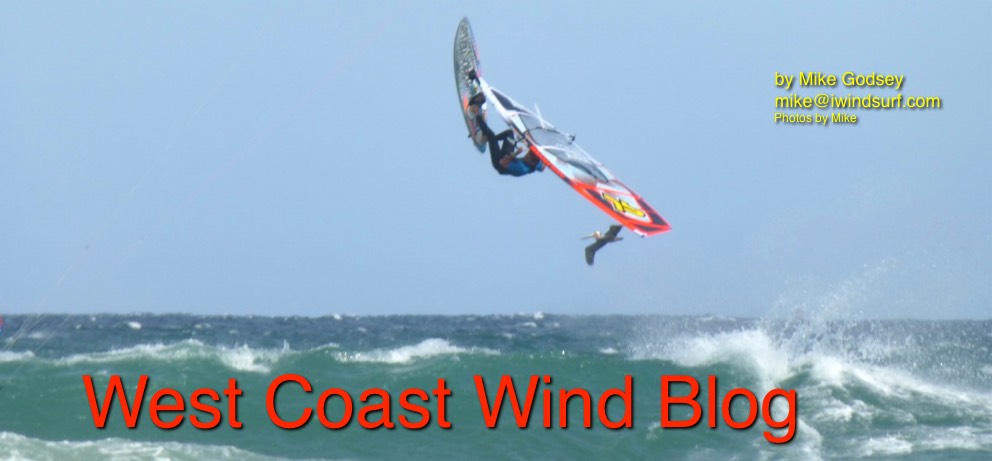 by Mike Godsey, mikeATiwindsurf.com
Do you like gambles? So here is a big meteorological gamble. Today Dec. 1, 2019, I am forecasting a big El Norte winds event for the entire Sea of Cortez for Monday, Dec. 16. Normally I would not stick my neck out so far but this is a major event and the upper-level steering winds seem promising. I could be a day or so off on this forecast. And, as always, we need good sunshine in the inland valleys to create the local pressure gradient to suck those El Norte winds reliably to shore. But my bet is still there are strong winds.
Why? Follow this animated graphic carefully a few times and you will see the recipe for a big El Norte blow.
1. Note the isobars around the North Pacific High and the NW winds it is creating near the California coast.
2. Notice how there is low pressure in the Great Basin so there are few isobars near Baja's Sea of Cortez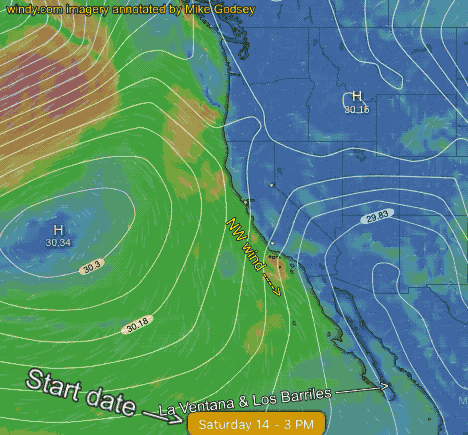 3. This produces very WEAK large scale winds for La Ventana and Los Barriles. There may be weak local sea breezes as the inland valleys heat.
4. Next is a critical step. Watch as a lobe of high pressure extends from the North Pacific High towards the Great Basin and
5. Watch the high-pressure move into the Great Basin as it enlarges steadily.
6. Notice how the low pressure exits to the east.
7. Now watch the Great Basin high pressure become stronger with more isobars moving towards Baja.
8. Watch isobars stack up over the Sea of Cortez
9. Watch El Norte winds fill in down the Sea of Cortez towards La Ventana
10. With high pressure ruling the Great Basin and 4 corners we see several days of El Norte winds if the clouds over Baja's East Cape are not too thick.