Strong wind day on the coast
by Mike Godsey
If you look at the iwindsurf.com/ikitesurf.com/sailflow.com wind maps this afternoon for the S.F. Bay Area or Southern California you will be struck by how weak the winds are today. Yesterday a potent storm crashed into Northern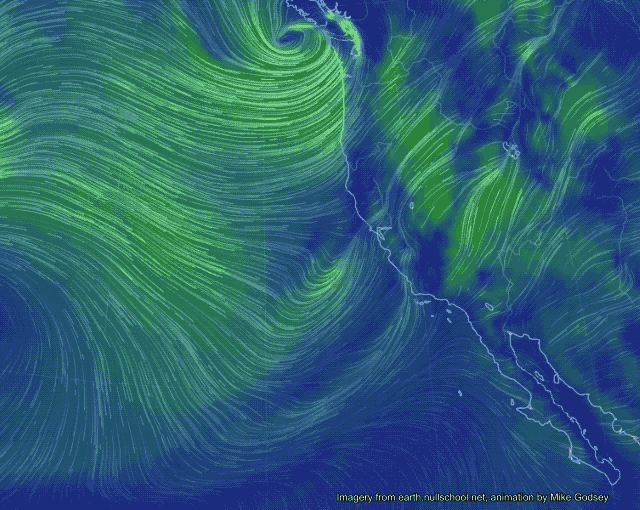 California and even today both the Bay Area and Southern California are seeing weak southerly storm winds from this low pressure. While the Oregon coast is being battered by southerly winds in the upper 20's to upper 40's. You can see this happening in the Friday frames of the animation.
Looking at this first animation you can see the remains of the storms center in the Friday frames. Note how the counter-clockwise spinning winds spiraling out of the storm Friday are hitting the entire California coast and even roar over the Great Basin.
Each advancing frame jumps a few  hours in this animation. So notice the "old" North Pacific High west of Baja fading away. More importantly notice the small "new" North Pacific High far to the west of Southern California. Notice the clockwise winds spiraling outward from this high pressure.  As the storm departs the new NPH lunges towards the coast as you can see in the Saturday frames. Notice how the North Pacific High's surface NW winds move closer to the Southern California coast Saturday morning.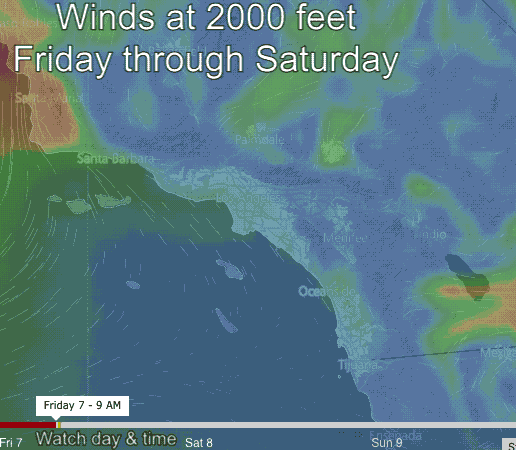 Then in the afternoon notice how the winds going from Southern California to the Great Basin and towards Las Vegas really crank up.
This same pressure gradient also causes the North Pacific High's surface NW winds to curve from NW to WNW or even W in the afternoon Saturday.
So a combo of the NPH's NW wind and a strong pressure gradient to the Southern California deserts, Great Basin and Las Vegas should make for upper teens to mild low 20's wind along the Southern California coast Saturday. But I expect gusts stronger than that? Why?
The next animation show the winds at 2000 feet above Southern California Friday through Saturday. First watch the time scale at the bottom of the image.
Note how today, Friday April 7, weak storm winds prevail over the Southern California bight and on the coast. Notice how the strong SW storm winds are focused well inland.
Now glance back at the North Pacific High's surface NW winds in the TOP image. Rather than visualizing the NPH as a circle of clockwise wind picture it a 3D dome of high pressure with the winds spiraling out clockwise from the surface to several thousand feet high. And since the winds just aloft do not encounter friction from the sea or land they are stronger than the surface wind. Saturday these winds aloft are almost perfectly aligned with the NPH's surface winds so they transfer a bit of momentum to the surface. So my actual forecast will be for brief locally stronger gusts over the upper teens to low 20's forecast.
Remember this is a dissection of the details of an event that has yet to happen. There is always a chance I could be doing an autopsy of a failed forecast this weekend!