by Mike Godsey, mikeATiwindsurf.com
In this El Nino year, the average storm track is further southward and this more southerly pathway of the upper-level winds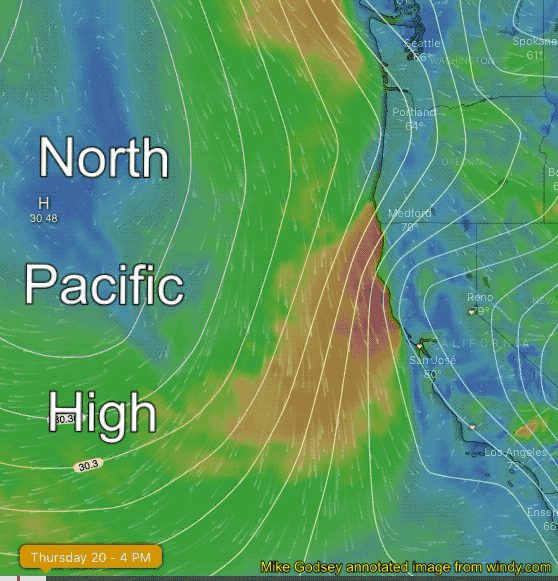 has often caused the isobars of the North Pacific High to move and often anchor over far Northern California and the Pacific Northwest.
This, in turn, causes the NPH's isobars to angle away from the Bay Area coast creating NNW rather than the more typical NW ocean winds. You can see this  "kink" in the isobars in this animation.
This  "kink" also tends to cause the Central Valley thermal low to center further northward than normal creating a south to north pressure gradient near the San Francisco Bay Area.
All of this combined with the wind shear as the NNW winds come over the coast range has lead to enduring eddies and long periods of southerly winds along the coast.
All of this southerly wind delights kiters and sailors at sites north of the Bay  Bridge from Candlestick to Sherman Island. But the same southerly flow means weak and less reliable winds for 3rd. Ave and all of the coast.
But I am forecasting a brief return of strong NW ocean winds tomorrow Friday, June 21.
This is a low confidence forecast since we have an eddy pattern today and it looks like a fast return to an eddy pattern Saturday. So the slightest change in the pattern would blow my forecast for a one day big NW wind event.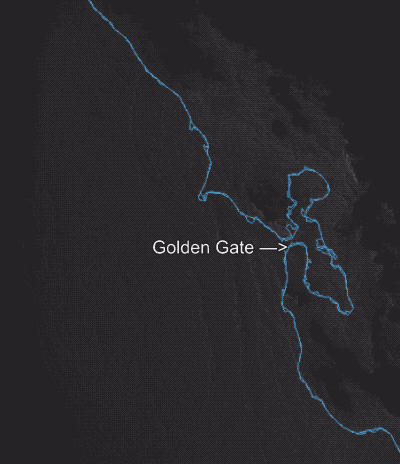 The first animation shows some of the many steps that have to occur in the next 24 hours for this brief wind event to occur.
One reason I have some confidence in this forecast is the erosion I saw yesterday on the western edge of the eddy which foretells the building NW winds way to our west.
Watch the shape of the eddy and how is being torn by NW wind towards the end of the animation.