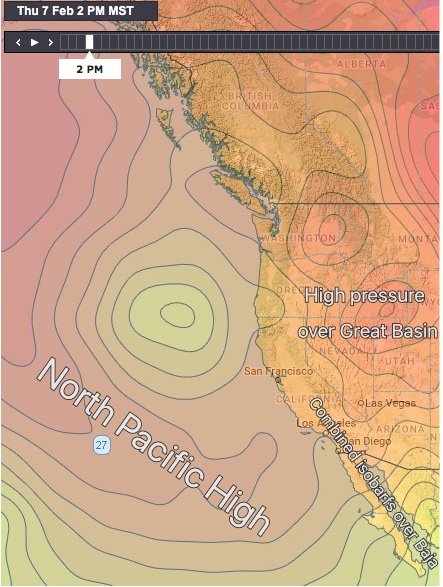 I am sure when you saw my forecast days ago for big winds starting early in the morning of Thursday, Dec. 7 you were skeptical.
After all the forecasts are often off on even weak thermal wind days so how could a big wind forecast days in advance be taken seriously.
But paradoxically large scale, or synoptic scale, winds are much easier to forecast in advance that local thermal wind. Among the reason is that microscale cloud distribution and impact of local topography is much harder to predict than the movement of a huge phenomenon like the North Pacific High and high pressure in the Great Basin.
The same is true for clouds. So often the clouds this winter have been from huge weather events like the subtropical jet stream or passing upper trough.
And those large scale clouds are much easier to forecast than the local clouds that may form on our local mountains.
So let's take a look at today's big wind recipe. In this first image high pressure zones are in red to orange while low pressure is more yellowish.
Notice how the highly distorted North Pacific High is well west of California due to a low pressure storm targeting the state. But also notice how a few isobars of North Pacific High stack over Baja's Sea of Cortez.
Next notice the strong high pressure that began developing yesterday in the Great Basin of the USA. Lastly notice the vague lower pressure south of Los Cabos. All this means that we have NNW winds from the North Pacific High and classic El Norte winds from the Great Basin.
Now let's look at the 3rd ingredient in the wind recipe. Remember Wednesday's heavy clouds? While Thursday there was blue sky at dawn. Now looking at the left image at 8AM today notice how strong northerly wind was ripping past El Sargento but not fully making it to La Ventana beaches. Then by mid day, in the second image, heating in the Los Planes inland valleys caused a slight curve in the winds so they often blasted in the beach.

Unfortunately the models do a poor job capturing the slight NNW angle of the winds that sometimes made the winds up and down near the beach.