Southerly winds at the ocean buoys!
by Mike Godsey
Strong NNW winds from the North Pacific High blow just west of our ocean buoys today but with low pressure to over the far North Bay and weak NNW winds aloft it was clear the last few days we were heading in to eddy conditions.
The satellite imagery of the eddy is imperfect today. First find the Golden Gate. Then note the streaming of the clouds from the NNW in the #1 annotation. Then look carefully in the area around #2 and you can just discern the spin of the eddy in the clouds. Much easier to see is the impact of the eddy on the ocean buoy winds and the winds inside the Bay.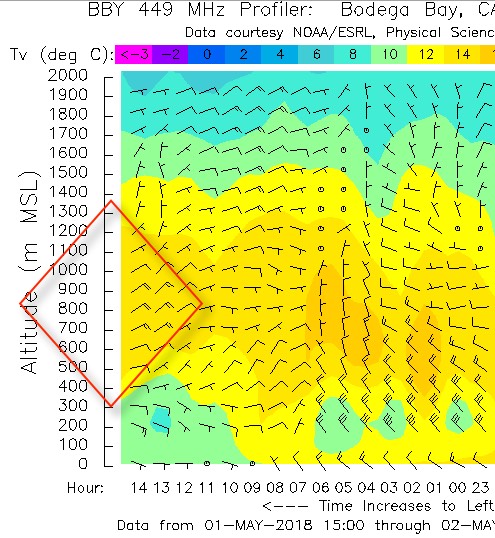 Typically when the North Pacific High is close to the Bay Area we have NW wind at the ocean buoys. So the winds flowing into the Bay towards the  Central Valley have a bias to head towards the sites from Treasure Island southward. But with an eddy in play the bias is more towards sites north of the Bay Bridge.
Most of the time the eddy fades mid day but if lingers it blocks NW wind from reaching the Peninsula and Waddell. Plus it tends to funnel winds towards the north tower to Point Blunt to Pt. Isabel to Sherman Island axis.
The story of how the eddy is created is complex but the following images will give you some  hints of the major players in eddy creating. Note the weak northerly flow aloft in the Bodega  profiler image.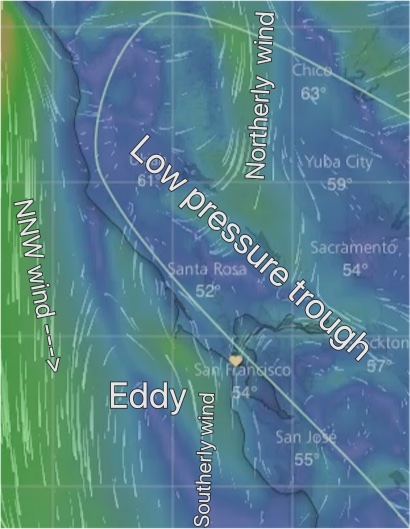 The in the next image note the surface low pressure trough over the far North Bay. With low pressure to our north there is a S. to N. pressure gradient in the Bay Area.
All of this favors eddy formation in the AM. And all of these variables fade in the afternoon. The key to our afternoon winds is how fast or slow these variables  fade which determines the edd resulting eddy fades