Because Planning, Swell Size,
Fades, Directions…
by Mike Godsey, mike@iwindsurf.com
How to use the Viento sensor:
1. Most days the winds build at Viento before reaching the Hatch, Swell, Event Site launch sites. So the Viento sensor gives you an early hint for planning your day.
2. Likewise a mid day fade at Viento often gives a hint of an upcoming fade at the Hatch and Swell.
3. Often on light wind 4.7 – 5.2 days there is not much swell and people do not make the drive to Hatch and Swell. On these small swell days the wind is concentrated just in the Hatch and Swell zone.
But other times on light wind days there is great swell at Hatch and Swell IF Viento is also blowing. Even mild wind can make good swell if the entire corridor is blowing making for a long fetch.
4. And for those who are here only for a short time… they can now catch the early morning winds at Viento before the Hatch and Swell zone becomes reliable.
5. And of course for the increasing numbers of kiters and SUP folk who are doing downwinders this sensor is great.
Updated Nov. 1,2017:
There appears to be another use for the new Viento sensor. At the Hatch and Swell there are many days when the winds goes from a very favorable WSW to a less favorable W or to even an unfavorable WNW which leaves the WA. side of the river in a wind shadow.
Looking at the first image below you can see that the overall wind pattern from Rooster Rock to The Dalles is W to WNW. Notice how the Swell sensor is showing very weak wind since it is partially in a wind shadow in this wind direction.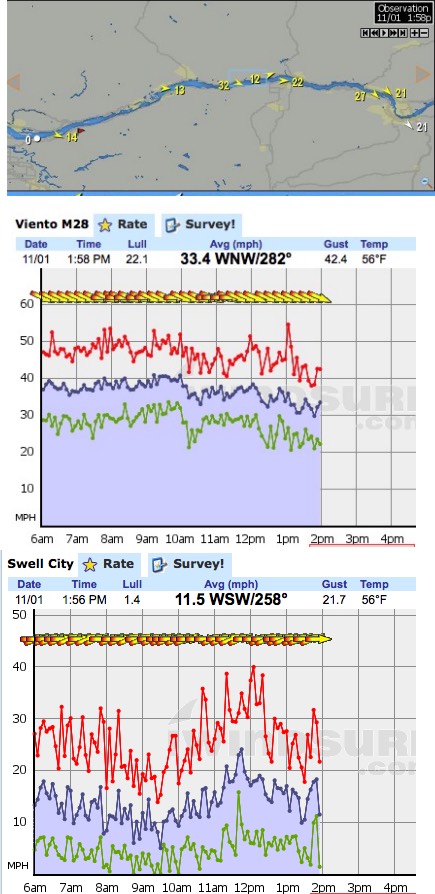 But the Viento sensor is more open to W to WNW winds. This can give you a heads up before you make the drive to Hatch and Swell.
If you are seeing WSW winds a Viento then it is fairly safe to make the Hatch and Swell drive. But if the winds at Viento are turning more NW then you may find squirrelly wind at Hatch and Swell.
At present you can access the Viento sensor at the classic IW or at:
http://wx.iwindsurf.com/map#45.695,-121.623,13,1