North Pacific High lords over the
Pacific this Sunday!
by Mike Godsey
mike@iwindsurf.com
This first animation from the blog I posted last Sunday shows the North Pacific High taking a beating from a succession of wintry storms NW of the California coast.
So for the most part Northern California has seen weak winds since then. In the animation notice how the old North Pacific High is shoved southward while a "new" North Pacific High struggles to reach the Northern California coast. Note how it does reach Southern California waters but the S. F. Bay Area stays on the edge of the North Pacific High's surface NW winds today April 20.
Now let's look at the 2nd animation which covers from today, Thursday April 20 to next Monday April 24.
Notice how the animation for today shows only a sliver of the old North Pacific High near the Bay Area while more of the NW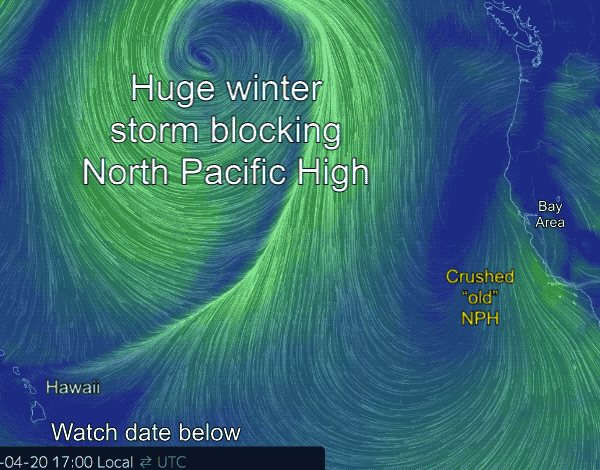 wind is in Southern California waters.
This is due to the presence of the large storm you see in the N. pacific.
Also note another "new" North Pacific High is forming north of Hawaii. Watch as this new NPH moves towards the west coast as the storm exits to the NE.
So I expect building winds for Southern California and Northern California on Sunday April 23.