A quick look at one of the factors that makes Santa Barbara to Ventura wind forecasting so difficult.
by Mike Godsey
One of the variables that makes forecasting wind in the Isla Vista to Ventura Southern California zone is the Mid Channel eddy off Santa Barbara. This eddy may form when there the ocean wind west of Pismo Beach is NW and especially NNW. Today, April 23 at 8:48AM you can see this eddy as the counter-clockwise spinning mass of air south of Santa Barbara.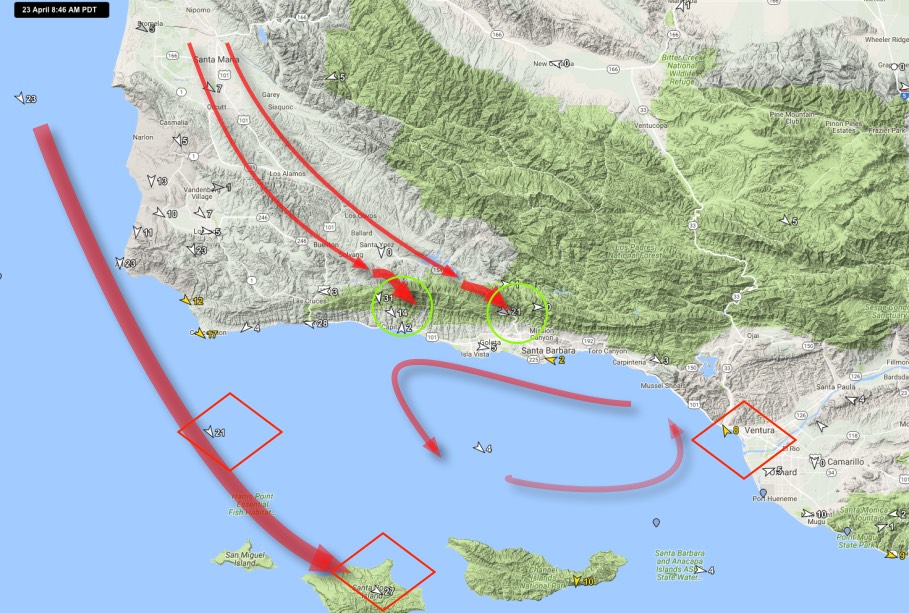 Notice that there are strong NW winds off of Jalama and near the Channel Islands. Some of this NW wind heads into the valley near Santa Maria along the Hwy. 101 corridor.  Hitting the mountains    north of Santa Barbara and Isla Vista this wind lifts crests the ridges, acceleratesthen roars down the canyons as you can see in the sensor reading circled in green.
As the descends it warms and creates a low pressure area near shore. This low pressure helps cause some of the weaker NW winds just offshore to turn towards the low pressure creating the eddy you can see in the sensor data. At the same time the high velocity NW wind further offshore creates wind shear with the slower moving inshore air which also encourages eddy formation.
As long as this eddy situation prevails the NW winds just offshore are unlikely to reach the Isla Vista or Ledbetter beaches. Today it looks like the eddy will endure to mid afternoon. This is why I am forecasting lighter winds for Santa Barbara.
Also noice how Ventura's C St. is on the edge of the wind blocking eddy. This makes C St. especially difficult to forecast today. If the eddy dies early then C St. could really blow strong today. At present I am forecasting LATE upper teens wind there. Standby for reality…