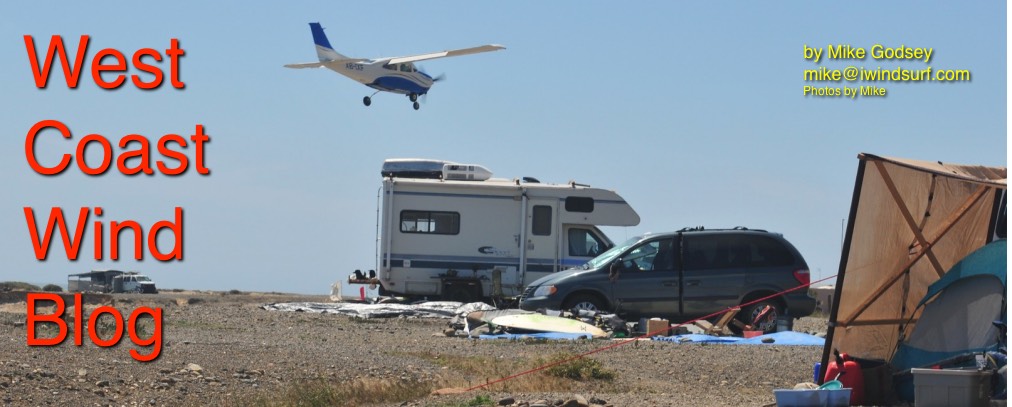 by Mike Godsey, mikeATiwindsurf.com
I hope this is not your first year kiting or windsurfing on Baja's East Cape. If it is your first year don't let first impressions count much in thinking about a return visit. Normally heavy rains, frequent heavy clouds, shifty up and down winds are uncommon during the winter.
Rather the winds are usually a mixture of very steady mid to upper-teen local sea breezes and combo upper-teens to low 20's combo days when the local wind combines with mild El Norte winds from the 4 corners region of the USA. Then every few weeks we have a big El Norte wind event as a huge high-pressure zone develops in the Great Basin to 4 corners region.
But this has been a borderline El Niño season with the storm track a bit more southerly than usual hence the clouds and sometimes rain. Meanwhile in El Niño years the subtropical jet is often over Baja bringing high thin clouds that take the edge off the local thermal winds. And the El Norte wind often only blows in the southern half of the Sea of Cortez hence the often small swell.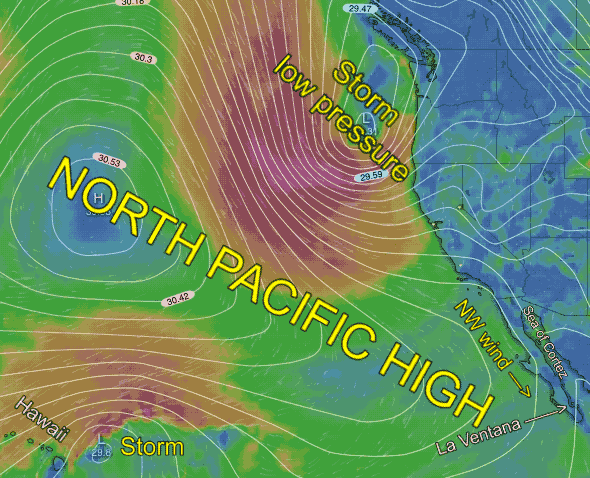 But this year the big news was the role the North Pacific High played in our wind.
If you ply the waters the west coast from Oregon to Punta San Carlos in the summer you think of the North Pacific High as being your main wind machine. But this winter the North Pacific High has often lurked west of Baja. And a bit of its NW wind has sometimes curved over the backbone of the Baja Peninsula as weak westerly wind. And this wind has often made the winds right at our beaches a bit UP AND DOWN and even shifty as it tries to push our northerly wind away from shore.
But today and the next few days the North Pacific High is going to be our major wind maker. Since these winds will be bit NNW rather than the normal N. direction they need good inland valleys heating to make them curve into our beaches as more northerly wind.
In this model animation, you can see the North Pacific High and the 2 storms that are distorting it and squeezing its isobars and NW wind towards Baja. The model output, at this time, suggests that most of the clouds that inhibit inland valleys heating stay to our north. So I am forecasting good but up and down winds for today, Friday, February 15, 2019, and the next week.