NW winds retreat to Baja waters then return…barely.
Golden Gate photo and text by Mike Godsey
As you have probably noticed the North Pacific High's surface NW ocean winds have been weakening in Bay Area the last several days. And if my extended forecast for tomorrow is correct we completely lose the winds tomorrow.
This is a very common pattern in the spring and to help you understand where the strong NW winds go after a strong blow I have several animiations for you to check out. This first animation shows the eastern Pacific and the western USA. To get oriented find the Bay Area.
Then note the counter-clockwise spinning winds of the 1st. storm far to the NW of the Bay Area. Watch the time and day change as this storm tracks towards the Pacific Northwest and Canada.
Next note the position of the North Pacific High and its NW winds. In the first few images you can see the isobars of the NPH and the NW winds (in orange) near the Bay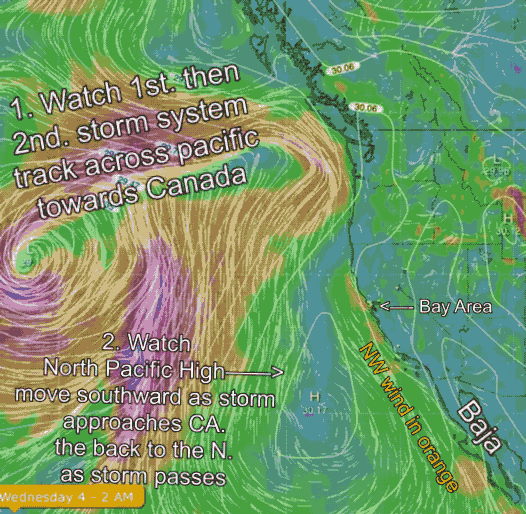 Area.  That is why I am forecasting some NW wind to curve into the Bay in response to a pressure gradient to the Central Valley today.
Now notice how as the we move into Friday how the center of the NPH moves southward and the how the NW winds refocus near Southern California and along the Baja coast.
Then notice how after the 1st storm passes the isobars and winds of the NPH briefly move northward up the coast and almost reach Waddell.
But over the weekend a second storm apporaches from the  Pacific and drives the North Pacific High's surface NW winds back into southern waters.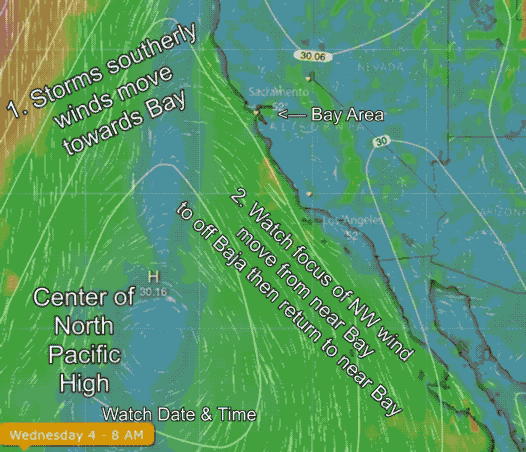 Finally as this 2nd storm exits the North Pacific High's surface NW winds again move almost to the Bay Area. Unless that storm moves further northward on Sunday and Monday we probably will see the NW winds focus just south of the Bay Area.
The next animation shows all of this happening but zoomed in to just California.