Powerful predawn winds touch down randomly
by Mike Godsey
Sept. 11. Updated Sept. 21, 2017
We had a "mystery" wind event early Monday morning Sept 11, 2017. The previous Sunday evening while preparing the Bay Area 7 PM wind forecast I noticed that our 1 km WF-WRF model had a baffling 1-2 hour burst of very strong wind well before dawn.
To the right you can see this modeled burst of strong wind with average velocities in the animation that Jeff Copeland of our Denver model crew retrieved from our 1km WF-WRF archives.
In the next animation, from our 3km WF-WRF archives, you can see this event as it originates on the Central California coast south of Monterey.
This seemed very weird since other than winter storms and occasionally Sherman Island night and predawn winds the Bay Area is usually near windless until after sunrise. At a glance there I saw nothing in the overall pattern to cause this brief intense wind but I did note some rare monsoonal convective clouds to the south were dying. And since few of our customers need wind information pre dawn I only touched on these predawn winds in my forecast just as a curiosity.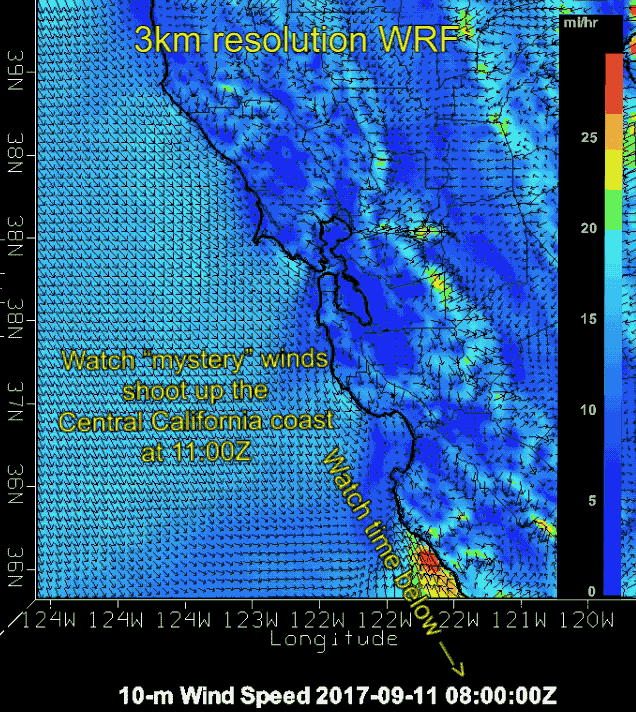 The next day the SF Gate had the following report:
"Meteorologists are baffled by strong wind gusts that ripped through concentrated pockets of the Bay Area early Monday morning, while other areas remained completely still. The National Weather Service reports that a gust of 54 mph roared through Pebble Beach at 2:30 a.m., while only 10 minutes away in Monterey conditions remained completely calm."We had a very unusual event happen overnight," says Charles Bell, a meteorologist with the National Weather Service Bay Area. "We had isolated strong periods of winds. It's really remarkable. Usually wind storms are more widespread, while this wind occurred in concentrated pockets."
The first gusts roared through Pebble Beach and the southwesterly winds traveled north reaching up to 40 mph in Santa Cruz, up to 37 mph in Los Gatos and at the San Jose Airport.
The weather service recorded the last gust from the event at 3:30 a.m.; it was a 35 mph wind at the Golden Gate Bridge. Bell says there are anecdotal reports of high winds in parts of Marin. "We left our window open because of heat and winds were so strong our interior doors were slamming shut and flying open!" Thais Derich of Mill Valley wrote on Facebook. The winds knocked down trees and power lines. PG&E reported 11,000 customers without power at one point. The event lasted about two hours."
Later Monday 3PM the SF Gate had the following story update:
"Meteorologist Jan Null of Golden Gate Weather Services says Monday's early morning winds were the result of collapsing thunderstorms. As storm cells moved from Southern California into Monterey County, air rose into the lower atmosphere. During the nighttime hours as temperatures cooled, the convective heating process that supports the air in the lower atmosphere stopped and the air fell to the ground.
"As you get into the nighttime hours and you don't have that lift to maintain all that air at the top of the thunderstorm, then the primary force is gravity," Null says. "This heavy air is going to be coming down to the earth and it spreads out like an upside down mushroom."
None of our Bay Area sensors fully caught these winds but many of them show a very unusual predawn spike. Note both the wind spike and direction.