by Mike Godsey, mikeATiwindsurf.com, More photos here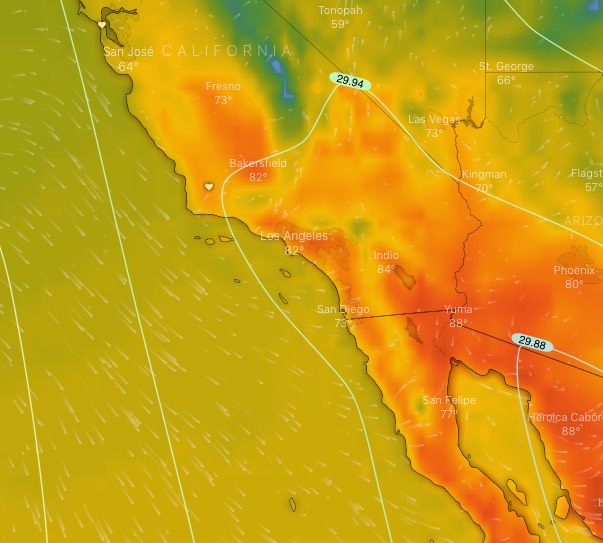 Lots of you know about the thermal trough (aka "heat bubble") that can kill some Southern California sites, especially from Belmont to Seal, when we get a major heat event. But if I am right we will be dealing with another thermal trough tomorrow, Monday, April 1.
This thermal trough starts over Baja and the Sea of Cortez and expands over most of Southern California Monday afternoon. So just as you would expect our normal wind reversal as the Southern California inland valleys heat huge low-pressure balloons over the entire region killing the wind.
You can see this inverted thermal trough in this first image from tomorrow.
Notice the white isobar lines extending up from Baja over Southern California. This is the thermal trough. Then notice all the red and orange colors that represent heat and how they and the isobars extend well into the Southern California Bight. This will probably spoil the pressure gradient from the ocean to the beaches.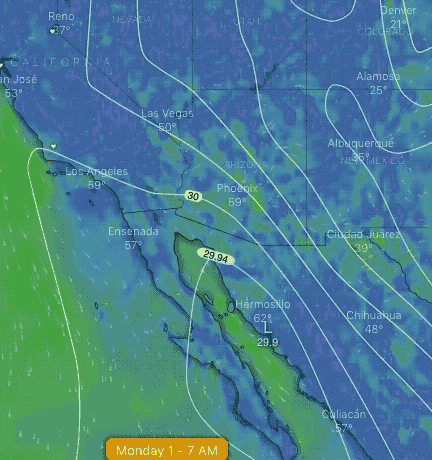 This thermal trough is caused by a heat-inducing upper ridge at ≈ 18,000 ft. that will briefly form over Southern California.
What happens next is interesting and exciting for wind. Tuesday the northern part of the thermal trough breaks off and forms a separate low-pressure area over southern Nevada.
At the same time, the isobars of a tiny North Pacific High move towards the coast. So, if I am right, we have a strong pressure gradient from the NPH and the low pressure in Nevada. This should create strong winds for the Southern California coast all the way to Lake Isabella.
You can see all of this happening in this model animation I made from the windy.com website.