Gorge, Bay Area winds weaken.
by Mike Godsey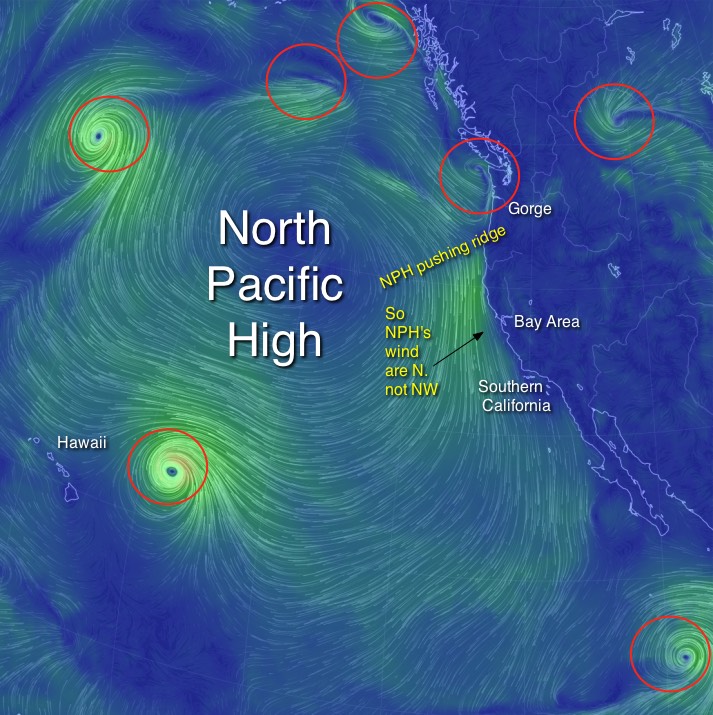 The Bay Area coast had wild winds Friday and moderate winds a many sites Saturday while the same day the Gorge had winds into the 30's. Yet both venues will have much milder winds today. All of this despite today seeing a massive North Pacific High lording over the pacific. Normally the North Pacific High is lean and shrinking this time of year and sulking towards Baja and the west coast only has weak winds. So what caused the powerful winds of the recent days?
As you can see in the graphic the NPH is lording over the pacific ruling the waters from the Gulf of Alaska  to California to Baja to Hawaii. Why this late season steroidal bulking up? A huge ring of unprecedented storms are pumping vast amounts of air into the atmosphere much of which is settling into the center of the North Pacific High forming a dome of high pressure which then spirals outward. Those winds contributed to the strong winds in recent days.
Today however the North Pacific High is pushing a ridge towards the Pacific Northwest and that means lighter winds for the Gorge and the Bay Area.