Wimpy marine surge retreats and the North Pacific High lords over the pacific!
by Mike Godsey, mike@iwindsurf.com
Doesn't it drive you crazy? So often our forecasts prattle on about weather events happening hundreds or even thousands of miles away or hundreds or thousands of feet aloft. Yet you don't even care what is happening at sites across the Bay. Your focus is on the possible winds at your favorite sites and who cares about what is happening aloft or far away!
So the intent of this blog is to give you one example of why those distant events are important in shaping the wind at your launch site.
Looking at the first animation for today Thursday May 4 you can see that we are in an atypical marine surge pattern with wimpy NW winds at the ocean buoys and W to WSW flow for most of the Bay Area today.
But the big story that will determine your kite or sail size tomorrow is taking shape almost 1000 miles to the WNW and about ≈ 18,000 ft. feet aloft over the pacific.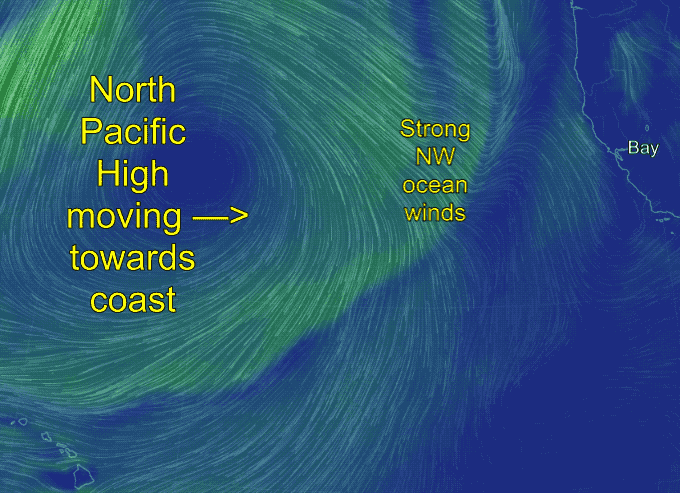 Up at the 500 mb. level an upper ridge is steering a surface North Pacific High towards the west coast with an ETA of Friday morning.
Looking at the second animation you can see that below this upper ridge a huge but distant NPH marches towards the west coast and our present weak NW winds ramp up fast by Friday afternoon.
So if our forecasts just focused on events like you see in the first animation we would not have a clue about the much stronger NW winds coming tomorrow. And we would not be able to give you a heads up so you can begin planning your Friday.
And if you live in the Gorge the heat wave ends and as the North Pacific High moves towards the west coast it builds up a pressure gradient the brings gusty westerly winds to many Gorge sites.