Why the Gorge winds finally returned to normal.
by Mike Godsey, mike AT iwindsurf.com
Despite the recent unusual heat wave winds at the Hatch and Swell the Gorge has had long periods of mild summer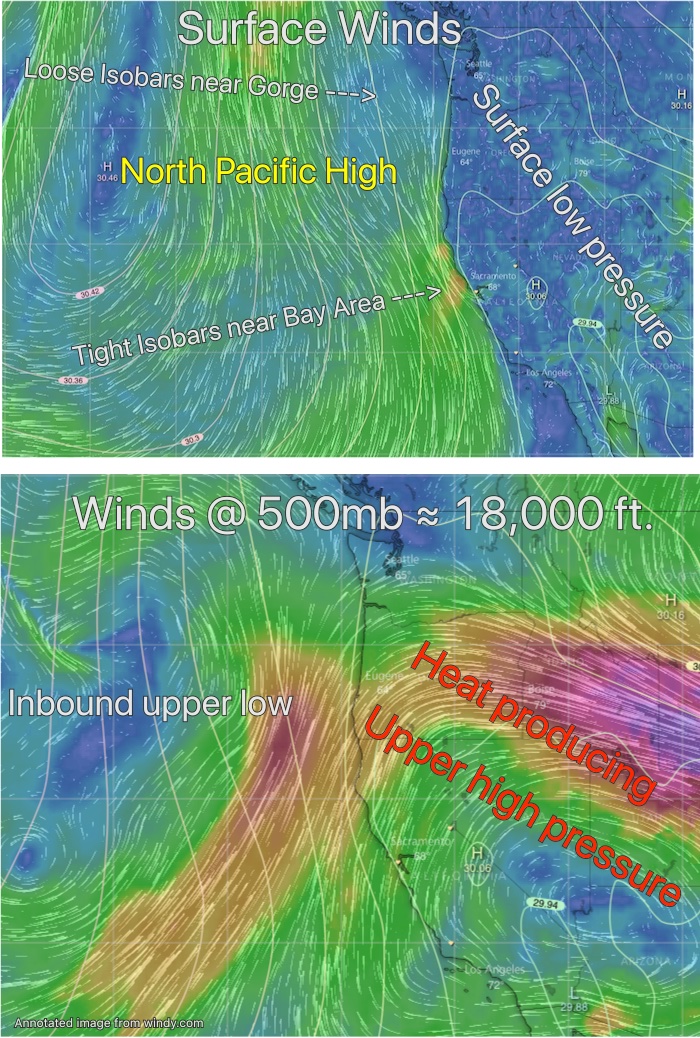 wind despite the epic winds of May.
The phrase I hear repeatedly is "The Gorge is broken"
So what has caused the long heat waves and weak winds and where has all the wind gone?
This e-mail report from Crissy Field in the Bay Area is your first hint:
"Today, for the first time ever at Crissy, I rigged a 3.4. Finally after two day of being wildly overpowered on the 3.7, the 3.4 was like magic. It felt so normal and so good.
"It's just crazy. Three days in a row I could have sailed 3.4 at Crissy in July!!! Different day, same wind. And you can imagine the swell at the north tower. The gorge has moved south. Come on down.
(my wife) on 2.8, (a friend who weighs 158) on a 3.0, Me (weighing in at 168) on a 3.4 Never would have believed this could happen if you'd told me in the past."
Your 2nd and 3rd hints are in today's model imagery below as is the most important hint ie. when the Gorge winds will return. So using those hints take your shot at explaining it all!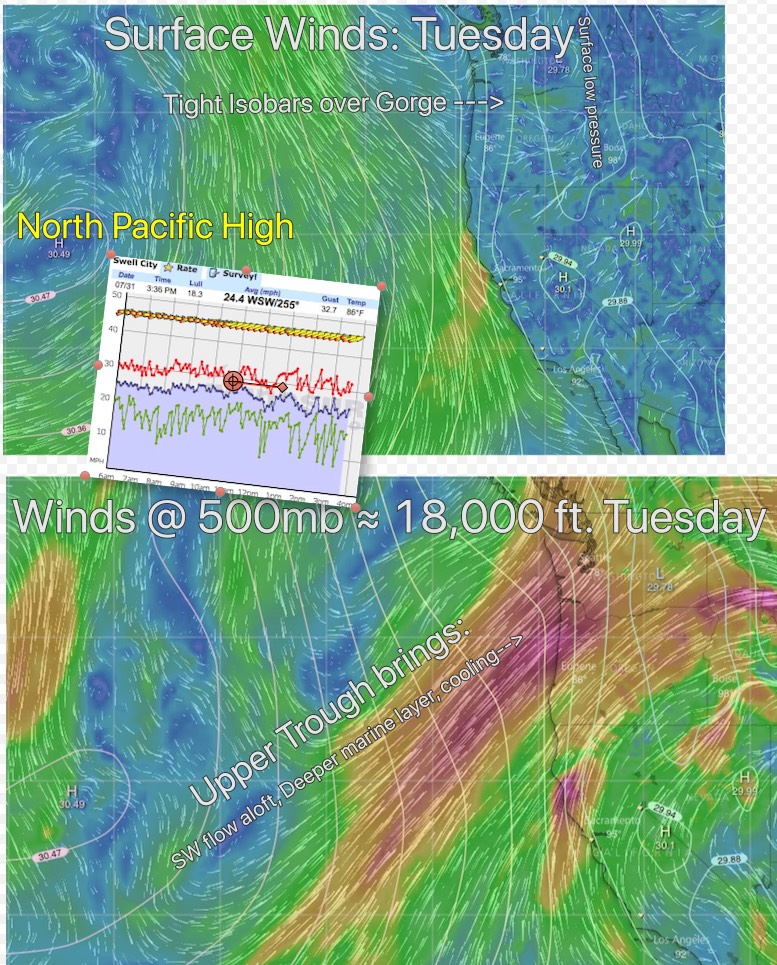 Well, the Gorge appears mostly fixed today. Compare the model output at the Surface and at about 18,000 ft. for Sunday vs. Today Tuesday.
Notice how the heat producing upper high pressure is exiting eastward. Meanwhile, at the surface, the North Pacific High's is bars are now stacked over the Gorge making for a stronger pressure gradient. And also note how the inbound upper trough at about 18,000 ft. over the Gorge.
And the upper trough brings a cooler deeper marine layer air to the coast and towards Portland making the Gorge pressure gradient concentrate in the corridor and it also delivers SW flow just aloft which helps our surface winds a bit.