The Sunday, May 22nd 7:30 AM Southern California forecast was an all-time epic fail.
As you can see in the image below at 7:30 AM I said that "the North Pacific High's surface NW winds struggle to reach to reach shore.
And my table values showed the Long Beach Area only reaching the mid to upper-teens.
This forecast was supported by all the models I reviewed as well as the empirical data I checked so I was pretty confident.
Then around 11 AM I being to see an early and precipitous spike at almost every sensor on the Southern California coast.
So at my 11:30 update, I issued a radically different "NowCast" for much stronger Southern California winds.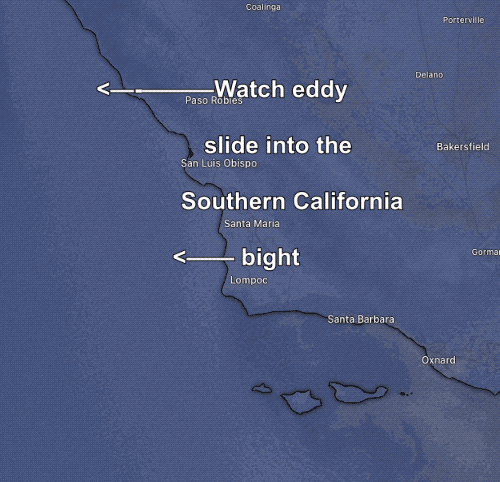 The question is… what caused this sudden spike?
The proximal answer is probably in the satellite animations below where you can see that the counter-clockwise spinning.
Look carefully at the clouds and wind pattern.  You  can see that the winds of the eddy greatly enhanced the weak NW winds in the Bight.
So those winds were stronger as they curved into the Southern California coastline as westerly winds.
But I am at a loss to know why this eddy developed so fast.