Yesterday the forecast offered a massive North Pacific High
and NW wind and today….
by Mike Godsey
Just yesterday the Bay Area forecast was touting the appearance of a massive North Pacific High stretching from California to the Gulf of Alaska  to Hawaii. And mild but useful NW flow curved into many sites as upper teens to weak low 20's wind. So what is with the weak mostly southerly winds forecast just 24 hours later?
And then over your morning coffee  you read this gibberish forecast as words fail to capture what happened overnight.
Sometimes only words can really capture reality so let's use these graphics tell the story.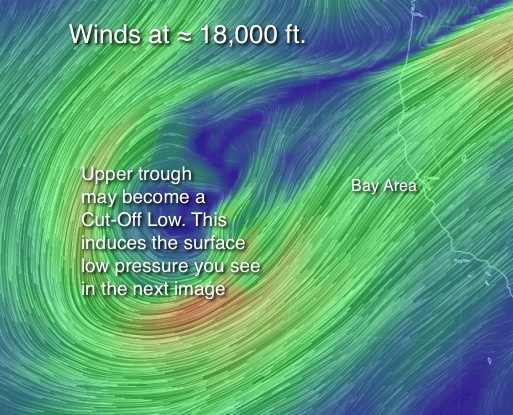 In this next image you are seeing the modeled winds at the 500mb level at ≈ 18,000 ft. Notice how the southward extending loop of wind is looking like it might pinch off from the main flow of wind.
If this happens we will have a Cut-Off Low off the California coast. Already this circulation has produced a counter-clockwise spinning surface SW of Northern California.
Remember the winds you see in this image are NOT the winds that fill your sail or kite. But they do steer and impact the surface winds.
The last image shows the surface winds over the pacific early this morning. Note how huge the North Pacific High has become.
Also note the strong NW winds that were at the Bay Area ocean buoys yesterday are far from shore today.
This is due to two things.
1. Notice how the tiny surface low pressure to our SW is sucking up the winds of the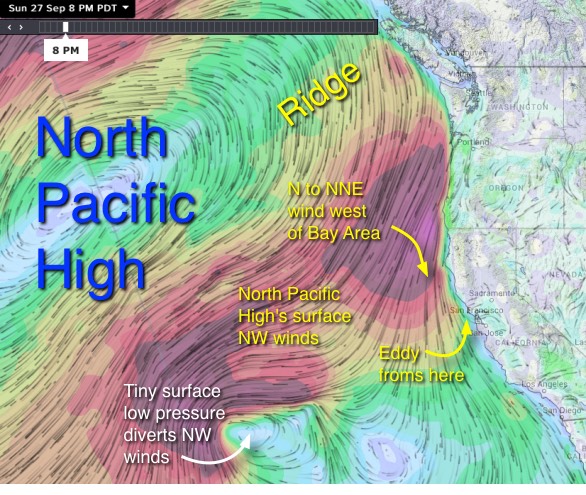 North Pacific High and pulling them away from the coast.
2. Also note how the mountain of air we call the North Pacific High has extended a ridge toward the Pacific Northwest and Canada. When this happens the winds along the Bay Area coast turn N to NNW so it is harder for them to reach our shoreline.
This NNW flow also conducive to the formation of a tiny eddy west of the Golden Gate which creates southerly flow in the AM.
At the same time the upper trough brings cooler air into the Central Valley weakening the pressure gradient. All of this spells a major weakening of the NW winds and produces light southerly winds for many sites today.