The Pacific is hot and hurricanes common.
by Mike Godsey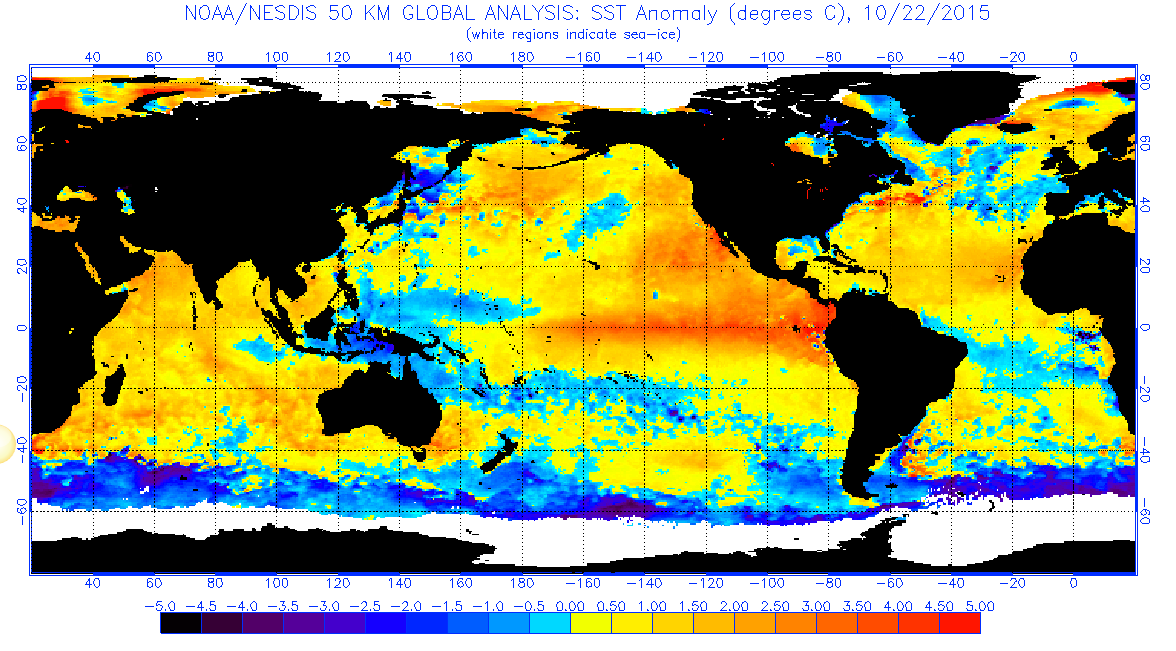 Surely at this point you are wondering what the hell is going on with NW clearing winds in late Oct.
Here are some quick insights:
Take a look at Kerry's great recent blog about the vast amount of heat the oceans have been storing in recent years.
https://blog.weatherflow.com/hell-hath-no-fury-like-our-oceans-warmth/
Or if you are in a rush take a look at the heat map above. Notice that much of the bulk of the earth ocean mass north of Antartica is out of whack temperature wise.  All the orange and yellow in the oceans represents water that is warmer than the seasonal norms.
Ignoring the huge streak of El Nino hot water west of South America notice the mass of unusually warm water that extends from Baja past the Pacific Northwest into the Gulf of Alaska and well out into the Pacific.
That "Pacific Heat Blob" formed about 2 years ago and has been impacting our weather as well as encouraging the very unusual number of pacific hurricanes and the speed of their formation and their duration.
This week with Hurricane Patricia we saw fastest growing and strongest hurricane in history. While tropical storm Olaf east of Hawaii has been loafing around for weeks.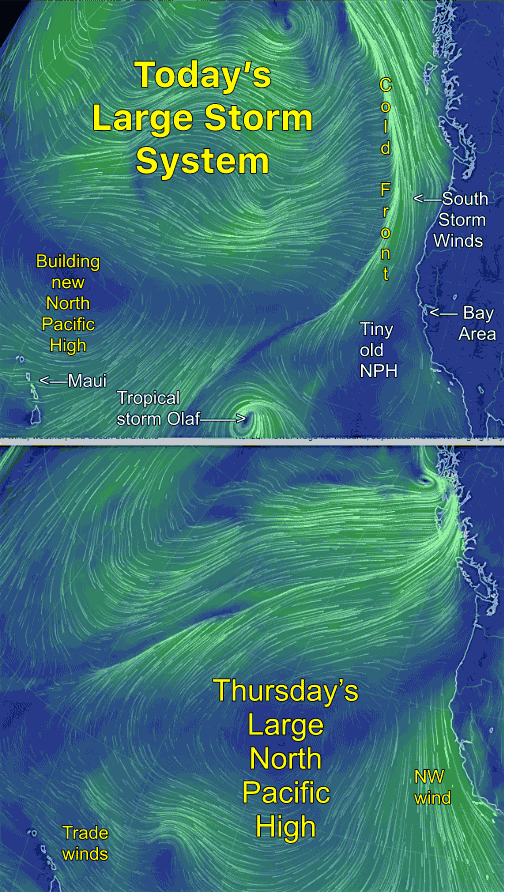 Hurricanes pump vast amounts of air into the atmosphere and in the pacific much of that air descends into the surface North Pacific High. So the North Pacific High, which is usually small and far away from the California coast this time of year , is still hanging around.
Changes always happen very fast out in the Pacific in late fall as storm system come crashing towards the west coast. What is different this year is the North Pacific High is large and robust so we will see some atypical NW clearing winds.
Check out the upper animation that shows the pacific today Tuesday Oct. 28. Check out the strong southerly coast storm winds from far Northern California all the towards Alaska. Also notice the tiny old NPH that will give us some intermittent weak NW wind today and the bulking up new NPH near Hawaii.
Then notice how dramatically different the pacific looks by Thursday. Especially focus on the side of the North Pacific High and the NW winds along the California coast.
Getting those winds into the Bay and the Southern California beaches will be tricky since the pressure gradient to the interior will be pretty weak but I would keep your eye on the coast and Crissy, Coyote & 3rd. this Thursday.
Plus just aloft the winds will be clocking from NW to NNW to N. and the later 2 directions tend to weaken and delay the arrival of the surface NW wind. The also make it very difficult to get winds deep into the Bay so even Treasure Island is iffy.