by Mike Godsey, iwindsurf.com/ikitesurf.com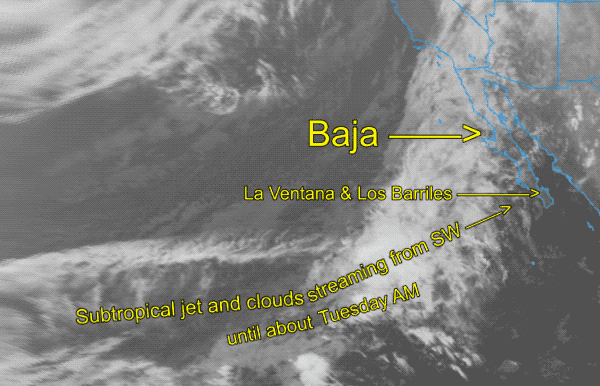 Weatheflow.com
Mail: mikeATwindsurf.com
Sunday and especially Monday have wind potential with building high pressure in the Great Basin. However, coaxing the El Norte wind in the middle of the Sea of Cortez and getting the local thermal winds to jump start requires inland heating. And that, in turn, needs lots of sun.
Unfortunately, the high clouds look like they will be over us until sometime Tuesday. Why?
Looking at the satellite imagery you can see that a long streamer of high clouds is flowing from the SW as the upper-level subtropical jet sweeps moisture and cloud over most of Baja. The sort of good news is that Baja's East Cape is on the edge of those clouds. So IF the cloud streamer moves a bit to the north we could still pull off some upper-teens wind Monday.
I expect clear skies Tuesday and with high pressure over the Great Basin we should see moderate winds partnering with the local sea breezes to brings us into the low to mid-teens.