Day and night southerly ocean winds rule!

by Mike Godsey, mike@iwindsurf.com
Update at 5PM Saturday June 2: Here is a satellite animation of the huge eddy I forecast when I did the blog below Thursday evening.
Thursday May 30: See the sensor in my banner image above? That is our San Pablo Bay Nav. Aid sensor and it has seen strong southerly winds the last 3 days and it will see more of them this weekend along with the coast and much of the bay.
Why?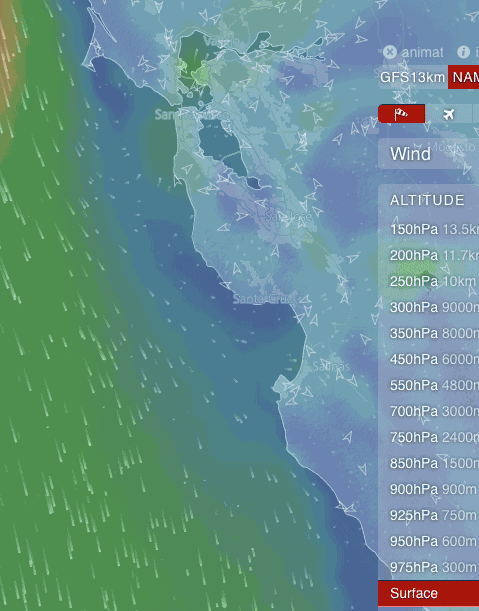 Because the typical (at least in recent years? Golden Gate Eddy that fades in the early to mid afternoon receives support from aloft so it keeps blowing for days.
Looking at first image when SURFACE is highlighted you can see the counter-clockwise spinning eddy spinning from Pt. Reyes to past Half Moon Bay. This keeps southerly flow along the coast and though the Hwy. 92 gap, Muir gap and the Golden Gate gap. Note that the North Pacific High's surface NW winds are far from shore.
Now watch as 300 meter is highlighted notice that there is also an counter-clockwise spinning at this level just above the surface Golden Gate Eddy. This circulation tends to reinforce the surface eddy.
Now check out the image as 600 meters is highlighted. As you can see this counter-clockwise spinning flow is much stronger and spans the entire area from Big Sur to Bodega.
Now let's jump to 750 meters and the spin area has gone off the map.
All of this counter-clockwise spinning flow comes from an upper level low pressure at about ≈ 18,000 ft. above Central California and Southern California.
All of counter-clockwise spinning flow will keep the surface eddy going at least Saturday and Sunday. This will kill the coast winds expect for some southerly winds near Pacifica and the S.F. Zoo. It will also spoil the winds inside at Coyote and 3rd. Ave. But you can expect strong winds from the north tower past Point Blunt through the Olympic Circle to near Pt. Isabel on into San Pablo Bay past Davis Pt. then through Benica and finally to Sherman Island.