Wind folklore says strong NW clearing winds follow a storm: Not this time!
by Mike Godsey, mike@iwindsurf.com
At 9AM today, March 25, the edge of the storm system you see in this vide0 is passing over Bodega Bay in the San Francisco North Bay. In this video animation from 8AM today you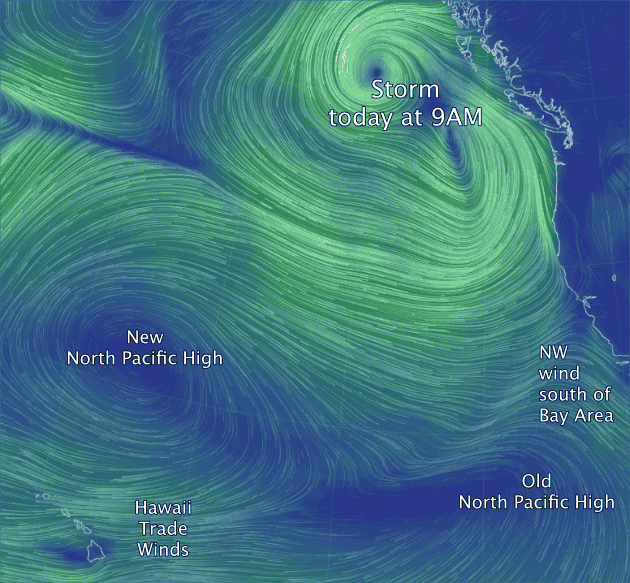 can see the counter-clockwise spinning winds of the storm NW of the Bay Area and its center west of Canada. Look carefully and you can see the SSW storm winds just NW of the Bay Area.
Now look just south of the Bay Area and notice the NW wind from the North Pacific High. Further south you can see the clockwise rotation of winds from the high. I have called this the "Old North Pacific High" since it is moving southward, shrinking and fated to disappear.
Normally when a storm arrives the North Pacific High is pushed southward like this and then rebounds northward when the storm passes. That makes for NW clearing winds as the clouds depart and the North Pacific High's surface NW winds build near the Bay Area. But not this time. Why?
This is a complex of group storms and they will take several days to pass. Meanwhile in the pacific north of Hawaii notice that a "New North Pacific High" forming. You can also see the NW winds spiraling out from this high and its Trade Winds hitting Hawaii.
In the next few days this "New" high will absorb the "Old" high so the overall North Pacific High will be far from the Bay Area until at least Saturday or Sunday so don't expect NW clearing winds Wednesday or Thursday.
Of course all of this is based upon model output but so far reality has been playing out as modeled. And with the North Pacific High so far to the west it does not look like really powerful NW clearing winds even Saturday and Sunday.
With thanks to http://earth.nullschool.net