By meteorologist Shea Gibson 4/11/2020
On Wednesday, April 8 we had a unique event occur in the morning that goes to show how complex weather systems can totally change a wind forecast very quickly. Specifically, the Tidewater and OBX locales were substantially affected by what is known as an "outflow boundary" or "gust front" for short. These are caused by a separation of cold air from a thunderstorm with release of energy when a storm's core drops massive amounts of rainfall during warm air up-drafting, causing ice to melt at a rapid rate. These sometimes can originate from microbursts or macrobursts, which create very powerful straight-line winds. Many times, this release creates this outward arc of clouding driven by cool air down-drafting that appears many times as a "shelf cloud" and advances quickly away from the storm, driven by cool air down-drafting. If rear-inflow jetting is really strong, then the outward arc can be driven for long distances. As many of us out on the water have seen, these initially pack strong winds that can shift directions 90- 180 degrees at times (with a rapid air temp drop/cooling I might add). However, the longer the distance, the weaker the surge of energy becomes. It still holds properties that would interrupt surrounding atmospheric conditions, such as low level jetting and Sea Breezes, which brings me to my point.
Here are the Tidewater and OBX updated 7AM forecasts in our Pro Forecast sections of our apps. As you can see, both zones were setting up for a moderate SW/WSW build: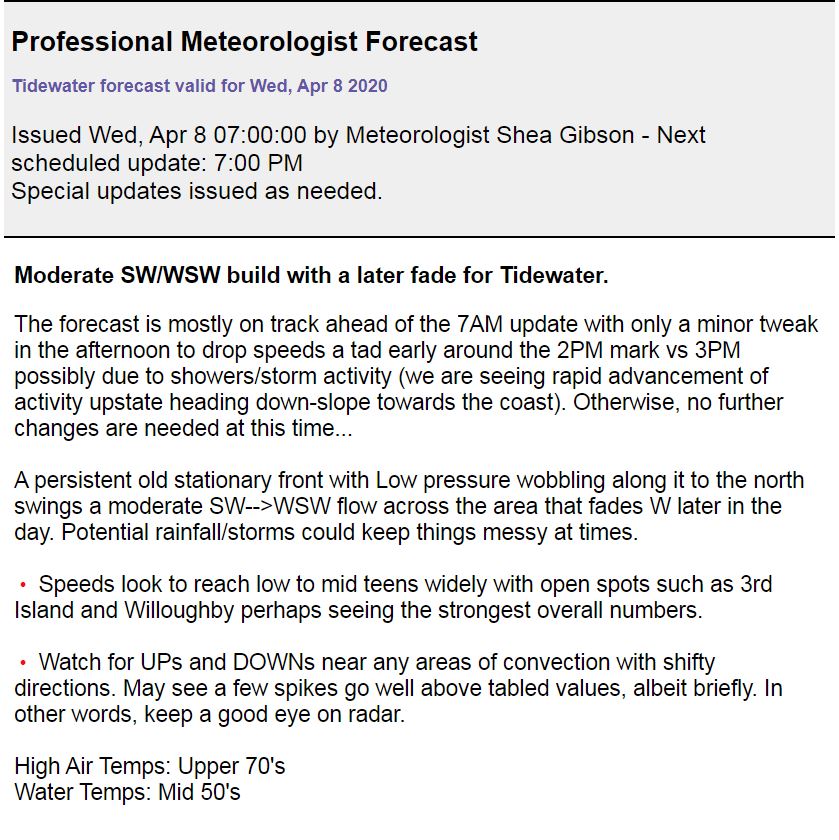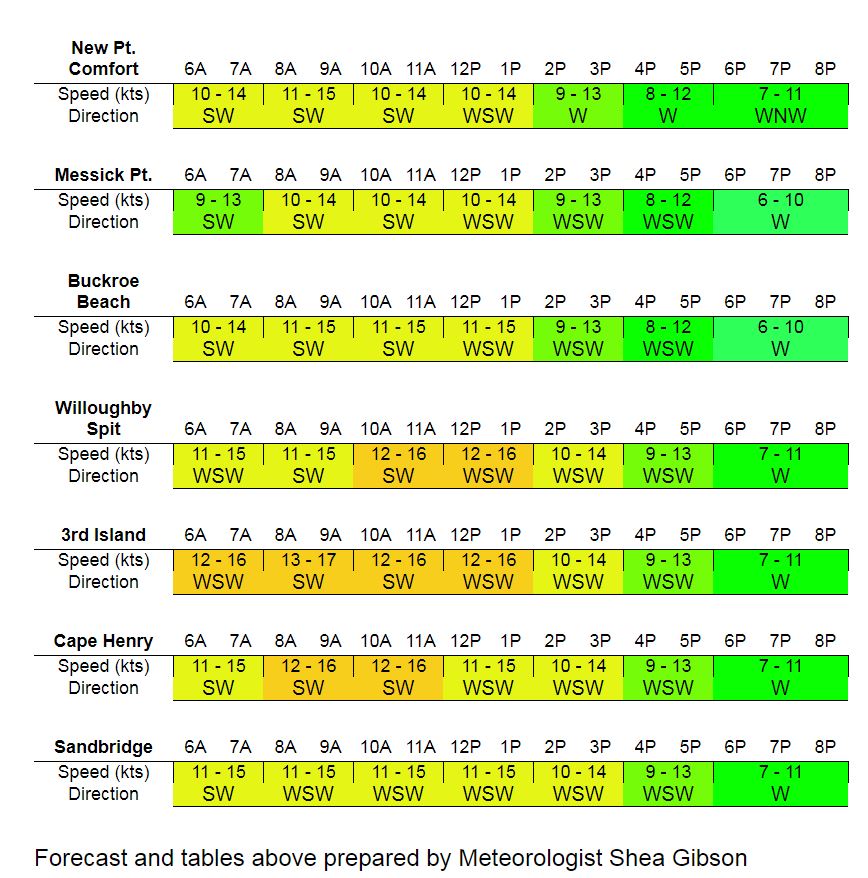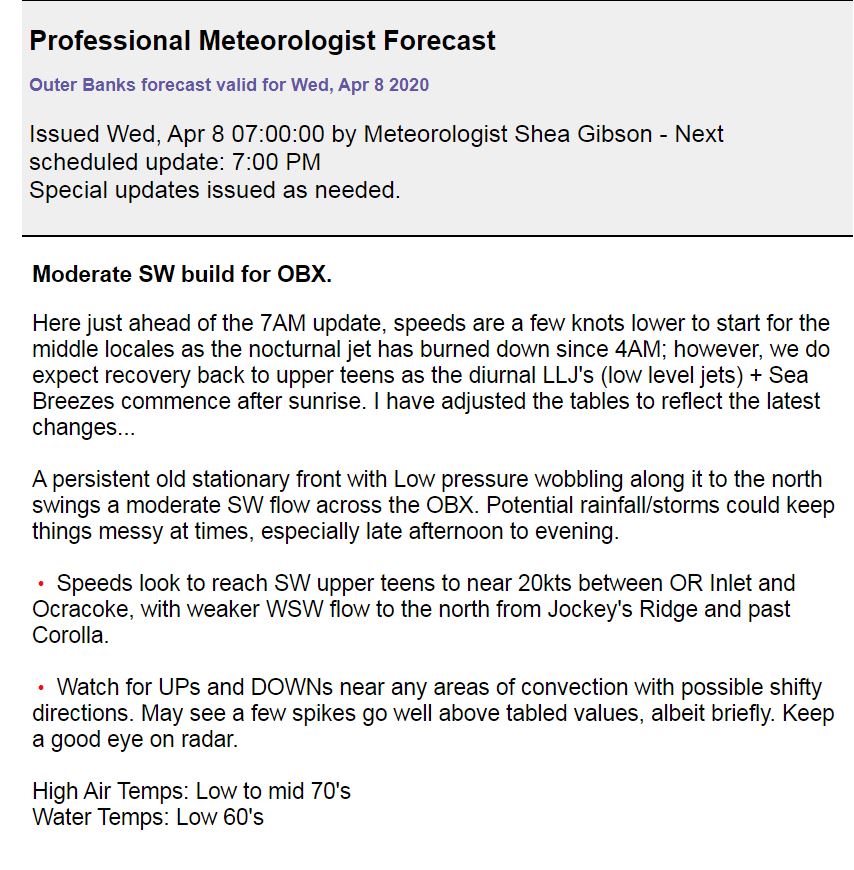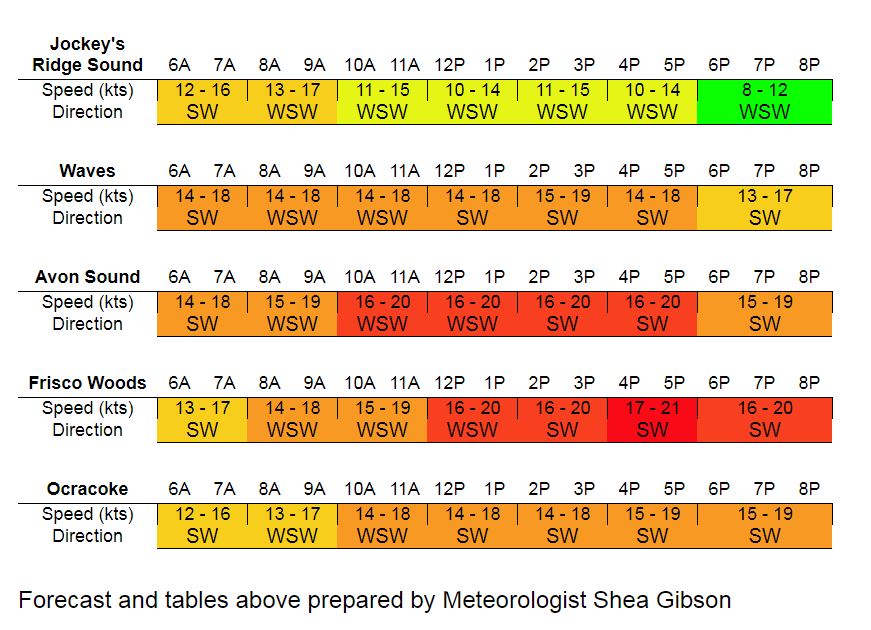 And just as things were starting to line up according to my forecast, a complex of storms over the mountains released a large amount of energy and an outflow boundary quickly spread downslope towards the coast. Here is the visible satellite energy from GOES-16.
Wow that is some serious distance that outflow boundary is covering. Dropped out of central VA and could make it to Cape Lookout, NC. pic.twitter.com/8zjX0dywSD

— Shea Gibson (@WeatherFlowCHAS) April 8, 2020
Well, the outflow boundary made it all the way to Cape Lookout after all – traveled a total of ~230 miles. In the process of making it over the coast, Tidewater saw the big upwards spike as it was closer to the boundary. This is an archive from our professional WeatherFlow station at 3rd Island in the Chesapeake Bay. If you look closely, you can also see the sudden shift in direction from WSW to NW.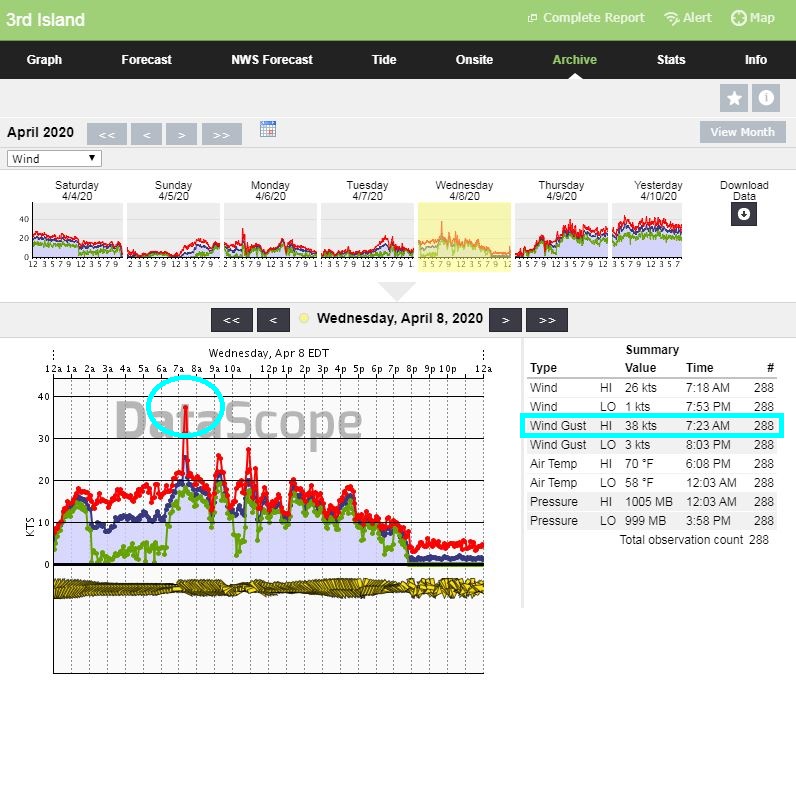 For OBX and northern-most SENC spots, it totally killed the wind while interrupting low level jetting and the initialization of the Sea Breeze.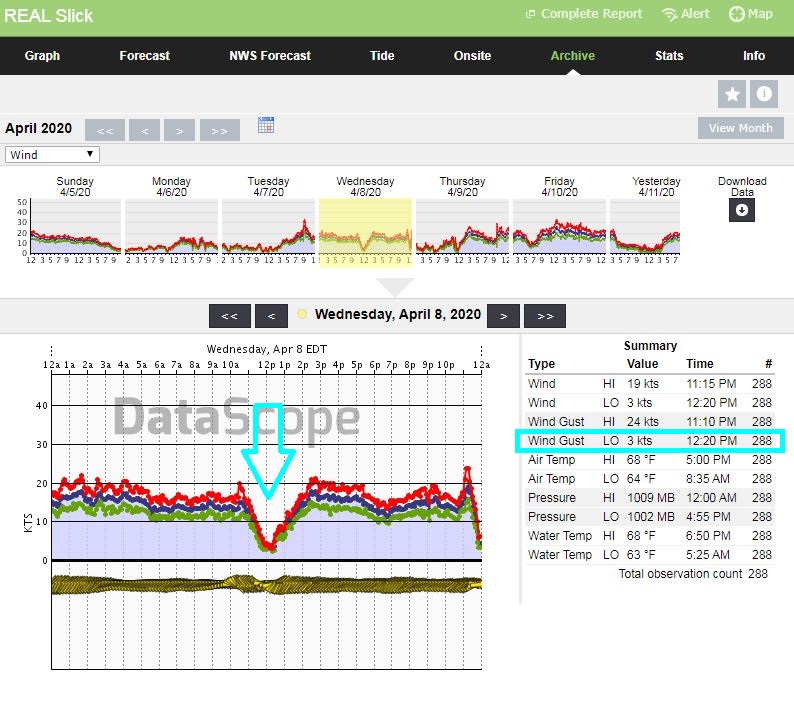 Special Updates were issued for both forecast zones…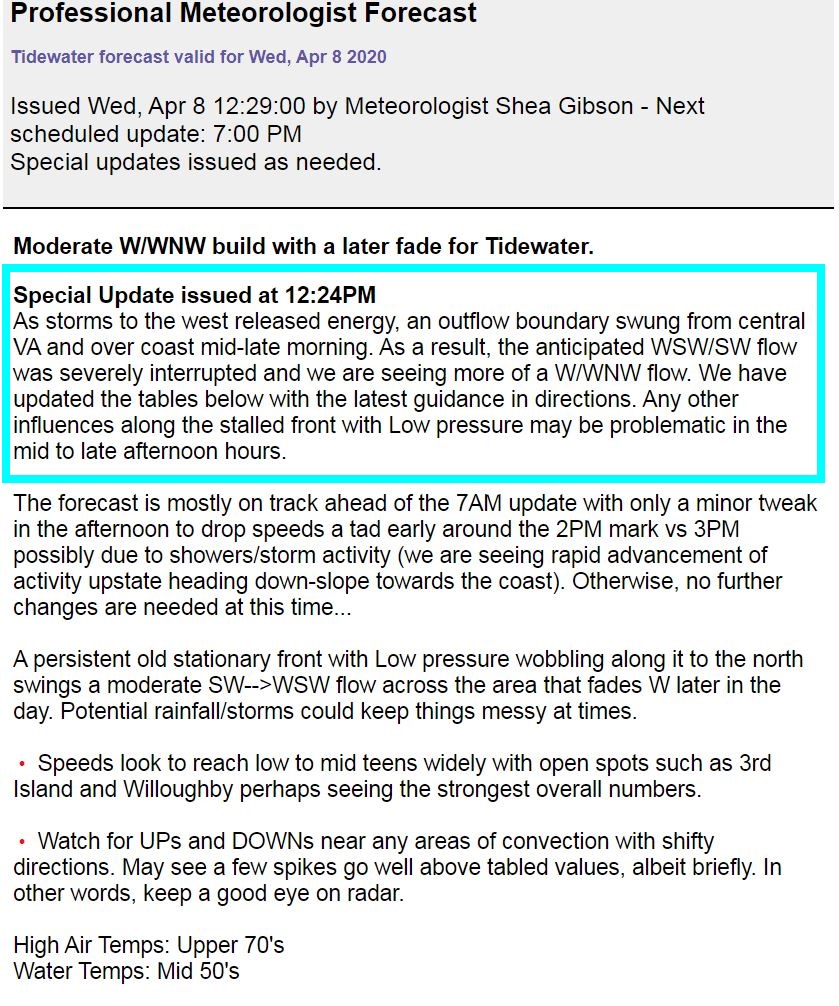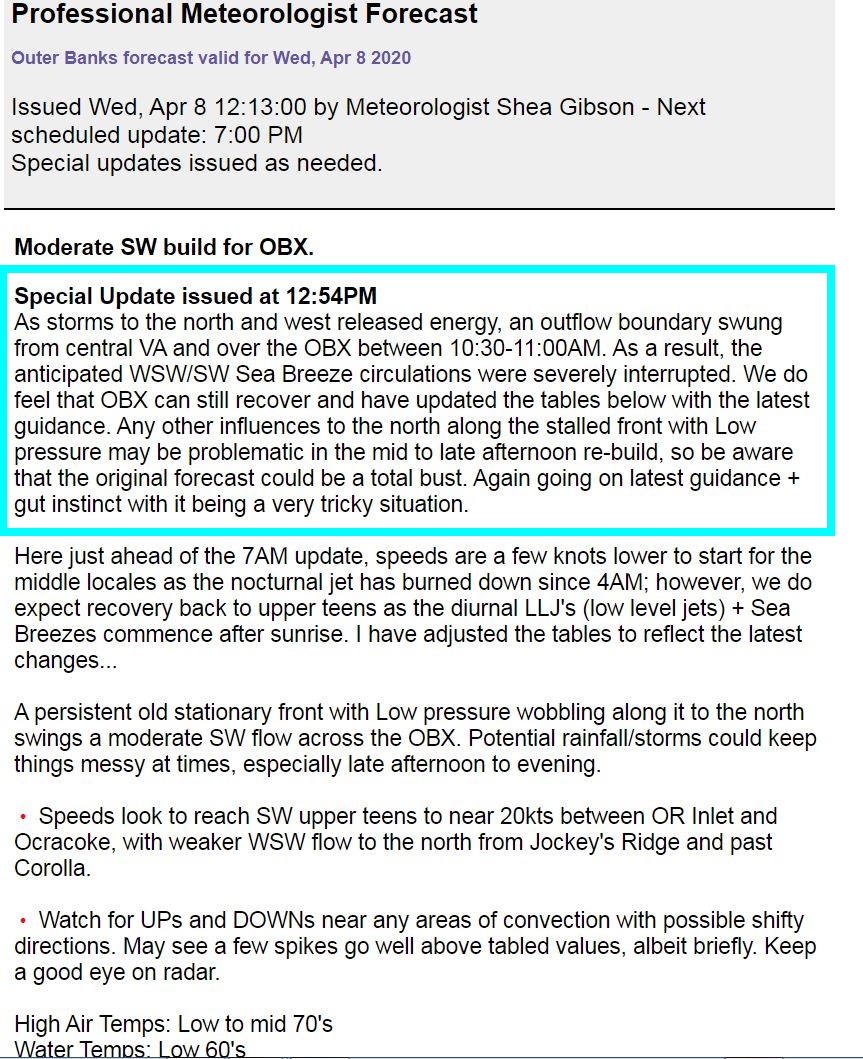 Although the Tidewater area never fully recovered and stayed more N/NW, the OBX and SENC did have a full recovery with moderate WSW/SW Sea Breezes being re-established.
Bottom Line: Proves how tricky forecasts can be with stalled fronts and parent Low pressures inland. We are always students of meteorology as we continue to bring you quality wind forecasts. The more we learn going forward, the better we get and the more we can share with you.  And now you know more about "outflow boundary" science. Oh and one more thing…what happens when one outflow boundary collides with another? Fireworks!  Good read here: https://blog.weatherflow.com/battle-of-the-outflow-boundaries/
Stay safe!
Cheers,
Shea Gibson
WeatherFlow Meteorologist
SE Region/ East Coast
Twitter: @WeatherFlowCHAS
Sources: Our own WeatherFlow Forecasting and Datascope applications; GOES 16 Visible Satellite via College of DuPage https://weather.cod.edu/