by Mike Godsey, mikeATiwindsurf.com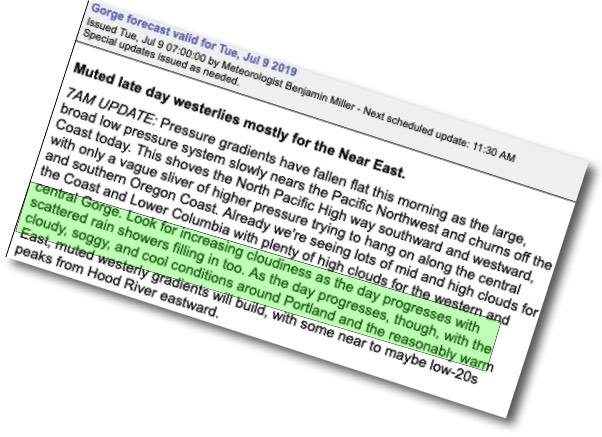 Did you notice how much weaker the Gorge winds were yesterday July 8, 2019?
And you have also probably noticed that this season has mostly had cooler air and water temperatures for this time of year.
And there have been more winds out east than typical for late June and early July.
And it is hard not to notice the atypical clouds most days. And now… look at the forecast for mild wind and showers from Portland to the coast.
Then there is the little matter of a 1000 mile wide winter type storm and cold front that will hit the coast today.
In the simplest terms, we are still in an El Nino pattern. And for the west coast, that means an unusually southerly storm track. Hence all the atypical variables above.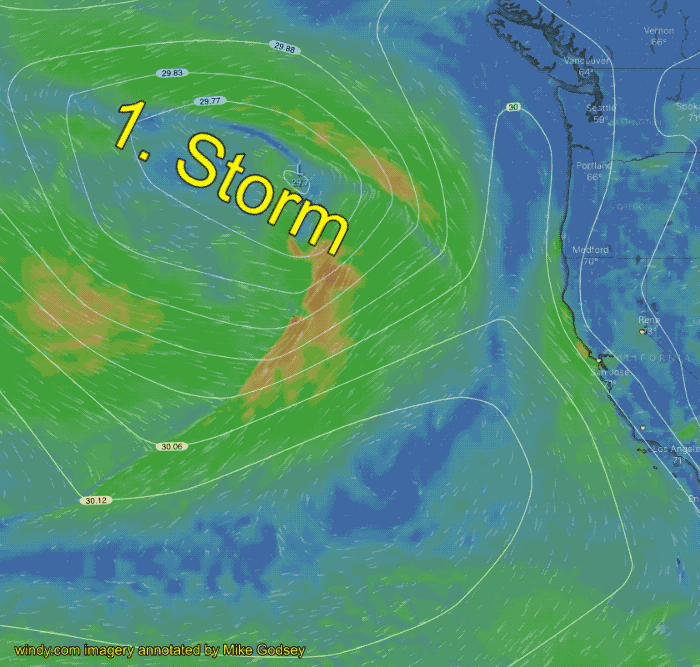 More specifically it means that the upper troughs at 500 MB. that steer storms, deepen the marine layer and increase onshore flow are still coming over the Pacific Northwest in July just like it was May or early June
This is obviously this is a topic for a major blog, which we are working on, but today I only have time to highlight the current storm.
So look at this animation that shows the storm and the associated upper trough (the southward extending loop of upper-level winds) as they appeared yesterday.
Note that lobe of the North Pacific High off our coast. This helped create our mild pressure gradient yesterday and today that lobe has retreated into California waters
So our pressure gradient is weaker today and if you check the radar later today you will see showers east of Portland.
Now note the upper ridge which is the northward extending loop in the upper-level winds over the Pacific
Northwest. That upper ridge is probably going to block the eastward movement of the storm. So it will linger along the coast and slowly drift northward into Canadian waters where it dies. Except for that upper ridge, we would be seeing
more lot more rain.